Alle Arnold-fans på stedet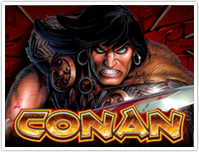 Conan the Barbarian er en av de mest kjente filmene fra begynnelsen av 80-tallet. Når filmen kom ut i 1982 hadde nemlig de færreste hørt om Arnold Schwarzenegger, selv om denne kjempen allerede var blitt kåret til Mr. Olympia og hadde tjent inn flere gullmedaljer som tungvektløfter. Arnold spilte Conan, en fryktløs gladiator som har brukt hele livet på å trene seg opp til hevn, hevn over den onde krigsherren som drepte hans mor og solgte ham som slave. Dette ble Schwarzeneggers gjennombrudd, selv om filmen ikke var noe særlig sett fra et nøytralt standpunkt. Arnold viste seg fram som en hardbarket, stor mann det oste selvsikkerhet og styrke fra. Det var dette som fanget oppmerksomheten til publikum og ga den fremtidige Terminatoren utallige roller i årene som fulgte. Conan the Barbarian var en kul film, og den fortjente en oppfølger. Denne kom i 1984, men det var ikke før 2011 at en ordentlig ny Conan-film kom på lerretet, denne gang i 3D. Spilleautomaten kom året etter og ble utgitt av Cryptologic, en kjent, eldre spillutvikler som ble kjøpt opp av Amaya-konsernet et par år senere og som nå opplever nye glansdager. Conan the Barbarian har fem gevinsthjul og ni gevinstlinjer, altså er dette en ganske simpel spilleautomat med enkle funksjoner. Utseendemessig er dog dette en av de bedre maskinene fra Cryptologic. Den er frisk, fargerik, med flotte detaljer og kule symboler. Spillskjermen tar oss rett inn i livet til Conan, der piler flyr og steiner blir kastet med jevne mellomrom. Et actionfylt liv, med toppen som mål.
Gratisspinn og wildsymboler fra Conan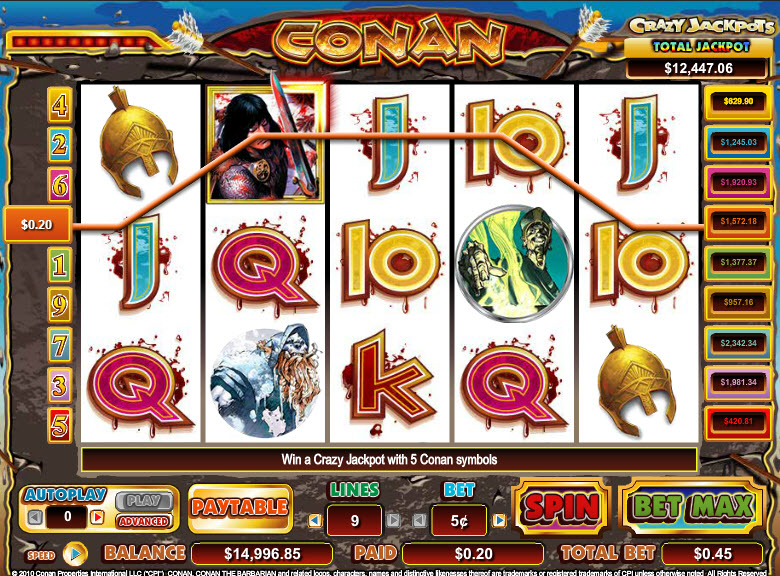 Conan the Barbarian er grundig laget av Cryptologic, selv om kortsymbolene kunne ha blitt byttet ut med noe annet. Den vakre jenta Conan får i gave og en av monstrene han kjemper mot, samt hans kjente gullhjelm, gir gode utbetalinger med jevne mellomrom – det er mulig å håve inn opp til ti ganger pengene tilbake. Det best betalende av de vanlige symbolene er den slu fienden med grønn bakgrunn, her kan du få opp til 7500 dollar utbetalt. For å få de største utbetalingene må du dog stase maksimalt, noe som betyr nesten to tusen kroner per spinn. Ellers kan man stille inn hvilket nivå man ønsker å spille på – også vanlige nivåer gir gode utbetalinger. Cryptologic har også i Conan the Barbarian gledet sine spillere med utallige gratisspinn. Conan-logoen spytter ut opp til 100 gratisspinn som gangen, noe som alltid ender opp med en solid gevinst. Man kan dog ikke vinne flere spinn underveis, for så gavmilde kan ingen spillutviklere være. Før de kostnadsfrie spinnene settes i gang, får du klikke deg frem blant hodeskaller og finne ut av hvor stor multiplikator du får. Deretter vil alle gevinster du tjener inn på gratisspinn mangedobles. Conan i egen person, med et blodig sverd i hånden, er wildsymbolet på denne spilleautomaten. Han forvandler seg til alle andre og danner flere kombinasjoner, slik at gevinstene blir større og utbetalingene hyppigere.
Jackpot på Conan the Barbarian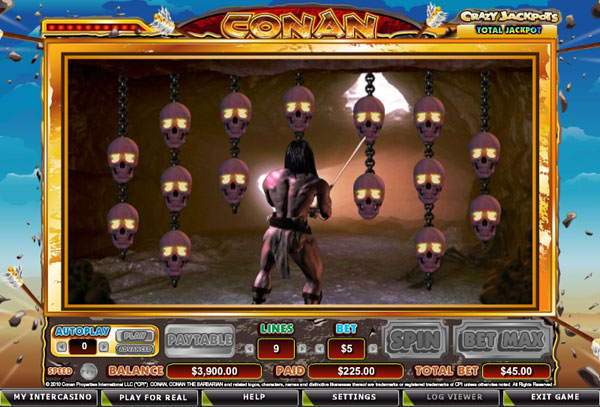 Det beste med denne spilleautomaten er selvfølgelig de utallige gratisspinnene, men Cryptologic stoppet ikke der når de utviklet denne maskinen. Her skulle progressive jackpotter også inkluderes – ikke én, ikke to, men hele ni av dem! Hver gevinstlinje har nemlig sin egne progressive jackpot. Disse vokser sakte men sikkert oppover og utløses når fem Conan-symboler dukker opp på skjermen. Den gevinstlinjen man setter kombinasjonen på vil bestemme hvilken progressiv jackpot man får. Totalt er det altså ni progressive jackpoter å håve inn, så lenge man har hellet (og Conan) med seg. Du finner denne actionfylte spilleautomaten på et av nettkasinoene Amaya jobber med. Cryptologic-maskinene er på vei tilbake, så snart vil du finne dem alle på de fleste store spillportaler. Sørg for å ikke bruke dine gratisspinn for nyregistrerte spillere på Conan the Barbarian – her er det nok av gratisspinn fra før. Skru heller innsatsen opp så mye du kan og se gevinstene rulle inn.