Det er spilleverandøren Aristocrat som står bak spilleautomaten Queen of the Nile 2. De har denne gangen valgt å ta med seg spillerne på en reise nedover verdens lengste elv. Det er en spennende reise, hvor det er mye forskjellig man kan møte på på veien. Blant annet kan det dukke opp flere ulike bonusfunksjoner, som helt klart skaper litt mer spenning på turen, i tillegg til at det kan bringe med seg flere gevinster. Selve spillingen er enkel å sette i gang, fordi Aristocrat har valgt å bruke det mest tradisjonelle oppsettet innen spilleautomater. I løpet av spillingen får man også nye synet av den flotte spilleskjermen som er lagt inn. Det er rett og slett bare å pakke reisesekken og gjøre seg klar for en spennende tur.
Temaet
For de som ikke vet det, så er det Nilen som er verdens lengste elv. Det er der turen i Queen of the Nile 2 skal ta sted. Nilen renner blant annet gjennom Egypt, og Aristocrat har valgt å plukke med seg mange ting som forbindes med det flotte landet. Temaet kan forklares som eksotisk og spennende, og det er mye takket være presentasjonen som Aristocrat har klart å skape rundt det hele.
Oppsettet og innsatser
Spilleautomaten settes i gang ved at spilleren bestemmer en innsats, og så trykker på spinnknappen. Når man skal spille Queen of the Nile 2, spiller man med fem hjul og tre rader med symboler. Det er alltid 15 symboler som er synlige på spilleskjermen, og man har en total på 25 innsatslinjer som kan spilles på. Innsatslinjene er faktisk en av tingene som spilleren kan justere på. Det finnes en minusknapp ved siden av teksten lines, nederst på spilleskjermen. Med den kan spilleren justere ned innsatslinjene, en om gangen. Bet-knappen er den som spilleren skal bruke for å tilpasse innsatsen. Pluss og minusknappen skal brukes for å justere til ønsket innsats for kommende spillerunde.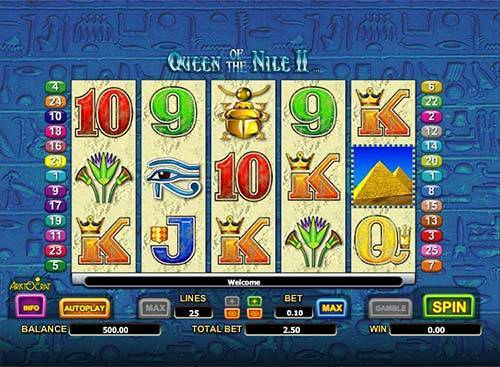 Queen of the Nile 2 har også noen andre knapper tilgjengelig, slik som info, autoplay, bet max, gamble og spinnknappen. Alle de nevnte knappene finnes nederst på spilleskjermen, og spilleren velger selv hvilke knapper som skal brukes. Den eneste knappen spilleren må bruke er spinnknappen, for det er den som faktisk spinner i gang hjulene.
Spilleskjermen
Når man har fått i gang spilleautomaten, så er det spilleskjermen man sitter å ser på. Det er der man finner hjulene, og symbolene, i tillegg til at det er gjennom den at man får et ordentlig inntrykk av temaet. Bakgrunnsbildet er i blått og den er dekorert med mange forskjellige egyptiske mønster. Logoen er plassert helt øverst, og den er i enkle blå bokstaver. Hjulene er å finne rett under logoen, og de er satt inn med en beige bakgrunn. Mot den beige fargen finner man de mange forskjellige fargerike symbolene. Flesteparten av symbolene er formet som elementer som forbindes med Egypt. Blant annet er det noen pyramider som er tatt med, og en bille laget av gull. Det er også tatt med noen kortsymboler, som er farget i forskjellige farger. Spilleskjermen i Queen of the Nile 2 er utrolig flott, og den gir et godt førsteinntrykk, takket være grafikken som er brukt. Alt er veldig klart på skjermen, og detaljene som er lagt inn kommer frem slik de skal.
Bonusfunksjoner

Teller man over bonusfunksjonene i Queen of the Nile 2, så vil man ende opp med tre stykker. For det første har man et wildsymbol, som er i form av dronningen selv. Den kombineres med andre vanlige symboler på hjulene, slik at spilleren får flere vinnende kombinasjoner. Når wildsymbolet er del av en vinnende kombinasjon, vil gevinsten man får utbetalt få en doblet verdi. Den andre bonusen er gratisspinn. Den aktiveres med pyramidesymbolet, som dukker opp spredt ut over hjulene. På det meste vil spilleren få 20 gratisspinn i en omgang, i tillegg til at spilleren kan velge hva slags multiplikator som skal aktiveres. Jo høyere multiplikator man ønsker å ha, jo lavere vil antall gratisspinn bli. Den siste bonusen er en gamble-knapp, som spilleren kan velge å bruke etter hver spillerunde som ender med gevinst.