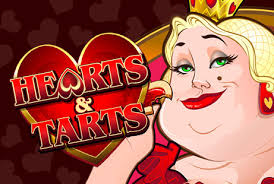 Microgaming er vel det spillutviklerselskapet som er mest kjent for å ha flere ulike serier innen sine spill. Rhyming Reels Hearts & Tarts er et av spillene i en serie fra Microgaming, nemlig serien med slotspill som har et tema inspirert fra ulike vuggeviser. Rhyming Reels Hearts & Tarts er inspirert av vuggevisen som handler om Hjerter Dame, bedre kjent som Queen of Hearts. I vuggevisen så får man høre om Queen of Hearts som baker kaker og plutselig så kommer Hjerter Knekt og stjeler alle kakene. Han får naturligvis kjeft av dronningen og etter den dagen så stjeler han ikke hennes kjeks igjen. Det er i alle fall et utrolig morsomt tema å finne i et slotspill og Microgaming klarer tydelig å sette vuggevisen til liv i slotspillet.
Innsatser i spillet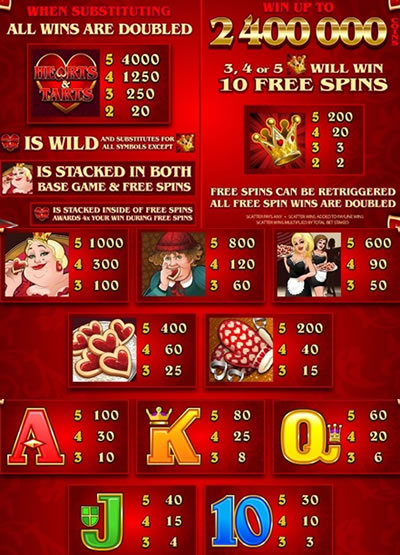 Slik det er i de aller fleste slotspill så må spilleren selv tilpasse sin innsats før man kan spinne i gang hjulene. I Rhyming Reels Hearts & Tarts så er alle delene av innsatsen latt være opp til spilleren. Nederst på spilleskjermen finner man de ulike knappene man kan bruke til å gjøre de ulike tilpasningene og i Rhyming Reels Hearts & Tarts så vil det si en knapp til innsatslinjene, en knapp til myntverdien og en knapp til antall mynter. Totalt i spillet så kan man ha 30 aktive innsatslinjer, men dette antallet er altså helt opp til spilleren. Myntverdien i spillet kan ligge på mellom 0,01 euro og opp til 0,05 euro og til sammen så har man 10 innsatsnivåer å velge mellom. Spiller man med alle innsatslinjene aktivert så kan man ha en innsats på mellom 0,30 euro og opp til 15 euro i en spillerunde.
Spillets grafikk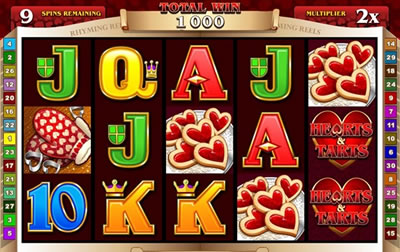 Grafikken som er lagt på spillet viser helt klart at det er snakk om hjerter og kaker i Rhyming Reels Hearts & Tarts. Bakgrunnsbildet som er lagt på spillet er i en fin rødfarge som er pyntet opp med masse røde hjerter. Rammen som er satt rundt spillets hjul er formet til å ligne på en åpen bok, noe som passer godt med tanke på at tema er inspirert av en vuggevise. Hjulene er da plassert midt i denne boka og på hjulene så finner man symbolene i spillet. Symbolene er det som får frem spillets tema mest. Symbolene er enten formet i bilder eller hentet fra en vanlig kortstokk. Symbolene som er i bilder er formet på en bra måte og ser ut til å være laget slik at det ser ut som tegninger. Det igjen passer jo godt til tema som er en vuggevise. Symbolene viser blant annet en krone, et fat med kaker, to jenter som serverer kakene og en gutt som er veldig fornøyd med å få smake på en kake. Symbolene som er hentet fra en vanlig kortstokk er i enkle blokkbokstaver som er utrolig fargerike. Under spillets hjul så har man knappene i spillet. De er satt opp slik at de går over rammen som ser ut som en bok.
Spesialfunksjoner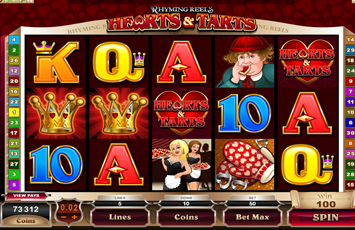 Wildsymbolet er spillets joker og erstatter alle andre symboler bortsett fra scattersymbolet. Wildsymbolet har en høy verdi i seg selv og kan i tillegg aktivere en multiplikatorfunksjon i spillet. Det gjelder kun når man får aktivert gratisspinnene, og der kan wildsymbolet også dukke opp som stablet wild. multiplikatorfunksjonen som wildsymbolet får aktivert gjelder kun i gratisspinnene og den vil da gange alle gevinstene hvor den selv er en del av kombinasjonen. Den gevinsten man da opprinnelig får fra den kombinasjonen vil bli ganget med fire, noe som kan gi ut en ganske god kontantgevinst. gratisspinnene får man aktivert med scattersymbolet i spillet. Man trenger minst tre stykker på hjulene og man får da tildelt 10 gratisspinn. Det er ikke satt noen grense på hvor mange ganger man kan aktivere gratisspinnene, så med litt flaks så kan man få mye over 10 gratisspinn mens man spiller.