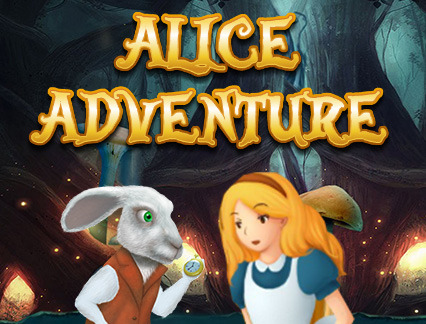 Alice Adventure er en ny spilleautomat fra iSoftbet og vi har testet spillet for deg! Elsker du spilleautomater med eventyrtema er dette virkelig spillet for deg. En kombinasjon av Alice i eventyrland og en mer moderne vri gjør spilleautomaten helt unik. Dette er ikke første gang Alice dukker opp i en spilleautomat, men skal du velge en av de bør du forsøke deg på Alice Adventure. La deg rive med og steng den virkelige verden ute for en stakket stund du også!
Historie
Spillets tema er bygd rundt eventyret om Alice i Eventyrland som ble utgitt i 1865. Forfatteren Lewis Caroll la inn mange symboler og figurer i historien og lite visste nok han om at i 2015 ville også Alice få sin egen spilleautomat oppkalt etter henne. Litt morsomt er det da at mange av symbolene i historien også kommer fra spillkortene. Mange illustratører har lagd sine tolkninger av Alice og vennene hennes. Blant de mest kjente kan vi nevne Tove Jansson og Salvador Dali. iSoftbet har gjort en ypperlig jobb til å føre historien videre.
Design og grafikk
Denne spilleautomaten vil ta deg med inn i historien om Alice i Eventyrland. Designet og grafikken i spillet er utrolig bra utført og figurene er så detaljert at du raskt kjenner igjen fra tegnefilmen. Alle karakterene du husker fra eventyret er selvfølgelig med. Skjermen ser veldig behagelig ut og du kommer aldri til å bli stresset når du spiller Alice Adventure. Og det er jo noe av poenget når du slapper av med en spilleautomat. Dette er jo tross alt underholdning. Spillet ser utrolig godt ut både fra mobilen og nettbrettet, og ikke bare fra en større PC skjerm.
Spillets symboler og funksjoner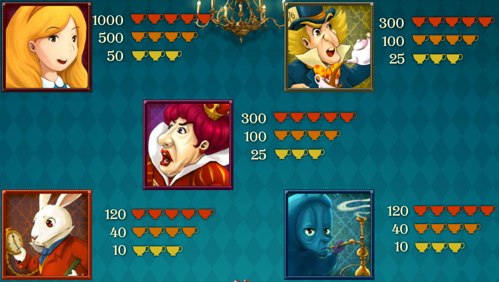 Denne spilleautomaten opererer med to forskjellige wildsymboler. Det første er et standard wildsymbol med en multiplikator som ganger opp gevinsten din. Er du virkelig av den heldige kan du få hele 10 ganger innsatsen din i gevinst. Symbolet er også lett å få øye på og er merket med skriften Alice Wild. Spillets andre wildsymbol er det som gir deg gratisspinn. Dette symbolet ser ut som en trylle-drikk, som alle kjenner så godt fra historien. Scattersymbolet kan heller ikke bli oversett. Det flotte med dette symbolet er at det gir gevinst uansett hvor det havner på linjene. Det er selveste Cheshire-katten som er avbildet på dette symbolet og får du tre av ham på en aktiv gevinstlinje ganges innsatsen din med 5 og du vil motta en hyggelig gevinst. Fire scattersymboler garanterer 10 ganger innsatsen din og mottar du hele fem er det bare å le helt til banken, for dette gir deg 25 ganger innsatsen i premie. I Alice Adventure kan du satse alt fra 0,01 i ønsket valuta og opp til 0,2. Dette gjør at spillet er billig i drift, som igjen betyr at avkastningen din kan bli høyere enn hva du kanskje er vant med hos andre spilleautomater. Og det er jo ganske så flott, er det ikke? Maks innsats er 6 euro per linje du spiller.
Konklusjon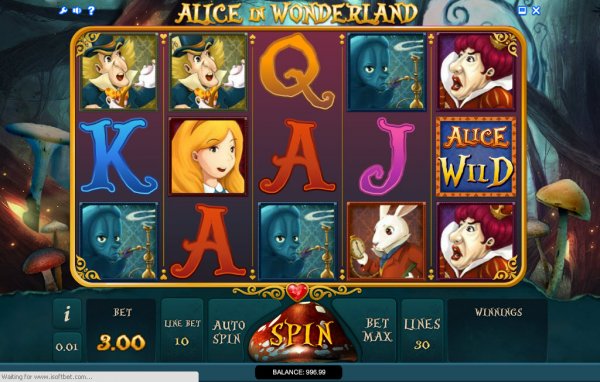 Når en spillutvikler lager en spilleautomat fra et kjent og kjært eventyr eller historie som så mange kjenner fra tidligere satser man veldig høyt. Det hele kan faktisk gå veldig galt hvis man bommer på hvordan folk oppfatter spillet. iSoftbet har truffet godt i Alice Adventure, både når det gjelder det estetiske, samtidig som de opprettholder spenningen. For det er faktisk spenning fra start til slutt, og elsker du gratisspinn og bonusspill er dette en spilleautomat du kommer til å nyte godt av i ukene som kommer. Det er bare å finne tid i kalenderen din, sette av tid til Alice Adventure, for dette er et spill som må nytes uten avbrytelser. Mest imponert var vi over at spillet hadde alt, både gratisspinnfunksjon og bonusspill, for begge deler er ofte mye å be om. Ikke hvis man spør iSoftbet tydeligvis, som har gitt oss både i pose og sekk.