Delfiner er kjent som intelligente og vennlige dyr, og mange drømmer om å svømme sammen med delfiner. Det er ikke sikkert man får oppfylt den drømmen, men i dette spillet kan man i hvert fall svømme med digitale delfiner. Playtech gir spillerne muligheten til møte delfiner i Dolphin Reef spilleautomat. Automaten har 5 hjul og 20 gevinstlinjer. Spillet kan by på jokersymboler, gratisspinn, multiplikatorer og spredte symboler. Jackpoten er på 250 000 euro, og dette er veldig mye, ettersom jackpoten er intern. Spillet er ikke progressivt. For å vinne spillets toppgevinst må man spille med den største innsatsen. Myntene man vinner i spillet har samme verdi som myntene man spiller med. Dersom man vinner toppgevinsten når man spiller med en lavere myntverdi, er jackpotens pengeverdi lavere.
Innsatser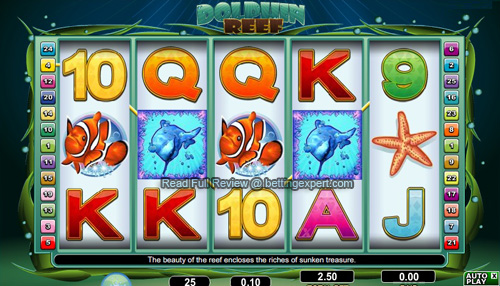 De fleste automatene fra Playtech gir spillerne mange myntverdier å velge mellom. Dermed er det lett å tilpasse innsatsen etter eget spillbudsjett. I Dolpin Reef kan spillerne velge en myntverdi på 0,05, 0,10, 0,25, 0,50, 1,00, 2,00, 5,00 og 10,00. Antallet linjer kan også velges, og spillerne kan satse fra én til ti mynter per linje. Dermed blir totalinnsatsen per spinn fra 0,05 euro til 2000 euro per spinn. Dersom man vil ha flest mulig vinnersjanser, bør man aktivere alle gevinstlinjene. Det er bedre å spille med lav myntverdi og mange aktive gevinstlinjer, enn å spille med høy myntverdi og én aktiv gevinstlinje.
Symboler og gevinster
Dolphin Reef foregår under vann. Bakgrunnsbildet bak hjulene viser blått vann som blir lyst opp av solstråler ovenfra. Dette skaper en behagelig atmosfære rundt hjulene. Dette havområdet er fritt for sjøuhyrer og rovfisker. Her er hjulene prydet med fisker, sjøstjerner, sjøhester, skilpadder og delfiner. Det dukker også opp noen skattekister på hjulene, i tillegg til kortsymboler fra 9 til ess. For en fullstendig oversikt over hva symbolene er verdt, bør man lese spillets utbetalingstabell.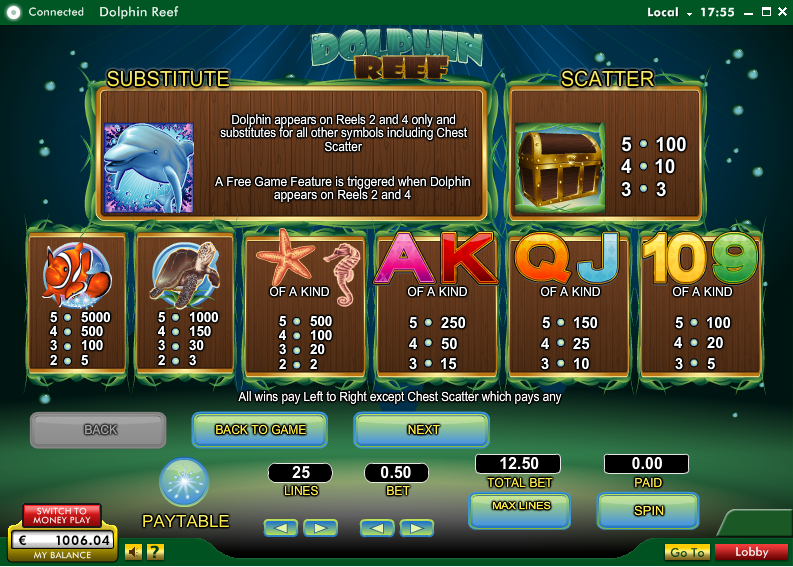 Delfinene er spillets jokersymboler, og de kan utvide seg til å dekke hele hjulet. Jokersymbolene utløser også gratisspinn. Under gratisspinnene blir både hjul 2 og 4 til jokerhjul, som er aktivert under alle gratisspinnene. I Dolphin Reef kan jokersymbolene også erstatte spredte symboler. Skattekisten er spillets spredte symbol. Spredte symboler trenger ikke å være på samme linje for å gi gevinst. Med tre eller flere spredte symboler et eller annet sted på skjermen, vinner spillerne 3x innsatsen. Fire spredte symboler betyr at man vinneren 10x innsatsen, og dersom man skulle være så heldig å få fem spredte symboler på skjermen samtidig, vinner man hele 100x innsatsen.
Gratisspinn
Med to jokersymboler på hjul 2 og 4, vinner spillerne gratisspinn. Spillet deler ut fem gratisspinn, som spilles med to jokerhjul (hjul 2 og 4). Disse hjulene blir til vann, og symbolene som skulle vært på dem forsvinner. Bare hjul 1, 3 og 5 spinner, og de to jokerhjulene gir veldig gode vinnersjanser, selv om man ikke er garantert gevinst.
Gamblingspill
Dolpin Reef har et gamblingspill. Dette aktiveres hver gang man vinner, men man trenger ikke å gamble om gevinstene. Man kan også beholde gevinstene og fortsette det vanlige spillet. Gamblingspillet er velkjent. Man skal gjette om det skjulte kortet er rødt eller svart. Riktig svar gir en dobling av gevinsten, men dersom man gjetter feil, taper man gevinsten. Ettersom man har 50 % sjanse til å tape gevinsten, er det lurt å bare gamble om småpremier. Da er det ikke like surt å tape.
Oppsummering
Dolphin Reef er et vakkert spill med et behagelig bakgrunnsbilde og et fint tema. Gevinstene er også fine, og det store utvalget av myntverdier og innsatsbeløp gjør spillet like velegnet for amatører som for storspillere. Man kan også teste spillet med lekepenger. Utvidende jokersymboler og to jokerhjul under gratisspinnene gir større vinnersjanser. Det er også en fordel at jokersymbolet kan erstatte spredte symboler. Det er ikke vanlig i de fleste spilleautomater. Dolphin Reef er vel verdt å teste ut, enten man vil spille med småbeløp eller med større innsatser.