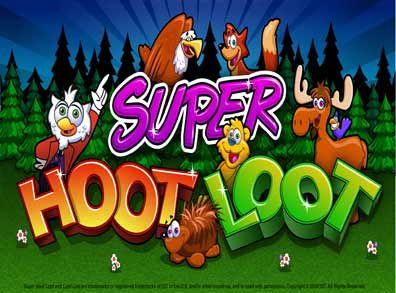 Super Hoot Loot er en veldig sjarmerende spilleautomat der man møter morsomme dyr og fugler. Handlingen foregår ute i skogen, og bakgrunnsbildet viser en nattlig stemning. Noen av dyrene er kjente også for norske spillere, som rever, elg, piggsvin og ørner. En bjørn dukker også opp, sammen med en velkledd ugle. Det er IGT som har laget spillet, og nettspillet er basert på en spilleautomat som finnes i landbaserte kasinoer. Der har spillet blitt en stor suksess. På nettet har spillet fått noen nye ekstrainnslag.
Spillets oppbygging
Det er 40 gevinstlinjer i spillet. Skjermen har fem hjul og tre symbolrader. Hjulene er rammet inn av tre. Spillerne velger selv om de vil aktivere alle linjene eller ikke, men for å få flest mulig vinnersjanser, lønner det seg å aktivere flest mulig linjer. Innsatsen per linje kan selvsagt justeres etter eget ønske, og man kan velge den myntverdien man er mest komfortabel med. Spillerne kan velge å satse fra 1-5 mynter per aktive linje.
Symboler og gevinster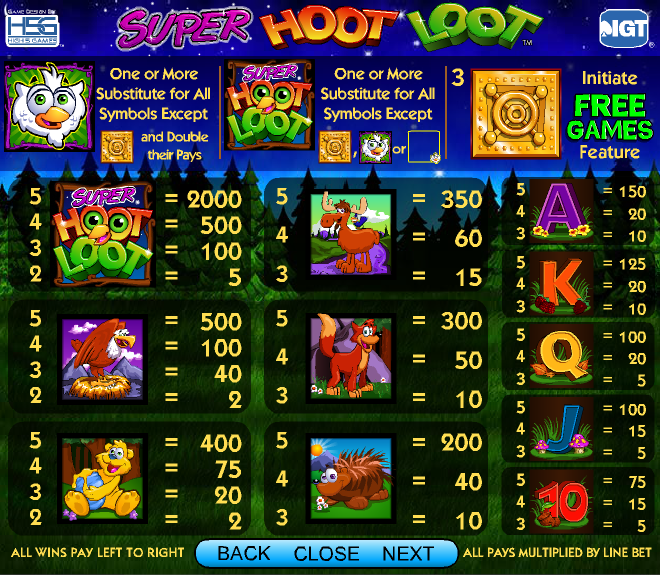 Som i de fleste spilleautomater, gjelder det å få flere like symboler på rad på samme linje for å få gevinst. I dette spillet er det noen symboler som krever minst tre like for å gi gevinst, mens noen bare krever to like. Alternativt kan man få 1-2 like, i tillegg til et wildsymbol. Spillets logo er et av symbolene som bare krever to like (eller ett vanlig symbol og et wildsymbol). Med to like av dette symbolet, får man 5 mynter, mens fem logoer gir spillerne hele 2000 mynter. Det er spillets toppgevinst. Ørnen og bjørnen krever også bare to like for å gi gevinst. Begge disse symbolene gir 2 mynter for to like. Ørnen gir 500 mynter for fem like, mens bjørnen gir 400 mynter for fem like.
De andre symbolene må være minst tre på rad for å gi gevinst. Elgen gir 350 mynter for fem like, reven gir 300 mynter for fem like og piggsvinet gir 200 mynter for fem like. Spillets kortsymboler går fra 20 til ess. Symbolene er plassert ute i naturen, slik at de passer fint inn med temaet. Med fem ess får man 150 mynter, mens fem konger gir 125 mynter. Fem damer eller fem knekter gir 100 mynter, og fem tiere gir 75 mynter.
Spesialsymboler
Uglen er wildsymbolet i spillet. Uglesymbolet kan ikke erstatte gratisspinnsymbolet. WIldsymbolet gir dobbelt gevinst når den er del av en vinnerrekke. Spillets logo fungerer også som wild, og kan erstatte alle symboler unntatt gratisspinnsymbolet og uglen. Logoen kan heller ikke erstatte symboler som har en liten ugle nederst i hjørnet. Disse spesialsymbolene er nærmere forklart lenger nede.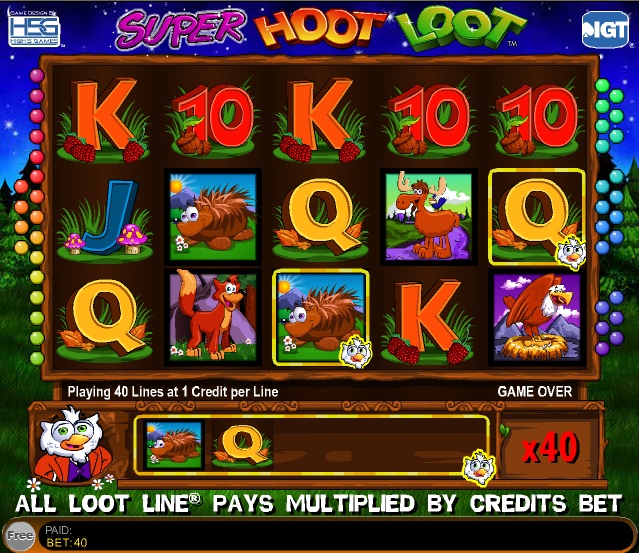 Gratisspinnsymbolet er en gul safe. Med tre eller flere slike symboler et eller annet sted på skjermen, vinner spillerne 7 gratisspinn. Før hvert gratisspinn starter, får spillerne et 2x wildsymbol nede på Loot-linjen. Dette symbolet gjør det lettere å få gevinst med dette spesialinnslaget, og eventuelle gevinster på linjen blir også doblet. Dersom man får tre grønne safer under gratisspinnene, vinner man 10x totalinnsatsen.
Loot-linjen
Under skjermen er det en såkalt Loot-linje. Alle symboler som har en liten ugle nederst i høyre hjørne, blir kopiert ned på denne linjen, og der samler de seg opp og deler ut gevinster. Alle de vanlige symbolene kan ha ugler i hjørnet, også ugle-wildsymbolet. Logoen og gratisspinnsymbolet kan ikke ha ugler i hjørnene. Loot-symbolenes verdi avhenger av myntinnsatsen man spiller med. Vinnerkombinasjonene kan gi inntil 200x innsatsen, dersom man spiller med maks innsats. Loot-linjen tømmes etter hvert spinn, og målet er det samme med denne linjen som med andre linjer. Man trenger minst tre like, eller to like og en wild, for å få gevinst. Bak linjen ser man hvor mange ganger innsatsen man kan vinne.
Oppsummering
Super Hoot Loot er et fargerikt og morsomt spill med sjarmerende symboler av dyr og fugler. Det er to wild i spillet og man kan vinne gratisspinn eller få bonuser på loot-linjen.