Maskerader var populær underholdning for noen hundre år siden, og i de høyere kretser i samfunnet var dette spesielt vanlig. Spillet Royal Masquerade fra Play'n Go er basert på nettopp et slikt maskeradeball. Spillerne blir tatt med til Venezia, der maskeradeball og karneval pleide å være en veldig stor hendelse. Der kunne rike kle seg ut som vanlige borgere, mens vanlige borgere kunne bli konger og dronninger for en kveld. Bak maskene følte folk seg friere, og kunne våge seg ut på eventyr eller til og med spotte øvrigheten, uten å frykte represalier. Det kunne gå riktig vilt for seg, og det kan det også i dette spillet.
Grafikk og oppbygging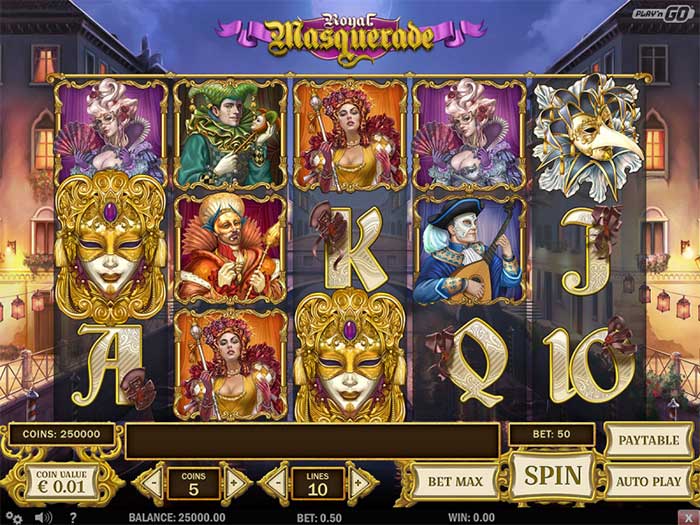 Spillet har vakker og fargerik grafikk. Bakgrunnsbildet viser Venezia, med hus og kanaler. På hjulene dukker det opp maskerte folk, og klærne deres er virkelig omfattende og forseggjorte. Grafikken framhever alle detaljene i kostymene. Når man vinner, blir det sunget en liten operamelodi, og bakgrunnsmusikken bidrar til stemningen. Det er nesten noe levende over menneskene på hjulene, og man kan føle den gode stemningen.
Man kan få stablede wilds og gratisspinn med garantert gevinst, og den største gevinsten er på hele 1 million euro, men den kan man bare vinne dersom man spiller med høyeste myntverdi og maksimumsinnsats. Dersom man spiller med lavere myntverdi, blir jackpotten tilsvarende lavere. Jackpotten er alltid på 10.000 ganger innsatsen, så man kan regne ut toppgevinsten selv, i henhold til den innsatsen man spiller med. Man skal være klar over at dette spillet er veldig variabelt. Det betyr at det kan gå lang tid mellom hver gevinst, slik at man må være litt forsiktig når man spiller. Dersom man satser for mye, risikerer man å gå tom for penger før man vinner noe. Spill heller med laveste myntverdi.
Spillets symboler og gevinster
Symbolene på skjermen viser menn og kvinner i kostymer. Til og med wildsymbolene har pyntet seg litt ekstra for anledningen. De to maskene er spillets spesialsymboler, henholdsvis joker og scatter. Det er fem festkledde kvinner og menn i spillet. Det mest verdifulle symbolet er en mann som holder et septer. Dette symbolet gir 750 mynter for fem like. Kvinnen med et septer gir 500 mynter for fem like. Narren gir 400 mynter for fem like, og de to andre festdeltakerne gir 250 mynter for fem like.
Kortsymbolene fra ess til 10 gir mindre gevinster. Fem ess er verdt 150 mynter, fem konger er verdt 125 mynter og fem damer er verdt 100 mynter. For fem knekter får man 75 mynter, og fem tiere gir 50 mynter. Wildsymbolet er en maske med lang nese. Dette symbolet kan ta plassen til hvilket som helst av de andre symbolene, og kan dermed fullføre vinnerkombinasjoner. Scatteren er en gullmaske, og med tre eller flere av disse maskene vinner man 5 gratisspinn med garanterte gevinster.
Gratisspinn med garantert gevinst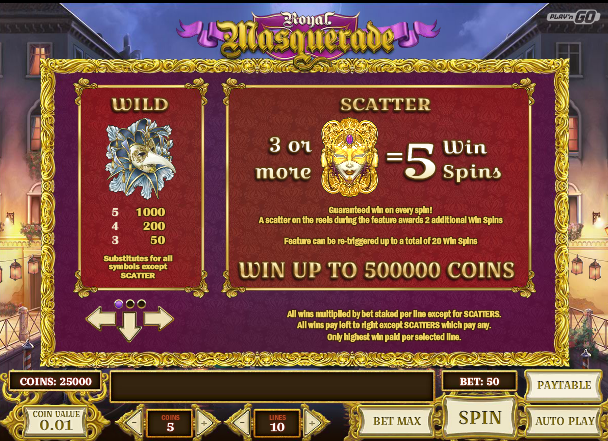 Man vinner bare fem gratisspinn i dette spillet, uansett hvor mange scattere man får på skjermen samtidig. Fem gratisspinn virker kanskje ikke spesielt mye sammenlignet med andre spill, men gratisspinnene i dette spillet har gevinstgaranti. Gevinstgarantien gjelder ikke bare for ett gratisspinn, men for alle. Man er altså garantert minst én gevinst per spinn, totalt minimum fem gevinster i løpet av de fem gratisspinnene. Hvor stor gevinsten er, kan selvsagt variere, men det er jo morsomt å vite at man helt sikkert vinner noe. Det gjør gratisspinnene ekstra spennende og underholdende.
Alt i alt
Royal Masquerade er en fargerik spilleautomat med fin grafikk og god spillfølelse. Spillet byr på både wildsymboler og scattere som deler ut gratisspinn. Man skal være klar over at spillet er variabelt, derfor lønner det seg å spille med litt forsiktighet. Men med garanterte gevinster på hvert gratisspinn, har man sjansen til å tjene inn igjen litt av det tapte og det kan utgjøre hele forskjellen i et veldig variabelt spill som dette. Royal Masquerade er nok et vellaget spill som kommer fra spillutviklerne hos Play'n Go.