En skummel spilleautomat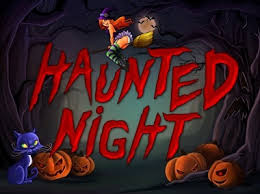 Det finnes flere hundre spilleautomater der ute, og de fleste av dem har et positivt, actionfylt tema. Mange har eventyr i fokus, andre har sport, tredje har kjente filmer eller TV-serier i sentrum. Haunted Night er verken det ene eller det andre. Denne spilleautomaten er nemlig skummel – hvorfor den kjente spillutvikleren Microgaming vil skremme bort kasinospillere fra denne maskinen er høyst usikkert. Kanskje fordi den spytter ut gevinster så hyppig? Haunted Night handler om spøkelser, om skumle spøkelser som lusker omkring i mørket. Enkelte andre spilleautomater handler om spøkelser, men de prøver fortsatt å holde en lys, god stemning. Haunted Night tar oss derimot med til en mørk, dyster skog, kun opplyst av en gul fullmåne. På hver sin side av skjermen finner man to flygende spøkelser, mens omrisset av skremmende skapninger kan sees i bakgrunnen. Logotypen til spillet, Haunted Night, er å finne rett over gevinsthjulene. Logotypen er skrevet i blod, og det røde gørret drypper ned på spillskjermen hele tiden. Bakgrunnsmusikken er som tatt ut fra en grøsser, og lydeffektene kan skremme selv en kasinospiller med stålnerver. Som vanlig er spilleautomaten proppfull med bonusspill og andre spesielle funksjoner, noe Microgaming som regel sørger å ha med. De lavest betalende symbolene på Haunted Night er kortnominasjonene fra 9 til A – disse gir ut gevinster på opp til 250 mynter, men som oftest vil de sjeldent dekke innsatsen. Det er selvfølgelig de tegnede symbolene du bør håpe på, siden det er disse som spytter ut gratisspinn og høye utbetalinger. Et spøkelse, et utrolig skremmende gresskar, en svart katt med et dødninghode i armene, samt en vakker, halvnaken heks spinner rundt på skjermen og gir deilige gevinster med jevne mellomrom. Heksa, katten og gresskaret gir opp til 1000 mynter om man treffer på en kombinasjon av fem like.
Gevinster og funksjoner på Haunted Night
Microgaming har lagd utrolig mange helt ulike spill, og Haunted Night er ett av de bedre av disse. Temaet er skummelt og er neppe for de som blir lett imponert, men det er absolutt verdt å ta noen spinn på denne spennende spilleautomaten. For det første er det hele 243 gevinstlinjer å forholde seg til, altså er nesten hvert spinn etterfulgt av en gevinst, selv om de fleste gevinstene kun dekker innsatsen din. Innsatsmulighetene er forresten veldig brede, som på alle andre spilleautomater fra denne populære spillutvikleren. Wildsymbolet kommer i form av ordet Wild skrevet i en guffen skrifttype – dette symbolet vil forvandle seg til alle andre symboler etter behov, og hjelpe deg med å sette større kombinasjoner for deretter å gi høyere gevinster. Så har man to scattersymboler som begge er veldig lukrative å støte på. Det første kommer i form av logotypen til spillet på en grønn bakgrunn. Her blir du dratt med til en enda skumlere skjerm, der tre døde skjelett henger fra trærne. Hver av disse holder et skilt som står for en runde gratisspinn – altså får du velge hvilke gratisspinn du ønsker. Enten velger du 15 gratisspinn med 3x multiplikator, 10 gratisspinn med 5x multiplikator, eller 5 gratisspinn med 10x multiplikator. Altså må du tenke deg godt om før du velger. Det beste er at man kan vinne flere gratisspinn underveis – med litt vil du kunne spinne hjulene flere titalls ganger uten å bruke en eneste krone fra egen lomme. Det andre bonusspillet utløses av symbolet med ordet Bonus og en grav i bakgrunnen. Her får du femten ulike gravstener å velge mellom – hver av disse skjuler en gevinst, mens en av dem inneholder ordet «Collect». Prøv å samle inn så mye penger som overhodet mulig før du treffer på «Collect»-stenen og spillet blir avsluttet.
Jackpot på Haunted Night
Spilleautomaten Haunted Night fra Microgaming har to kule bonusfunksjoner som begge gir store gevinster. Den har også en generelt høy utbetalingsrate på grunn av de 243 måtene man kan vinne på. Dessverre har den dog verken noen progressiv eller innebygd jackpot, noe som hadde satt prikken over i-en på denne maskinen. Her blir man i stedet nødt til å satse alt på gratisspinnene – klarer du å spinne hjulene over tretti ganger uten å bruke egne penger, vil du kunne stikke av med meget store gevinster.