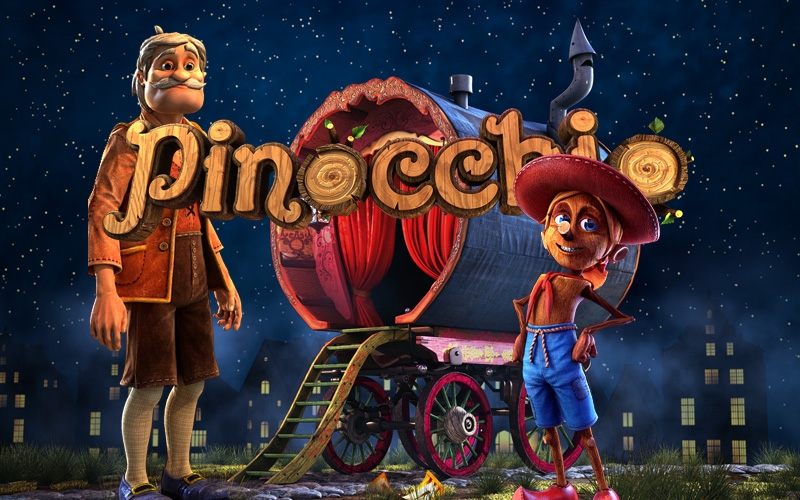 Betsoft er et spillutviklerselskap som aldri slutter å imponere. I spilleautomaten Pinocchio har de lagt inn et veldig kjent eventyr som tema. Presentasjonen er utrolig godt gjennomført, og når man spiller har man en flott spilleskjerm foran seg. Detaljene er mange, og de kommer godt frem, takket være den flotte grafikken de har brukt. Oppsettet er klassisk, og det er veldig enkelt for spilleren å komme i gang med en spillerunde. Spilleautomaten leveres også med flere flotte spesialfunksjoner som kan aktiveres underveis i en spillerunde. Pinocchio er et av Betsoft sine nyeste utgivelser, men den er allerede tilgjengelig hos flere nettbaserte kasinoer.
Oppsettet
Oppsettet i Pinocchio er satt sammen av fem hjul og tre rader med symboler. Det er et oppsett som er kjent for de aller fleste. Når det kommer til innsatslinjer har Betsoft valgt å legge inn 15 stykker. De er også lagt inn som justerbare, slik at de spillerne som vil spille med et lavere antall, kan gjøre det. Som en del av oppsettet er lagt inn flere justeringsknapper. De skal spilleren ta i bruk for å justere innsatsen for en spillerunde.
Innsatser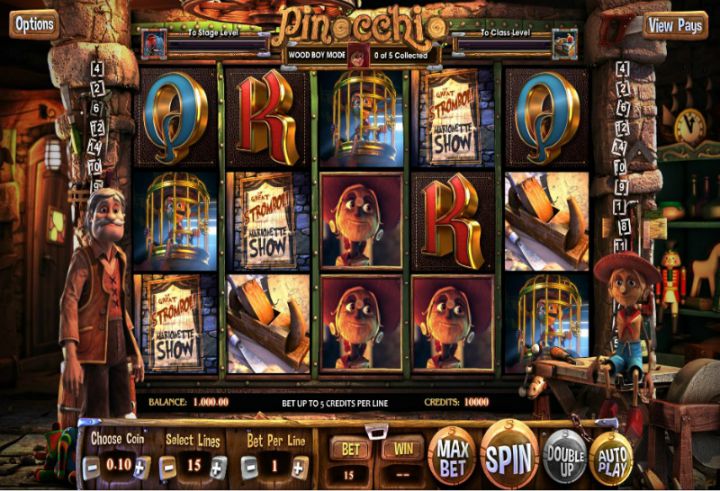 Totalt i Pinocchio finner spilleren tre justeringsknapper. De er satt nederst på spilleskjermen. De tre knappene lar spilleren justere antall mynter, myntverdien og antall innsatslinjer. Til høyre for disse justeringsknappene finner man en oversikt over den totale innsatsen, samt en oversikt over gevinstene man får i en spillerunde. Det er også lagt inn noen hjelpeknapper, som spilleren kan ta i bruk, i tillegg til justeringsknappene. Hjelpeknappene er max bet-knappen, stoppknappen, gamblingsknappen og autospillknappen. De gjør alle at spilleren kan få en ende enklere spilleopplevelse. Pinocchio er laget som en lavinnsats spilleautomat. Det vil si at innsatsnivåene går ikke så høyt. Maksimumsverdien på en mynt er satt til en i kreditt, og antall mynter er satt til fem stykker.
Temaet
De aller fleste har trolig vært borti eventyret om Pinocchio. Pinocchio er en dukke som ble laget av dukkemakeren Geppetto. Geppetto hadde et ønske i livet, og det var at han skulle få en ordentlig sønn. Takket være fantasien og magien man finner i et eventyr, fikk Geppetto oppfylt ønsket sitt. Det er et flott tema som passer helt utmerket i en spilleautomat. 3D effektene som Betsoft har brukt gjør også at eventyret kommer til liv i spilleautomaten. På spilleskjermen har man en animasjon av Geppetto og også av den lille gutten Pinocchio.
Symbolene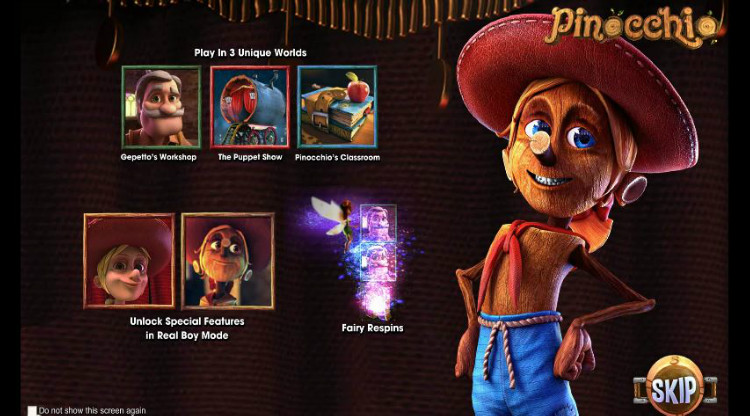 Det er mange flotte symboler som er lagt inn på hjulene i spilleautomaten. De fleste av dem er i form av bilder som passer godt til temaet. De resterende symbolene er i form av bokstaver og tall som er hentet fra en vanlig kortstokk. Alle symbolene har en 3D effekt, slik at de står godt frem på hjulene. Det er flere av symbolene som har spesialfunksjoner, slik at de kan aktivere flere fordeler for spilleren.
Spesialfunksjoner
Et av de mest spesielle funksjonene i Pinocchio er det at spilleren kan aktivere en ny verden å spille i. Funksjonen fungerer slik at spilleren samler opp to forskjellige symboler. Når det er blitt samlet inn 10 stykker, kan spilleren velge å aktivere den nye verdenen. Med den nye verdenen følger det med flere nye funksjoner. De forskjellige bildesymbolene har nemlig forskjellige funksjoner i de to forskjellige verdenene. I den vanlige verdenen fungerer Geppetto som en scatter, som dukker opp spredt på hjul en, tre og fem. I den andre verdenen er det symbolet av en bok som fungerer som scatter. Symbolet av en fe fungerer som en aktivering for gratisspinn. Med gratisspinnene følger det også med en funksjon som hjelper spilleren med å få kombinasjoner på fem symboler. Det er også lagt inn en helt spesiell kombinasjon med tre bestemte symboler, som kan aktivere en funksjon som heter wild scroll. Funksjonen gjør blant annet at det dukker opp flere wildsymboler på hjulene. Det er aldri et kjedelig øyeblikk når man spiller Pinocchio.