Novomatic heter det spillselskapet som har utviklet spilleautomaten Wild Rescue. Novomatic er en spillutvikler som er godt kjent både for spilleautomater og for videoslots. Wild Rescue er da deres nyeste tilskudd innen spilleautomater, og de har gjort en god jobb med utviklingen av spillet. Det er et godt valgt tema i spilleautomaten, som også er godt presentert. Utgivelsen av spilleautomaten var også godt planlagt i forhold til tema som er satt. Når det kommer til spesialfunksjoner så har også Novomatic klart å legge inn flere gode, slik at spillerne får oppleve enda litt mer spenning når de spiller. Alt i alt er Wild Rescue en spilleautomat som trolig kommer til å falle i smak hos mange spillere.
Spilleskjermen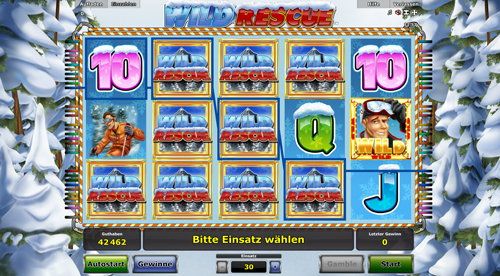 Spilleskjermen i spilleautomaten er den som presenterer tema og det er gjort på en veldig god måte. Tema som er satt i Wild Rescue er vintersesongen og det er satt mest fokus på aktivitetene som mange bedriver på den tiden, nemlig å stå på ski. Spilleskjermen viser dette på flere måter. Bakgrunnsbildet viser snødekte trær på hver side og det man kan skimte nederst på bakgrunnsbildet er trolig en bakke som er satt opp for at folk skal kunne stå på ski eller slalåm. Øverst på spilleskjermen finner man spilleautomatens logo og den er formet i blå og røde bokstaver, som da også har fått et dryss med snø over seg. Midt på spilleskjermen finner man spilleautomatens hjul og symboler. Hjulene er rammet inn i det som ser ut som deler fra en skiheis. Bakgrunnen på selve hjulene er satt i en lyseblå farge som da er dekorert med flotte snøkrystaller. På hjulene har man spilleautomatens symboler og de kommer i to ulike former. De høyeste symbolene fra en vanlig kortstokk er blitt brukt og de kommer i form av bokstaver eller tall. De har alle fått et lite dryss av snø over seg. De resterende symbolene kommer i form av bilder som passer godt til temaet. Man kan se flere spreke mennesker som er ute og nyter vinterværet og føre, og det er også lagt inn et symbol som viser en helikopter. Det er jo tross alt noen som må ha oversikt over sikkerheten i skibakkene.
Oppsettet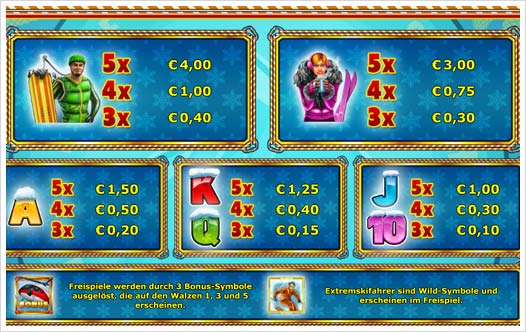 Oppsettet i Wild Rescue er det mest tradisjonelle som finnes innen videospilleautomat. Den består av fem hjul og tre rader med symboler og det er totalt lagt inn 30 innsatslinjer. Nederst på spilleskjermen vil man finne noen knapper og en av disse er en justeringsknapp. Justeringsknappen er til for at spilleren skal kunne justere innsatsen det skal spilles med. Innsatslinjene er nemlig satt inn som faste, så spilleren trenger kun å tenke på den totale innsatsen i en spillerunde. I tillegg til justeringsknappen finner man en hjelpeknapp nederst på spilleskjermen. Det er en autoplayknapp som da vil gjøre at spilleautomaten går av seg selv et bestemt antall runder. Den grønne startknappen helt til høyre er den som setter i gang spilleautomaten på vanlig måte.
Spesialfunksjoner
Det er lagt inn to ganske gode spesialfunksjoner i spilleautomaten, hvor den ene blir aktivert med et spesialsymbol og den andre blir aktivert helt tilfeldig mens man spiller. Spesialsymbolet som er lagt inn er bonussymbolet, og man trenger minst tre synlige for at funksjonen skal settes i gang. Det som skjer i bonusen er at man vil se seks symboler som viser folk som står på ski, og de vil være plassert på toppen av et eller flere hjul. For hvert spinn man setter i gang etter det vil man se at disse symbolene beveger seg nedover. Etter hvert vil symbolene ende opp nederst på hjulet. Det er da to ting som kan skje. Enten så vil symbolet bare forsvinne, eller så vil man se at et helikopter kommer over skjermen og plukker opp symbolet, for så å sette den på toppen av et hjul igjen. Dette betyr at bonusrundene kan fortsette ganske mye lenger enn det man er vant til å se.