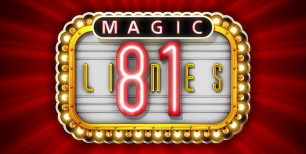 Det er nok en rekke kasinospillere som vil si seg enig i, at det aller beste selskapet man kan velge når det kommer til de tradisjonelle spilleautomatene er Novomatic. De lanserer stadig vekk nye og spennende spilleautomater og finner nye måter de kan imponere alle deres fans på. Denne spilleautomaten som har fått tittelen Magic 81 ble lansert i november 2014. Dette spillet vil være helt perfekt for de spillerne som vil kunne gjenoppleve de gode gamle dagene sammen med de klassiske symbolene, samtidig som de kan prøve noe helt nytt. Dette er en av Novomatic sine aller nyeste lanseringer og kan friste med utrolige 81 spillelinjer, og det kan absolutt aldri slå feil. Det er derimot noen få ting som spillutviklerne har sørget for skal forbli det samme. Selv om spillet har fått et klassisk utseende og design med en følelse av de gamle enarmede bandittene, har Novomatic sørget for at deres gjenkjennelige stil på lydeffektene og grafikken har blitt værende. Spillerne kan med andre ord fortsatt få høre Novomatic sine elektroniske lydeffekter, og se en fantastisk fargerik grafikk. I tillegg til alt dette har spillutviklerne lagt til to spesialfunksjoner, hvor den ene har vært til stede en god stund, mens den andre virkelig kan hente frem gevinstene i spillet. Det er nemlig i den funksjonen hvor magien i spillet dukker opp.
Funksjoner og spillernes innsatsalternativer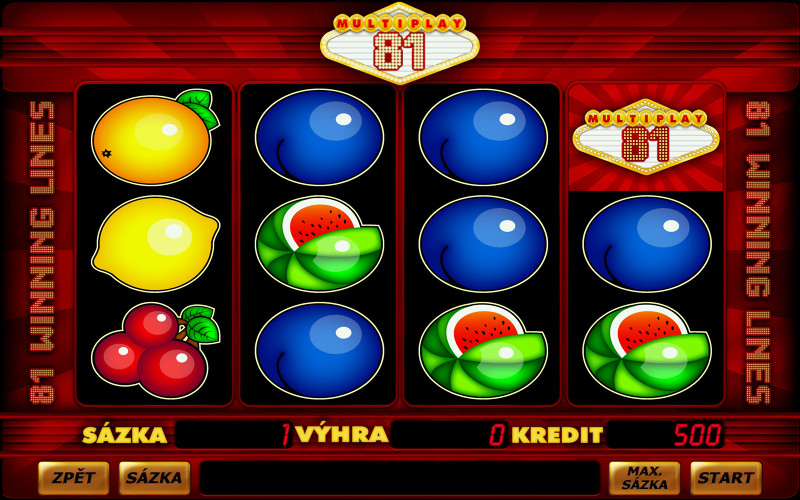 En utrolig viktig del av en spilleautomat er hva slags ulike funksjoner som er tilgjengelig for spillerne. I Magic 81 vil spillerne heldigvis kunne finne alle de vanlige funksjonene som spillerne kan ønske i et spill. I menyen som har blitt plassert under hjulene kan spillerne ta i bruk «auto play» knappen, i tillegg til at de kan se en oversikt over mulige gevinster i spillet. I tillegg til dette har spillutviklerne selvsagt lagt til gamblingfunksjonen som utrolig mange er glade i. Takket være denne funksjonen kan spillerne doble sine gevinster opp til fem ganger på rad, eller om de ikke har hellet med seg, tape alt sammen. Det spillerne må gjøre, er at de må kunne gjette fargen på det kortet som har blitt gjemt bort. På toppen av spillet kan spillerne i tillegg justere på lyden, få mer informasjon om spillet og en rekke andre ting. En annen ting man vil finne på menyen er innsatsalternativene. I Magic 81 vil spillerne kunne justere på innsatsen sin kun gjennom en innstilling. Da alle spillets 81 spillelinjer alltid vil være aktiverte og spillerne kun kan satse en mynt per spillelinje, må spillerne justere innsatsen sin fra 0,40 $ og oppover.
Spillets oppsett og symboler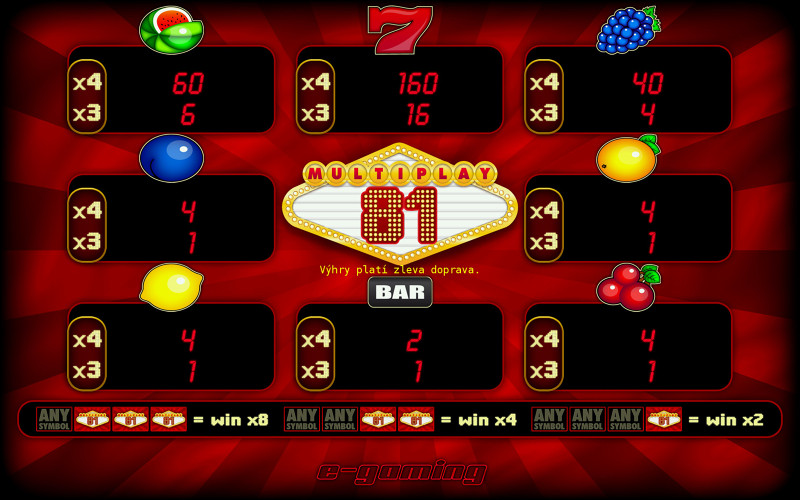 Som forklart allerede er dette spillet en klassisk spilleautomat, noe som betyr at spillerne vil kunne finne et klassisk oppsett. Spillet har nemlig blitt satt sammen av fire spinnende hjul, tre rader med symboler, men spillet har fått utrolige 81 spillelinjer som spillerne kan satse på. Spillets bakgrunn er en enkel rød farge, mens spillets tittel har blitt plassert på toppen av noe som kan ligne et skilt fra en gammel kino eller et teater. På hjulene fortsetter spillets klassiske design, da spillerne vil kunne se alle de gode gamle symbolene fra enarmede banditter. Det finnes både plommer, sitroner, kirsebær, 7-tall, BAR-symboler, appelsiner, vannmeloner og lime.
Spesialsymboler, gevinster og bonusrunder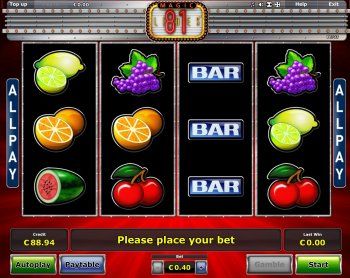 Magic 81 inneholder som sagt alle de klassiske symbolene, noe som vil si at den høyeste gevinsten spillerne kan få, er dersom fem 7- tall dukker opp. Da vil spillerne motta en gevinst på hele 160x deres totale innsats. Magic 81 kan derimot by på noe enda mer spennende enn dette. Et Magic 81 symbol som vil kunne utbetale 2x gevinster per spillelinje om den dukker opp en gang, 4x gevinster for to symboler og hele 8x gevinsten for tre symboler. Dette betyr at Magic 81 symbolet er et wildsymbol som kan erstatte andre symboler i spillet. Spillerne må huske på at det ikke bare er tre eller fem spillelinjer, men hele 81 spillelinjer. Når dette kombineres med Magic 81 symbolet vil spillerne motta noen utrolig flott gevinster.