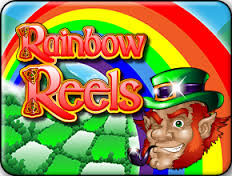 Det finnes noen temaer som er mer brukt enn andre når det kommer til spilleautomater og blant de finner man temaer som er basert på ulike ting som man forbinder med Irland. I Rainbow Reels finner man også et slikt tema, men naturligvis så har spillutviklerselskapet sørget for at spillet skiller seg ut fra mengden. Novomatic, som er spillutviklerselskapet som står bak Rainbow Reels, har trolig nok en suksess foran seg med Rainbow Reels. Det er brukt et populært tema og det er presentert på en utrolig god måte. Det er morsomme spesialfunksjoner som kan dukke opp underveis og det er helt klart mange som kommer til å få en god spilleopplevelse av å spille Rainbow Reels.
Spillets oppsett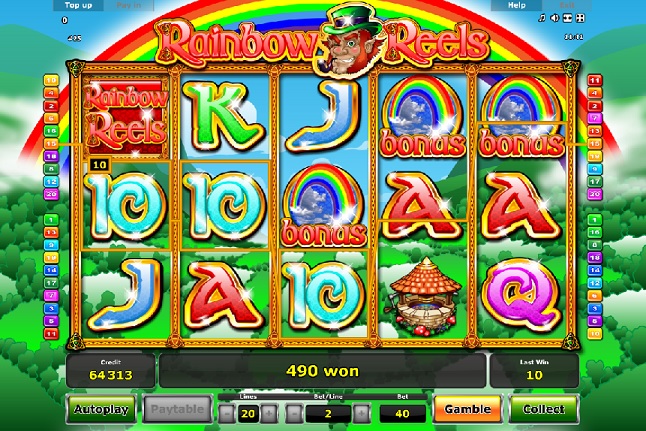 Novomativ har valgt å kjøre på med det mest tradisjonelle når det kommer til spilleautomaten Rainbow Reels. På spilleskjermen finner man et oppsett som består av fem hjul og tre rader med symboler. I tillegg har man 20 innsatslinjer. Innsatslinjene i spillet er ikke satt inn som faste. Det vil si at spilleren velger selv hvor mange innsatslinjer som skal være aktivert når man spiller. Justeringen på antall innsatslinjer gjøres ved at man bruker pluss- og minusknappene som man finner nederst på spilleskjermen. I tillegg til å kunne justere innsatslinjene, kan spilleren også justere innsatsen som skal legges per aktive innsatslinje. Dette gjøres også ved å bruke en egen knapp som er plassert nederst på spilleskjermen. Når man er klar med de ulike justeringene kan man velge å sette i gang spillet på to forskjellige måter. Enten bruker man den vanlige spinnknappen eller så bruker man autospinnknappen. Autospinnknappen gjør da at spillet går av seg selv et bestemt antall runder.
Spillets spesialsymboler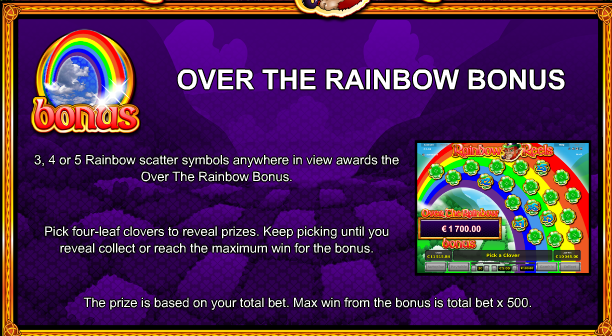 I Rainbow Reels finner man tre forskjellige spesialsymboler. Det første spesialsymbolet er et wildsymbol. Wildsymbolet fungerer som spillets joker og har også høyeste verdien på hjulene. Det erstatter andre symboler som dukker opp på hjulene, men da ikke de andre spesialsymbolene. Wildsymbolet er i form av en liten irsk nisse som røyker pipe. Det andre spesialsymbolet i spillet er bonussymbolet. Bonussymbolet aktiverer det som kalles over the rainbow bonus i spillet. Man trenger minst tre bonussymboler for å aktivere bonusspillet. Underveis i bonusspillet har man mulighet til å vinne opp til 500 ganger innsatsen man har lagt i spillet. Hvor mye man vinner er faktisk helt tilfeldig, da det eneste man skal gjøre er å plukke ut fire forskjellige firkløvere. Et annet spesialsymbol i spillet er det som er i form av en krukke med gull. Når man får tre slike på hjulene får man en pick me bonus. Den går ut på at man skal plukke ut forskjellige symboler og gjennom de får man tildelt kontantgevinster.
Spilleskjermen i spillet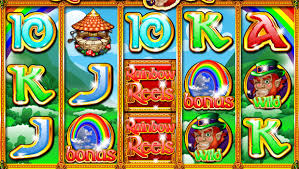 Spilleskjermen som møter en når man spiller Rainbow Reels er mildt sagt fargerik. Fargene står nesten ut av spilleskjermen og er med på å skape en morsomt og leken spilleskjerm. Ser man på bakgrunnsbildet i spillet kan man skimte masse grønn og flott skog. Over skogen er det noen veldig lave skyer og over disse skyene ser man en flott og fargerik regnbue. Regnbuen går da til toppen av spilleskjermen og over regnbuen har man spillets logo. Logoen er i røde bokstaver og midt mellom de to ordene finner man et bilde av en irsk nisse. Under spillets logo finner man spillets hjul. På hjulene finner man da spillets symboler. Symbolene er i to forskjellige former. For det første har man de høyeste symbolene fra en vanlig kortstokk. De er da plassert ut enten i form av bokstaver eller tall og de er i ulike farger. I tillegg har man symboler som er formet i bilder som da passer til spillets tema. Alle symbolene er utrolig flotte og fargerike. Symbolene står også flott til bakgrunnsbildet, da det skinner gjennom spillets hjul. Nederst på spilleskjermen finner man spillets oppsett med knapper, som er satt opp på en ryddig måte.