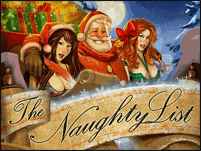 The Naughty List er en spilleautomat som kommer fra spillutviklerselskapet RealTime Gaming. RealTime Gaming er ett av mange spillutviklerselskap og de er med andre ord med på den store konkurransen. Et så stort marked bringer så klart med seg konkurranse og det er da opp til spillutviklerselskapene å komme med det mest originale, slik at nettopp deres spilleautomater skiller seg ut fra mengden. RealTime Gaming viser at de har tenkt litt unikt når det kommer til The Naughty List. De har tatt for seg et tema som er veldig avhengig av sesong, men det er også godt mulig at spillerne kommer til å velge denne spilleautomaten, selv om det er midt på sommeren. Temaet er nemlig satt til jul og det er helt klart en julestemning med i bildet. Opprinnelsen til spilleautomatens tittel er trolig inspirert av listen julenissen har med hvem som skal få gave, eller med andre ord, hvem som har vært slem nok til å ikke få gave. The Naughty List er i alle fall en spilleautomat som er godt utformet og som har et tema som er godt presentert.
Grafikk og spilleskjermen
Spilleskjermen i The Naughty List er flott å se på og man kan kjenne at julestemningen treffer en med en gang. Det er tydelig at RealTime Gaming har valgt en litt gammeldags inspirasjon, og det gjør bare at spilleskjermen ser enda mer koselig ut. Bakgrunnsbildet på spilleskjermen viser en liten del av huset til julenissen, hvor det er snø utenfor vinduet og arket ligger klart for at de som skal få gave eller ikke skal føres opp. Øverst i venstre hjørne har man spilleautomatens logo. Den er formet med noen flotte bokstaver som da er skrevet opp på et ark, og er signert med et kyssemerke. Nederst på spilleskjermen har man spilleautomatens knapper og de er satt opp til å skli inn med resten av spilleskjermen. Det er nemlig tradisjonelle julefigurer som er bakgrunnen til de forskjellige knappene. Spilleautomatens symboler er plassert på hjulene og de er formet på to ulike måter. Noen av dem er i form av ulike bilder som viser ting man gjerne forbinder med julen, i tillegg til noen lettkledde kvinner som trolig er nissens hjelpere. De andre symbolene er hentet fra en vanlig kortstokk, men er da plassert på julebjeller.
Spesialfunksjoner i spilleautomaten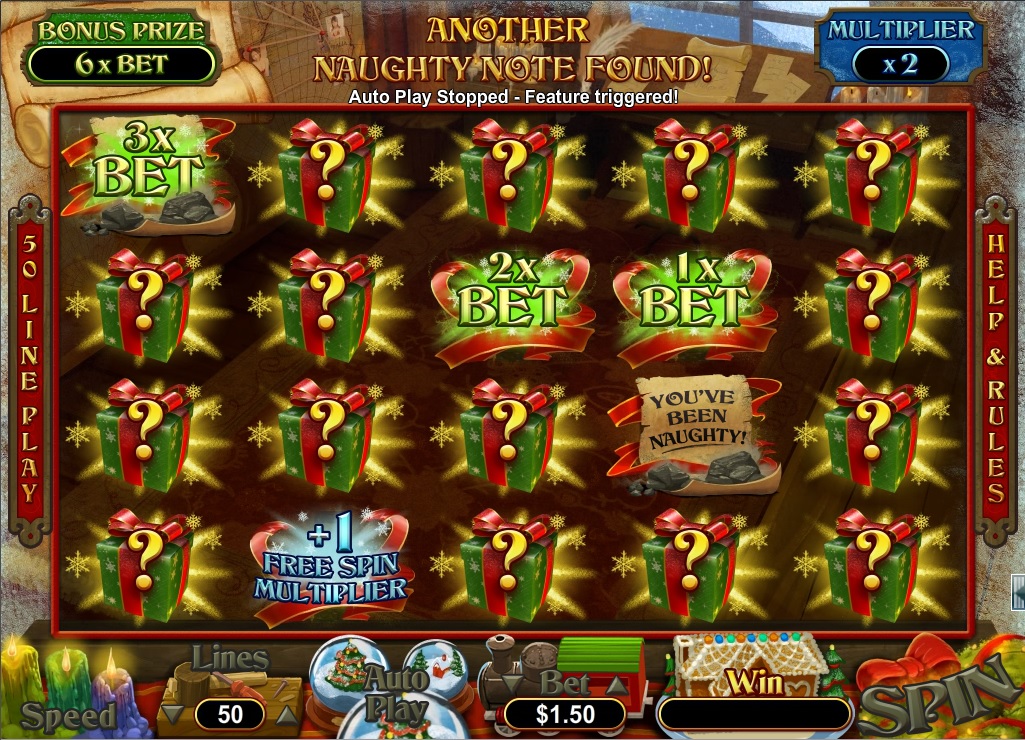 The Naughty List har ingen mangel på spesialfunksjoner. Det er flere spesialsymboler på hjulene og de har da hver sin funksjon de kan aktivere. Symbolet som er i form av julenissen selv fungerer som spilleautomatens wildsymbol. Funksjonen dette symbolet har er at det fungerer som en joker og kan derfor erstatte alle de andre vanlige symbolene på hjulene. Det dukker også opp som stablet symbol på hjul to, tre, fire og fem. Spilleautomatens scattersymboler er de to symbolene som er i form av kvinner. Hvis man får en kombinasjon på fem slike symboler, så vil man få tildelt 500 mynter i gevinst. Det er en annen scatter som kan dukke opp på hjulene og den har en litt større funksjon den kan aktivere. Den er i form av listen til nissen og når man får tre slike spredt på hjulene, så vil man få aktivert spilleautomatens bonus. Bonusen går ut på at det dukker opp 20 forskjellige gaver på skjermen og som spiller får man åpne hver eneste en. Bak disse kan det være gratisspinnrunder, multiplikasjoner eller kontantgevinster.
Hvordan komme i gang
Det er noen tilpasninger en spiller må gjøre før man kan spinne i gang hjulene i The Naughty List. Først og fremst er spilleautomatens 50 innsatslinjer ikke satt inn som faste innsatslinjer. Det vil da si at spilleren kan få inn og justere på antallet. I tillegg til det er det spilleren som må bestemme myntverdien det skal spilles med. Det er satt en mynt per aktive innsatslinje, men spilleren bestemmer verdien. Verdien kan ligge på mellom 0,01 og opp til 0,25 i kreditt.