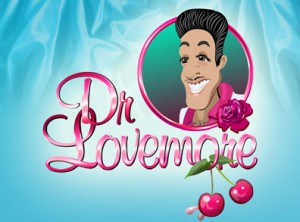 Kjærlighet kan gjøre vondt, og av og til trenger man kanskje litt hjelp i kjærligheten. Da kan en kjærlighetsdoktor være tingen! Slike doktorer er ikke spesielt vanlige i Norge, men i USA finnes det flere av dem. Playtech har latt seg inspirere av kjærlighetsdoktorer, og har utviklet spilleautomaten Dr. Lovemore. Spilleautomaten kan kanskje ikke helbrede kjærlighetssorg, men den kan i hvert fall by på litt avkobling slik at man får noe annet å tenke på. Man trenger ikke engang å ha kjærlighetssorg for å spille på den, for spillet skaper god stemning uansett hvilket humør man er i.
Spillets oppbygging
Dr. Lovemore har bare 10 gevinstlinjer, og det er til og med mulig å redusere antallet dersom man ønsker det. Selvsagt vinner man bare på aktive linjer, derfor er det lurt å aktivere alle linjene dersom man vil ha maksimalt med vinnersjanser. Myntverdiene er så lave at det ikke koster stort å spille med alle linjene aktivert. Den laveste myntverdien er på bare 0,01 euro, og da koster det ikke mer enn 0,10 euro per spinn når alle linjene er i spill. Den største myntverdien er 5 euro. Man kan satse fra 1 til 10 mynter per linje, og dermed blir maksimums innsats på hele 500 euro per spinn.
Denne automaten har en ganske vanlig oppbygning, med fem hjul og tre rader. Hjerter pynter opp den blå bakgrunnen. Lydeffektene er enkle, men passer fint til en enkel spilleautomat. Dr. Lovemore tilbyr også bonusspillet Dollar Ball, som er et slags lotteri. Her skal man velge fem tall, og håpe at noen av dem blir trukket som vinnertall.
Utbetalinger
Selv om alle symbolene i Dr. Lovemore er unike for dette spillet, merker man likevel at spillet er inspirert av fruktmaskiner. De laveste gevinstene deles nemlig ut av saftige frukter. Fruktene må være minst tre like på rad for å gi gevinst, og med fem like på rad, vinner man 150 mynter for jordbærene, 125 mynter for kiwien, 100 mynter for bananene, 75 mynter for appelsinen og 50 mynter for kirsebærene.
De mest verdifulle symbolene deler også ut gevinst for to like på rad. Disse symbolene viser tegnene for mann/kvinne, en champagneflaske, en parfymeflaske og en bukett med roser. Med fem av disse symbolene på rad, vinner man mellom 200 mynter og 500 mynter. Alle gevinstene finnes i gevinsttabellen, og myntene man vinner har samme verdi som myntene man satser.
Jokere og scattere
Dr. Lovemore kan by på både jokere og scattere. Jokeren viser doktorens bilskilt, og dette symbolet kan både danne egne vinnerrekker, og det kan fullføre andre vinnerrekker gjennom å ta plassen til de andre grunnsymbolene. Jackpotten i spillet er på 10  000 mynter, og den vinner man med fem jokere på samme gevinstlinje.
Scattersymbolet viser den vellykkede doktoren. Han deler ut gevinst dersom to eller flere slike symboler er et eller annet sted på spillskjermen. Scatterne trenger ikke å følge gevinstlinjene eller være plassert etter hverandre for å gi utbetalinger. Det er ikke scatteren som deler ut gratisspinnene. Gratisspinnsymbolet viser et par underbukser. For å vinne gratisspinn, må dette symbolet være på hjul 1 og hjul 5 samtidig. Belønningen er 20 gratisspinn med 2x multiplikator. Gratisspinnene kan bli gjenutløst når man spiller med gratisspinn.
Konklusjon
Dr. Lovemore kan kanskje ikke kurere kjærlighetssorg, men spilleautomaten kan utvilsomt skape god stemning. Det er mulig å spille med småpenger eller satse hele 500 euro per spinn, og dermed passer spillet for alle lommebøker. Sidespillet Dollar Ball er et lotteri som man selv velger om man vil aktivere. Med jokere og scattere er det mulig å vinne fine gevinster på selve spilleautomaten, og man kan få 20 gratisspinn, med muligheten til å vinne enda flere gratisspinn underveis. I dette spillet blandes humor og elementer fra klassiske fruktmaskiner, og spilleautomaten er vellaget på alle måter. Den lave minsteinnsatsen gjør at også nybegynnere har råd til mange spinn. Hvorfor ikke la den hjelpsomme legen jage vekk kjedsomheten?