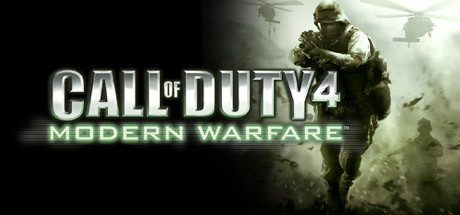 Det kommer ikke som noe overraskelse at noen kom opp med den ideen å bruke Call of Duty som tema i en spilleautomat. Call of Duty er et av de mest populære tv-spillene som har blitt sluppet ut på markedet de siste ti årene. Hysteriet rundt tv-spillet har kanskje dødd ut litt, men nå kan spillerne få glede av spillet på nettkasinoer også. Spillet fungerer selvfølgelig ikke på samme måte, men det er rett og slett slik at spilleautomaten er inspirert av Call of Duty 4: Modern Warfare.
Informasjon om Call of Duty 4
Det er ingen enkel sak å prøve å sette inn et TV-spill i en spilleautomat, men Cryptologic har klart det, og det også etter aller beste evne. Spillet leveres med en spilleskjerm som er tydelig preget av det originale spillet. Det er våpen og kamp som er satt i fokus og for de som har spilt originalen, så vil man også kunne kjenne igjen bakgrunnen. Spillet leveres med 25 innsatslinjer å spille på, og det er også lagt inn fem hjul og tre rader i oppsettet. Spilleautomaten har noen gode effekter å by på underveis, og det er også mulighet for å aktivere en bonus eller to.
Grafikken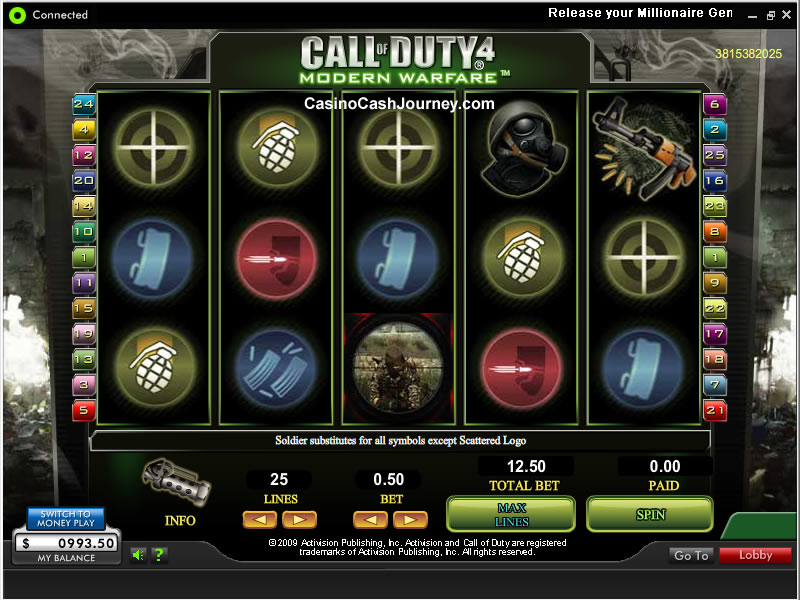 Det er mye av grafikken som er brukt i Call of Duty 4, som er hentet ut fra det originale spillet, og det betyr at grafikken holder en god standard. Spilleren får kjent på noe av den samme stemningen som om man skulle spilt originalversjonen, og det er helt klart en god ting. Cryptologic har vist seg å være smarte når det kommer til symboler, og de har blant annet brukt den originale logoen som et symbol, i tillegg til flere våpen. Den mest imponerende delen av grafikken er animasjonene og effektene som plutselig kommer til syne på skjermen. Effektene er så gode at spilleren kan oppleve å faktisk skvette litt når den blir spilt av. En av animasjonene går ut på at en soldat plutselig løpet over skjermen og skal til å sprenge noe.
Hvordan spiller man
Det å spille Call of Duty 4 er en enkel sak, og det er en todelt prosess man må gjennom for å sette i gang spilleautomaten. Det er to knapper som skal benyttes, og de er del av menyen som man ser nederst på spilleskjermen. Den ene knappen lar spilleren tilpasse pengeinnsatsen, som skal plasseres ut på hver av de aktive innsatslinjene. Den andre knappen er knyttet til innsatslinjene, som spilleren har mulighet til å justere på. Når de to knappene er brukt og innsatsen er satt, er det kun en knapp igjen, og det er spinn, som setter i gang hjulene.
Det er noen andre knapper som kan brukes, men de er ikke knyttet til innsatsene i spillet. Blant annet finner man «bet max», «paytable» og autospinn, og de har alle hver sin funksjon innenfor spillet. Bet maks vil automatisk aktivere alle innsatslinjene, og sette innsatsen på høyeste nivå. «Paytable» gir spilleren tilgang til ulik informasjon om spillet, mens autospinn anbefales å bruke for de spillerne som spiller mye.
Bonusfunksjoner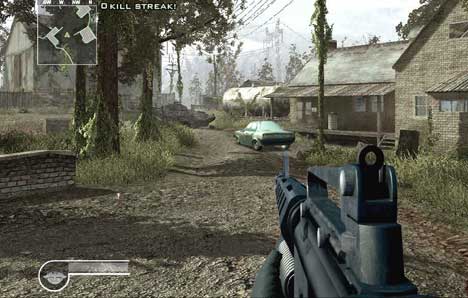 Det er to enkle men gode bonuser som er tilknyttet Call of Duty 4. Spillets logo dukker opp som et eget symbol, som erstatter andre symboler på hjulene. Det vil si at dette symbolet kan fullføre en kombinasjon av symboler, slik at det blir en vinnende kombinasjon, som betaler ut penger til spilleren. Det er kun ett symbol som logosymbolet ikke kan erstatte, og det er symbolet av soldatene. Soldatene som dukker opp er spillets spredte symbol, og de er tilknyttet bonusspillet. Det er minst tre soldater som må samles på hjulene for at bonusspillet skal startes, og det er en fin plukk og vinn bonus, som betaler ut ulike gevinster til spilleren. Det er kanskje ikke det største utvalget innen bonuser i Call of Duty 4, men det er mer enn nok til å holde spilleren underholdt.