Hvorfor ikke lage en spilleautomat med golf som tema? Det var nok tanken bak spillet Golden Tour fra Playtech. Golf er et populært spill, og denne spilleautomaten klarer fint å formidle roen og stemningen på golfbanen. Men man trenger selvsagt ikke å være golfspiller for å nyte dette spillet.
Spillets oppbygging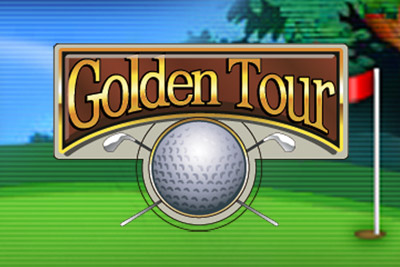 Golden Tour har fem hjul med tre rader, og hjulene er plassert på en golfbane. I bakgrunnen ser man trør, gress og en spiller som slår ballen mot hullet. Det er bare fem gevinstlinjer i spillet, og dermed er det enkelt og oversiktlig, i tillegg til at det også er rimelig, spesielt når man spiller med lav myntverdi. Den minste myntverdien er på 0,01 euro, og da koster det bare 0,05 euro per spinn. Her kan man altså spinne lenge med småpenger.
Maksimums innsats er 5 euro per linje, som gir en totalinnsats på 25 euro per spinn. Det er ingen bakgrunnsmusikk i spillet, men når hjulene starter, hører man lyden av en golfball som blir slått, og når hvert hjul stanser, hører man en ball som faller ned i hullet.
Knappene under skjermen gjør det mulig å velge myntverdien. Det er også mulig å spille med bare én aktiv gevinstlinje, dersom man trykker på knappen Bet One. Bet Max betyr at man satser én mynt på hver av de fem linjene. Spinnknappen starter hjulene, og knappen for gevinsttabellen åpner premieoversikten.
Symboler og gevinster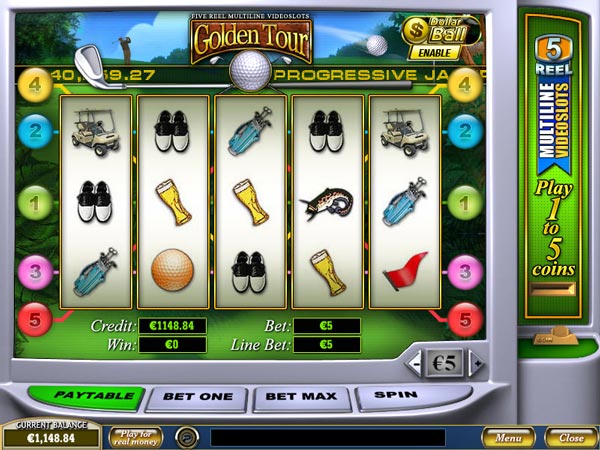 Alle symbolene i spillet er unike, og de fleste er relatert til golf. Noen symboler passer kanskje ikkehelt inn i golfspillet, men de viser også ting man kan støte på ute på banen. Man trenger minimum to like symboler på rad for å vinne noe. Golfskoene gir 50 mynter for fem like. Andre symboler er tee, flagg, golfkøller og golfbiler, og de høyest gevinstgivende symbolene er golfballer i ulike farger. De rosa golfballene gir 500 mynter for fem like. De blå golfballene gir 1000 mynter for fem like, og de gule golfballene gir 2000 mynter for fem like. Den gule golfballen fungerer også som et wildsymbol for de andre golfballene. Wildsymbolet kan bare erstatte andre golfballer, ikke andre symboler. Wildkombinasjoner kan til og med gi gevinst begge veier.
De fleste vinnerrekkene må være tre på rad på samme gevinstlinje, men de tre scattersymbolene trenger bare å være på etterfølgende hjul for å gi gevinst. Scattersymbolene er en fisk, en and og en jordrotte. De kan sikkert forstyrre golfspilleren når de dukker opp på banen. Disse tre symbolene gir ingen egne gevinster, men de kan gi spillerne adgang til bonusspillet.
Bonusspill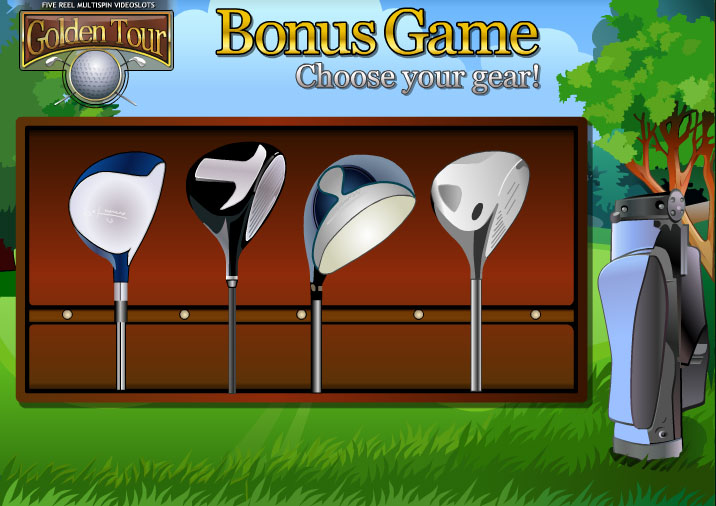 Bonusspillet i Golden Tour handler selvsagt også om golf. Under bonusspillet skal spillerne velge mellom ulike golfkøller. Først skal de velge en driver, deretter et jern og til slutt en putter. Bonusgevinsten man vinner avhenger av hvilke tre køller man velger. Man trenger tre scattersymboler for å komme til bonusspillet, men dersom man fikk fire scattersymboler på skjermen, blir gevinstene i bonusspillet tredoblet som en ekstra belønning. Dersom man fikk fem scattersymboler på skjermen, blir bonusgevinsten tidoblet. Her er det altså mulig å vinne ganske mye.
Sats ekstra for progressiv jackpot
Golden Tour har et tilleggsspill som heter Dollar Ball. Dette spillet finnes i mange automater fra Playtech, og det er helt frivillig om man vil aktivere spillet eller ikke. Ekstraspillet går ut på å velge 5 tall mellom 1 til 49. Mens spillet spilles, blir fem tilfeldige tall trukket, og man får gevinst dersom man har klart å gjette minst ett tall riktig. Med alle fem tallene, vinner man den progressive jackpotten. Det koster litt ekstra å aktivere bonusspillet. Spillerne kan også velge å la automaten plukke ut fem tilfeldige tall.
Konklusjonen blir…
Golden Tour er en enkel spilleautomat. Den har få linjer og er dermed rimelig. Men spillet har både wildsymboler og et ekstraspill med progressive gevinster. I tillegg kan man vinne bonuser og inntil 10x multiplikator i bonusspillet. Her kan golfrunden altså bli både morsom og lønnsom for spillerne.