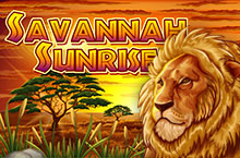 Savannah Sunrise er en spilleautomat fra den verdenskjente spillutvikleren Cryptologic. Dette er ingen ny spilleautomat, men den har mange moderne funksjoner og bærer på en flott atmosfære man gjerne vil ønske velkommen inn i stua der man sitter.
Møt soloppgangen i Afrika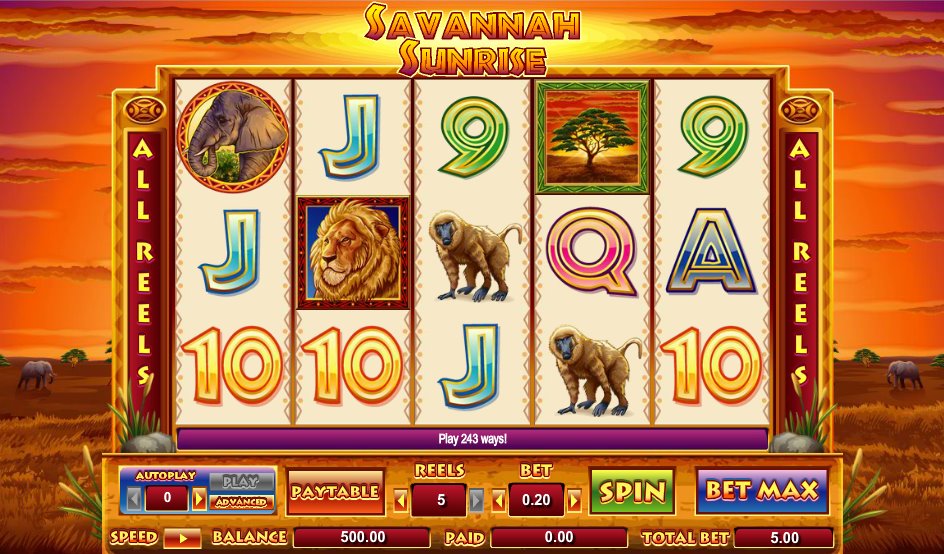 Savannah Sunrise handler nemlig om Afrika, om den varme solen som steker dette gigantiske kontinentet. Savannah Sunrise handler om soloppgangen man kan beskue fra slettene i Afrika – det sies at dette er den vakreste soloppgangen man kan se i sin livstid. Den store, røde sola dukker opp fra bak horisonten og lyser straks opp savannen der ulike fargerike dyr holder til. Til forskjell fra de fleste spilleautomater fra Cryptologic, har ikke Savannah Sunrise noen bakgrunnsmusikk. En veldig godt utvalgt lydeffekt vil spilles av når man treffer på en kombinasjon, men ellers er dette en ganske stum spilleautomat. Grafisk sett er den vakker å se på. Savannah Sunrise tar oss med til savannen, med en rød himmel som speiler av på rød jord. Savannedyrene har begynt å våkne opp, og de fine fargene skaper en koselig stemning. Symbolene på Savannah Sunrise består av ulike afrikanske dyr, samt en rekke kortsymboler som er tegnet i afrikansk stil. Kortsymbolene fra 9 til A gir relativt små gevinster, selv om man satser maksimalt. Maksinnsatsen er forresten på hele fem tusen kroner per spinn, altså er dette en maskin storspillere virkelig kan kose seg med. Det er dog enkelt å stille inn nivået man ønsker å spille på, fra noen kroner og opp til flere tusen. Her vil man se aper, sebraer, giraffer og elefanter spinne forbi – sistnevnte gir opp til hundre ganger pengene tilbake, dermed har Savannah Sunrise en ganske høy utbetalingsrate.
Wildsymboler og gratisspinn på Savannah Sunrise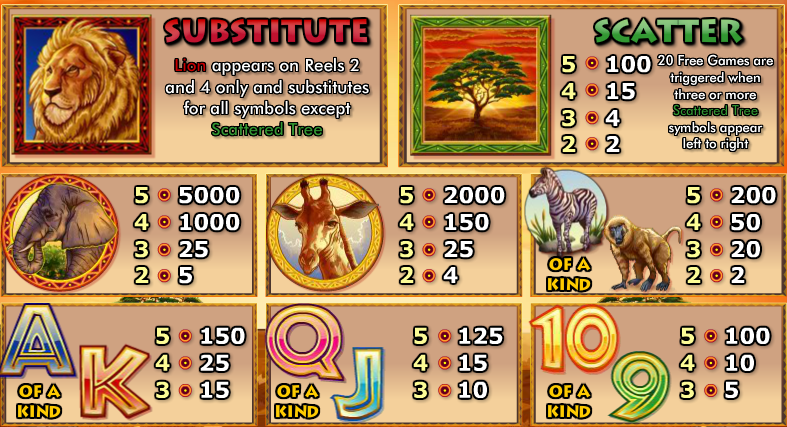 Kortsymbolene gir som sagt ubetydelige gevinster, mens de tegnede savannedyrene kan spytte ut gode premier. Hver av dyrene har en egen animasjon og en passende lydeffekt som vekker Savannah Sunrise til live. Elefanten gir hele 5000 mynter om man treffer på den maksimale kombinasjonen (fem like), mens løven og baobabtreet står for de spesielle funksjonene i spillet. Forresten kan Savannah Sunrise skryte av hele 243 gevinstlinjer. Dette er ikke gevinstlinjer i det hele tatt, men 243 «vinnermåter». Du vil få en gevinst utbetalt så fort to eller flere symboler dukker opp på sideliggende gevinsthjul, uansett om symbolene står på rad eller ei. På det andre og fjerde gevinsthjulet vil en løve titte frem fra tid til annen – dette er wildsymbolet på Savannah Sunrise. Når løven er med på å sette en gevinst vil han brøle som bare det, pass på å ikke skvette! Samtidig vil enhver gevinst med løven bli mangedoblet – dermed er dette et veldig lukrativt symbol å følge med på. Tre scattersymboler i for av en baobab vil utløse tyve gratisspinn, et solid antall med tanke på de høye gevinstene man kan støte på. Det beste her er dog at gratisspinnene kan tjenes inn underveis, mens kostnadsfrie spinn allerede er i gang. Dermed kan man plutselig finne seg i en situasjon der hjulene spinner og spinner mens gevinstene ruller inn – uten at du betaler en eneste krone fra egen lomme. Muligheten til å tjene inn flere gratisspinn underveis i bonusrunden er en av de mest elskede funksjonene blant erfarne kasinospillere.
Ingen jackpot, men høy utbetalingsrate
Savannah Sunrise kan dessverre ikke skryte av noen progressiv jackpot, noe vi egentlig har blitt vant til på spilleautomater fra Cryptologic. Med 243 måter å vinne på samt en maksimal utbetaling på nesten to hundre ganger innsatsen er dette fortsatt en bunnsolid spilleautomat man absolutt bør ta noen runder på. Spesielt om man liker Afrika og savannen – tusenvis av nordmenn reiser på safari hvert år for å titte på de flotte dyrene på det store kontinentet. Nå kan du ta en snarvei, om du er registrert på et nettkasino der Cryptologic stiller ut sine spilleautomater. Savannah Sunrise lar deg møte soloppgangen i Afrika, uansett når du måtte ønske det.