Veldig mange spilleautomater har historiske temaer, og A While on the Nile handler om det gamle Egypt. Her møter spillerne faraoer, edelsteiner og hieroglyfer. Det dukker også opp skarabeer, en vakker kvinne og kortsymboler. Spillet har jokere, spredte symboler og gratisspinn. Symbolene er fargerike, stilige og moderne, og man kan også aktivere superbetinnslaget. Spillet er laget av NextGen Gaming, og de har laget både fin grafikk, gode lydeffekter og god og underholdende spillfølelse. Spillets bakgrunnsbilde viser ørkenen med palmer og Nilen i bakgrunnen. Nilen var veldig viktig for de gamle egypterne, og hele deres sivilisasjon var bygd opp rundt Nilen.
Innsatser og gevinster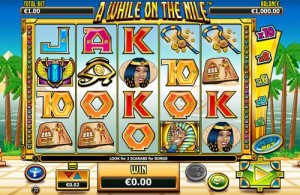 Automaten har fem hjul og 50 gevinstlinjer. Myntverdien kan velges fra 10 øre til 5 kroner per linje, og man kan satse inntil 250 kroner per spinn, dersom man virkelig vil spille om store penger. Man kan velge Superbet. Det koster mer å spille med superbet, men man får en større multiplikator, slik at gevinstene blir større dersom man vinner.
A While on the Nile er veldig variabel. Det betyr at man kan måtte spinne hjulene mange ganger før man vinner noe. Derfor passer ikke denne automaten for spillere som er utålmodige, og bare har tid til å gjøre et par spinn. Her gjelder det å være tålmodig, og man risikerer å tape mye før man vinner noe, derfor bør man ha et romslig budsjett, eller spille med lav myntverdi. Med tålmodigheten på sin side, og en romslig spillerkonto, er dette dog en spilleautomat som vil gi deg en god følelse. Gevinstene kommer med ujevne mellomrom, og den som har tid, ender kanskje med å få flere av de søte gevinstene på rekke og rad – med litt flaks, i alle fall.
En oversikt over symbolene og gevinstene man kan vinne for tre, fire og fem like finnes ved å sjekke spillets utbetalingstabell.
Symboler
Kortsymbolene fra 10 til ess har fine farger. De andre symbolene man møter, er en vakker prinsesse, Ras øye, som er et symbol fra egyptisk mytologi, en hieroglyf, faraos stav og farao selv. Farao er jokersymbolet, som kan erstatte andre symboler for å fullføre vinnerrekker. Spillet har to spredte jokersymboler. Det ene jokersymbolet er en smaragd, og det andre er en skarabé. Smaragden deler ut gratisspinn, og ettersom dette er et spredt symbol, trenger ikke symbolene å være på samme gevinstlinje for å telle med. De kan dukke opp hvor som helst på skjermen, og telle med. Skarabeen utløser bonusspillet. Stablede jokere kan dukke opp på de tre midterste hjulene.
Gratisspinn
Under gratisspinnene kan mange symboler bli endret til jokersymboler. Disse ekstra jokersymbolene kommer i tillegg til de vanlige jokersymbolene. Man kan få hele hjul dekket med jokersymboler, og dette øker selvsagt vinnersjansene.
Bonusspill og gambling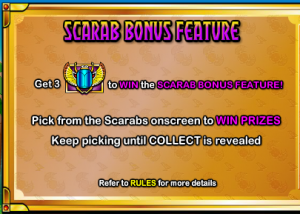 I bonusspillet skal man velge mellom flere skarabeer. De fleste skarabeene skjuler en gevinst, mens et av dem skjuler et symbol som avslutter bonusspillet. Man kan fortsette å velge skarabeer helt til man kommer til symbolet som avslutter spillet. Alle gevinstene man vinner legges sammen, og man kan sanke med seg fine bonuspremier.
Man har muligheten til å gamble om alle de vanlige gevinstene. Dette er et valgfritt spill. Man kan velge å beholde gevinsten, uten å gamble om dem. Dersom man gambler om gevinsten, kan man doble den, men man risikerer også å tape gevinsten. Man spiller alltid med 50 % vinnersjanse, og spillet går ut på at man skal gjette om det skjulte kortet er rødt eller svart. Man kan også gjette på om kortet er spar, hjerter, kløver eller ruter, men i dette spillet har man altså bare 25 % vinnersjanse. Derfor må man tenke gjennom når man vil gamble. Det er litt irriterende å tape en stor gevinst under gamblingspillet, men gambling kan være fint når man vinner smågevinster. Da kan man prøve å øke dem litt. Dersom man gjetter riktig, kan man faktisk gamble flere ganger på rad, men da risikerer man selvsagt å tape enda mer.