City Life er en spilleautomat som ble lansert i 2010. Det er spilleverandøren 888 Slots som står bak utgivelsen. Det er en spilleautomat som har et veldig unikt tema. Det er ikke bare temaet som gjør denne spilleautomaten unik, men også flere av bonusfunksjonene. Oppsettet som er satt inn er gjenkjennelig for de aller fleste spillerne, og det er ingen stor utfordring å komme i gang med selve spillingen. City Life regnes som en spilleautomat med lav innsats, og den passer utmerket for spillerne som liker å satse lavt per spillerunde. Det er bare å sette i gang med City Life, og finne ut av hva spilleautomaten egentlig handler om.
Temaet
City Life tar for seg livet på gatene i en storby. Det er ikke alltid bare fryd og gammen i en storby, og det er veldig ofte mange mystiske og hemmelighetsfulle ting som foregår. I City Life får man kjenne litt på den siden av livet. Man blir kjent med svindlere og forførere, og man skal passe på at man ikke blir lurt. Det er også mye penger inne i bildet, og pengene kan bli utdelt, hvis man spiller riktig.
Spilleskjermen
Spilleskjermen i City Life tar spillerne med til en skummel bakgate, midt i en storby. På hver side av spilleskjermen kan man se deler av bakgrunnsbildet. Det er blant annet graffiti på veggene, og på toppen kan man se månen som skinner over den mørklagte byen. Logoen i City Life er veldig enkel, men den blir lagt merke til. Hjulene er plassert midt på spilleskjermen, hvor de er rammet inn med en lyseblå ramme. Bakgrunnen på hjulene er hvit, og symbolene er fordelt utover. Symbolene er alle i bildeform, og det er blant annet der man får se svindlerne, i tillegg til en koffert full av penger, en pølse i brød, et par håndjern og en bil. Symbolene som er i form av ulike karakterer er morsomme og de gir spilleautomaten et unikt preg.
Oppsett og innsatser
City Life leveres med et oppsett som er satt sammen av fem hjul og tre rader. Det er tilsammen plass til 15 symboler på hjulene på en gang. Det er lagt inn 20 innsatslinjer som spilleren kan legge sin innsats på. De er merket opp med typiske storbybelysning, på høyre og venstre side av hjuloppsettet.
Innsatsene for en spillerunde blir satt ved at spilleren velger innsats per innsatslinje. Det gjøres ved at man bruker knappen som er merket med teksten bet. Til venstre for den finner man en knapp merket med teksten lines. Den kan spilleren bruke hvis man ønsker å justere ned antall aktive innsatslinjer. Spilleren har også muligheten til å ta i bruk en autoplayknapp, som spinner i gang spilleautomaten helt automatisk. For å få en oversikt over gevinster i løpet av spillerundene man har hatt, kan man trykke på knappen som er merket med teksten Paytable.
Bonuser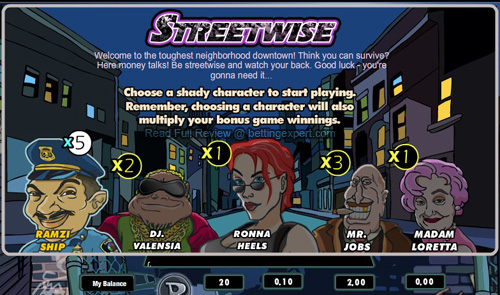 City Life har flere gode bonuser å by på. Det er lagt inn to ulike wildsymboler, i tillegg til et scattersymbol og et bonussymbol. Det ene wildsymbolet fungerer som en vanlig joker, og den kan dermed erstatte alle andre vanlige symboler på hjulene. Det andre wildsymbolet er merket med x3, og det vil si at den kommer med en multiplikator som tredobler gevinstene. Den kan også kombineres med alle vanlige symboler på hjulene, og når den fullfører en vinnende kombinasjon, så vil multiplikatoren bli aktivert.
Scattersymbolet dukker opp spredt over hjulene, og den betaler ut ulike gevinster. Med to scattersymboler på hjulene, vil man få en dobling av gevinsten. Gevinsten utregnes fra innsatsen som er lagt i den aktuelle spillerunden.
Bonussymbolet står naturligvis for aktiveringen av bonusspillet. Bonusspillet i City Life er satt opp på en flott måte. Det første spilleren må gjøre er å velge ut en karakter, blant de fem som er tilgjengelige. Hvert av karakterene er satt inn med en egen multiplikator. Når karakteren er valgt, skal spilleren velge ut tre ulike gjenstander, som forhåpentligvis har samme verdi. Hvis spilleren klarer å velge riktig, vil verdien av gjenstandene bli utbetalt som spillerens gevinst.