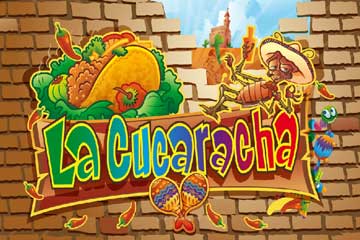 Er du klar for en het spilleautomat? La Cucaracha byr på krydder og gevinster, fest og moro. Spillets fem hjul er laget som et slags hus, med tak over hjulene. I bakgrunnen ser man en ørken, kaktuser, fugler og en annen bygning. Spillet har ingen vanlig bakgrunnsmusikk, men det spilles opp mange ulike melodier både når hjulene spinner og når man får vinnerkombinasjoner. Det er også mange morsomme lydeffekter i spillet, og noen artige animasjoner. Under bonusspillet spilles en glad melodi.
Innsatser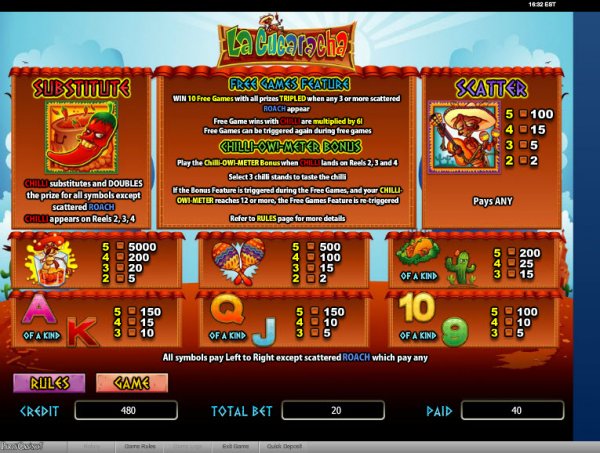 Selv om automaten har 25 gevinstlinjer, er det spillerne selv som velger hvor mange linjer de ønsker å aktivere. Dersom man aktiverer færre linjer, blir innsatsen per spinn tilsvarende lavere, men det er viktig å huske at man bare får utbetalt gevinster på aktive linjer. Med færre aktive linjer har man altså færre vinnersjanser per spinn. Hvis man vil spille med lavere innsats, er det bedre å velge en lavere myntverdi og holde alle linjene aktive. Alternativt kan man spille gratis med lekepenger. Da kan man spille alt man ønsker uten å tape penger, men man vinner selvsagt heller ingenting. Myntverdien kan stilles fra 0,01 til 2,00 euro per linje. Under knappene der man velger antall linjer og myntverdi, ser man den totale innsatsen per spinn. Når man vinner har man muligheten til å gamble. Det vil si at man kan satse gevinsten i et forsøk på å doble den. Det skjer gjennom å gjette riktig i gamblingspillet. Men dersom man gjetter feil, mister man gevinsten sin. Man bør altså tenke seg om før man gambler, i hvert fall dersom man har vunnet en ganske stor gevinst. Da er det som regel bedre å beholde gevinsten og spare gamblingspillet til smågevinstene som ikke gjør så vondt å miste igjen. Gamblingspillet går ut på å gjette fargen på neste kort. Alternativt kan man også gjette på om kortet er spar, hjerter, kløver eller ruter. Klarer man å gjette riktig på det, kan man firedoble gevinsten. Det er mulig å gamble inntil 5 ganger med den samme gevinsten, forutsatt at man fortsetter å gjette riktig hver gang.
Symboler og gevinster
La Cucaracha har både unike symboler og kortsymboler fra 9 til ess. De unike symbolene viser en larve i et glass, kastanjetter, taco og en kaktus. Larven gir hele 5000 i gevinst for fem like, mens kastanjettene gir 500 for fem like. Disse to symbolene betaler ut gevinst med bare to like. Tacoen og kaktusen gir 200 for fem like. De fire mest verdifulle kortsymbolene gir 150 for fem like, mens tiere og niere gir 100 mynter for fem like. Gevinsttabellen inneholder alle detaljer om symboler og gevinster. Chilien er spillets joker, og kan telle som et hvilket som helst symbol. Den kan ta plassen til vanlige symboler, og gjøre at man lettere får tre eller flere like. Scattersymbolet kan ikke erstattes av jokeren. Når tre jokere dukker opp på de tre midterste hjulene, kommer man til bonusinnslaget Chilli-Ow-Meter, der den største gevinsten er på 100x innsatsen.
Scattersymbolet viser en musikalsk kakerlakk. Dette symbolet danner egne gevinster, og gir 100 mynter for fem like, men med minimum tre kakerlakker på skjermen vinner man også gratisspinn. Med tre gratisspinnsymbole, vinner man 10 gratisspinn der alle utbetalinger blir doblet. Gratisspinnene kan vanligvis ikke gjenutløses, men det finnes unntak. Man kan ikke endre antall aktive linjer eller innsatsen per linje før gratisspinnene spilles.
Bonusinnslag
Med tre chilipeppere på hjulene utløses bonusinnslaget og Chili-Ow-Meteret. Der skal spillerne velge mellom 4 chiliretter. Hver gang man velger smaker kakerlakken på maten, og reagerer på den etter hvor sterk den er. Hver smaksprøve kan heve Chili-Ow-Meteret 1-5 trinn. Når kakerlakken har smakt på tre retter, vinner man den gevinsten man har samlet opp. Det er også mulig å komme til bonusinnslaget når man spiller med gratisspinn. Dersom man utløser bonusrunden under gratisspinn og klarer å komme opp til nivå 12 eller mer på Chili-Ow-Meteret, blir gratisspinnene gjenutløst.