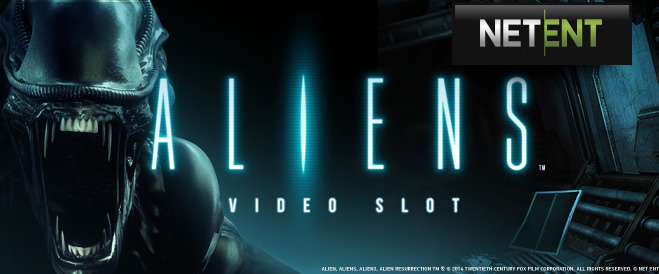 Spilleautomaten Aliens er utviklet av Net Entertainment i samarbeid med 20th Century Fox. Spillet er basert på spillefilmen Aliens fra 1986, og inkluderer 3D-grafikk og animasjoner. Filmen Aliens var oppfølgeren til den opprinnelige filmen fra 1979, og filmen ble en stor suksess. Aliens spilleautomat har wildsymboler og muligheten til å vinne gratisspinn og multiplikatorer. Man kan også vinne store bonuser i bonusspillet.
Tema
Spillets tema er selvsagt de skumle romvesen. Spillernes hovedoppgave er å drepe romvesenenes dronning. Grafikken i spillet er virkelig førsteklasses, og spillerne føler seg som i et førstepersons skytespill når de jakter på romvesen. Musikken bidrar til å skape stemning, og gir spillerne en klaustrofobisk og spent atmosfære.
Innsatser og gevinster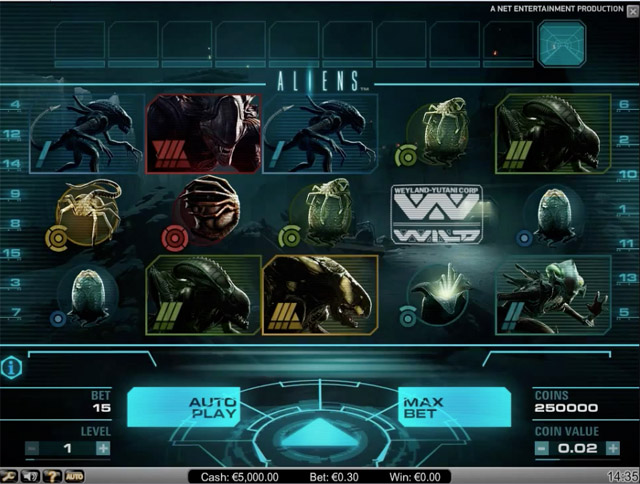 Spilleautomaten har fem hjul og 15 gevinstlinjer, og man kan satse fra 15 cent til 150 euro per spinn. Myntverdien kan justeres, og man kan velge mellom myntverdiene 0,01, 0,02, 0,05, 0,10, 0,20, 0,50 og 1,00. Man kan satse fra 1 til 10 mynter per linje. Når man har valgt myntverdi og antall mynter per linje, starter man spillet. Myntene man vinner i spillet har samme verdi som myntene man spiller med, derfor må antall mynter man vinner ganges med myntverdien for å få gevinstens pengeverdi.
Gevinstene kommer ganske sjelden, og man vinner mest på nivå 2. Den største gevinsten man kan få, er på 3817 ganger innsatsen. Man kan også få 240 ganger innsatsen dersom man dreper romvesenenes dronning. Spillets teoretiske utbetalingsprosent er på 96,4 %. Utbetalingsprosenten er høyest i nivå 2, der spillerne kan forvente en utbetaling på 47,8 %. Utbetalingsprosenten på nivå 1 er 40,6 %, mens utbetalingsprosenten på nivå 3 er 8,0 %. Dersom man vil ha en oversikt over vinnerrekker og utbetalinger, kan man lese spillets utbetalingstabell. Alle vinnerrekker må starte ytterst til venstre for å gi gevinst. Man må få minst tre like for å vinne, eller man kan få to like og et wildsymbol i tillegg.
Symboler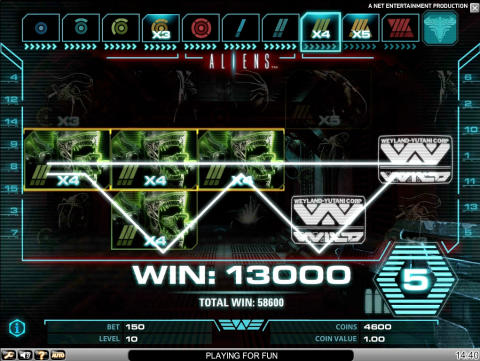 Wildsymbolet er en bedriftslogo for Weyland Yutani Corp. Dette symbolet kan fullføre vinnerrekker gjennom å erstatte et hvilket som helst annet symbol. Wildsymbolet fullfører bare den mest verdifulle vinnerrekken på hver linje, og man får bare utbetalt én gevinst per linje per spinn. Dersom man skulle få flere vinnerrekker samtidig, på flere gevinstlinjer, får man utbetalt gevinst for den høyeste vinnerkombinasjonen på hver linje. I nivå 1 kan wildsymbolet bare dukke opp på hjul nummer 2 og 5. I nivå 2 kan wildsymbolet dukke opp på alle hjulene, bortsett fra ammunisjonshjulet.
Spillets gang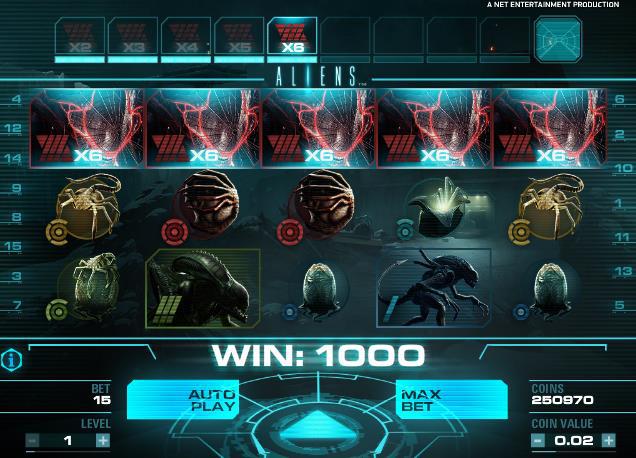 Aliens spilles som en historie med tre ulike faser. Den første fasen kalles The Search. Her skal spillerne søke etter romvesenaktivitet samt sanke symboler med multiplikatorverdi, som legges til i søylen som måler romvesenaktivitet. Søylen har ni trinn, og man må fylle søylen før man kommer til fase to i spillet, som heter The Encounter. Dette nivået starter med et smell, og garanterer at man får gevinst på det første spinnet. Målet i dette nivået er å overleve møtet med romvesenene, slik at man kommer seg videre til nivå 3, der man skal prøve å drepe dronningromvesenet. På nivå 2 kan man vinne inntil 6x multiplikator. Hold også øye med ammunisjonshjulet, som kan dele ut ekstra ammunisjon. Ammunisjonsnivået går ned ett hakk for hvert spinn etter at man har skutt mot romvesenene, så det gjelder å ta med seg ekstra ammunisjon når man får det.
Dersom man kommer seg gjennom nivå 2, kommer man til nivå 3, som kalles The Hive. På dette nivået får man fem gratisspinn, og det er nå man kan drepe dronningromvesenet. Dersom man klarer det, vinner man 240 ganger innsatsen. Når man angriper dronningen, blir skadene avgjort av multiplikatoren. Granatens effekt ganges med multiplikatorverdien, for å avgjøre hvor store skader dronningen blir påført. Multiplikatoren i midten av multiplikatorhjulet kan øke skaden inntil 10 ganger. Hvis man klarer å drepe dronningen, belønnes man med 240 ganger innsatsen, men utbetalingsprosenten er ganske lav på dette nivået, noe som betyr at det ikke er enkelt å vinne over dronningen.
Oppsummering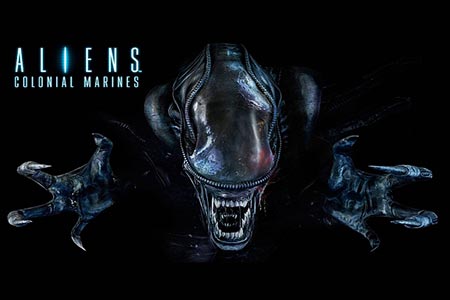 Aliens er en utrolig vellaget spilleautomat. Grafikken er svært god, musikken passer perfekt til spillet, og spillerne blir revet med av det høye spenningsnivået. Selv om utbetalingene kommer ganske sjelden, har spillet stor underholdningsverdi. De tre nivåene kan virke litt komplisert i starten, men man kommer raskt inn i det. Automaten kan også prøves som gratisspill før man spiller med ekte penger. Da kan man trene, uten at man risikerer å tape penger. Aliens spilleautomat klarer å gjenskape spenningen fra filmen, og den klarer å engasjere spillerne. Net Entertainment har klart å utvikle et nytt mesterverk, som virkelig er verdt å prøve.