Grafikk og utseende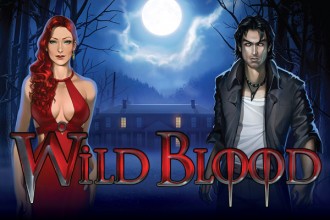 Wild Blood er en av de nyere spilleautomatene fra Play'N Go, en spillutvikler som lenge har overrasket spillere med stadig heftigere tematiske maskiner. Play'N Go har alltid konsentrert seg på kule temaer, populære temaer som kasinospillere elsker å prøve ut. Wild Blood har fokus på vampyrer – dermed er dette en blodig, mystisk og skummel spilleautomat. Her blir vi dratt med til en mørk skog der fullmånen lyser opp de bare trærne. Wild Blood er skapt med 3D-grafikk, det kan du se fra den korte introduksjonsvideoen som spilles av før gevinsthjulene dukker opp på skjermen. En blodig logotype er å finne rett over spillskjermen – det drypper blod fra denne samtidig som den ulmede bakgrunnsmusikken setter stemningen. Wild Blood er altså en mørk, dyster maskin med fokus på de legendariske vesenene som sies å eksistere på jordkloden. Det finnes mange spilleautomater med vampyrtema, men denne skiller seg ut på grunn av de grundige detaljene. Play'N Go har gjort en veldig god jobb, selv om lydeffektene kunne vært bedre.
Symboler og utbetalinger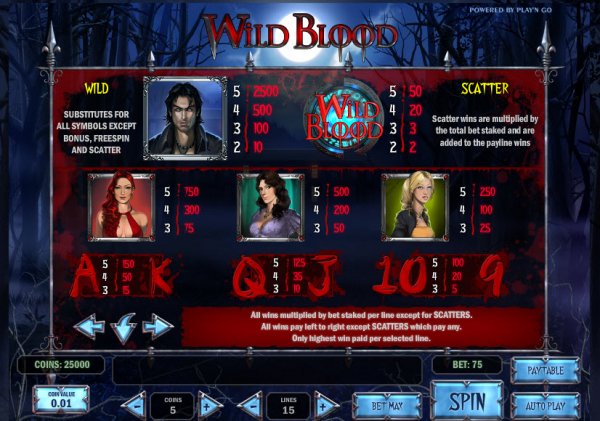 Play'N Go skaper ofte maskiner der man ser en blanding av kortnominasjoner og animerte symboler på skjermen. Her er kortsymbolene fra 9 til A tegnet i blod, noe som ser veldig passende ut med tanke på temaet. Kombinasjoner av disse gir derimot veldig små gevinster, altså er det lett å overse kortnominasjonene. Tre vakre kvinner står for større gevinster – blondinen, brunetten og den rødhårete skjønnheten kan finne på å gi opp til 750 ganger innsatsen tilbake per gevinstlinje. Det er forresten kun 15 gevinstlinjer her, altså er det veldig enkelt å følge med på hvert eneste spinn mens hjulene er i gang. Utbetalingsraten er høy, altså kan du regne med å håve inn små og mellomstore gevinster hele tiden. Det er fullt mulig å satse så lite som to kroner per spinn, mens storspillere vil kunne nyte av å sinne hjulene med to hundre kroner i innsats.
Bonusspill og spesielle funksjoner
Det er alltid spennende å se hvordan Play'N Go har formet bonusspillene på sine maskiner. Wild Blood har både et interaktivt bonusspill og andre spesielle funksjoner moderne kasinospillere forventer å se på en ny spilleautomat. Wildsymbolet er i form av vampyren selv – den skumle unge mannen med et tomt blikk. Han vil forvandle seg til alle andre symboler og sørge for at du treffer på store kombinasjoner der du minst forventet det. Havner fem wildsymboler på samme gevinstlinje, vil du se en gigantisk utbetaling på 2500 ganger linjeinnsatsen spyttes ut. Ja, Wild Blood er en gavmild maskin med en høy utbetalingsrate. Logotypen, Wild Blood med blå bakgrunn, står for scatteren. Uansett hvor på skjermen tre eller flere scattersymboler dukker opp, vil du få en liten gevinst. Altså slipper du å være fastbundet til gevinstlinjene. La du merke til de små flaskene med blod? Tre av disse starter bonusspillet, der du må åpne diverse flasker og se blodet forvandle seg til penger. Velger du feil blod, vil flasken sprenge og gevinsten rulle inn samtidig som en runde gratisspinn startes.
Gratisspinn og jackpot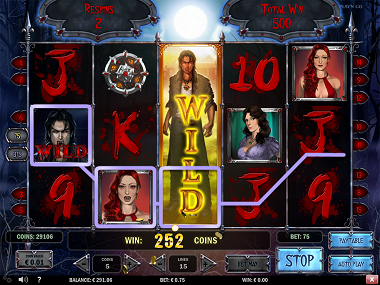 Som nevnt vil Wild Blood spytte ut gratisspinn etter at bonusspillet er over – her kan du vinne opp til 25 gratisspinn om gangen der alle gevinster blir doblet. Samtidig kan du tjene inn flere gratisspinn underveis, om du er heldig nok til å treffe på scattersymbolene (logotypen til spillet). Opp til 50 gratisspinn om gangen kan aktiveres, noe som garantert vil ende opp med en utrolig saftig premie. Du vil også legge merke til to juveler, en sølv og en gull, som spinner på det andre og fjerde hjulet. Om et wildsymbol dukker opp på midten av disse, på det midterste hjulet, vil hele vampyren komme til syne og fem gratisspinn vil settes i gang. Vampyren blir altså et stort wildsymbol som holder seg fast på midten av skjermen mens fem heftige gratisspinn kjøres. Det finnes kanskje ingen progressiv jackpot på Wild Blood, men med slike kule funksjoner er det neppe noe å se mørkt på.