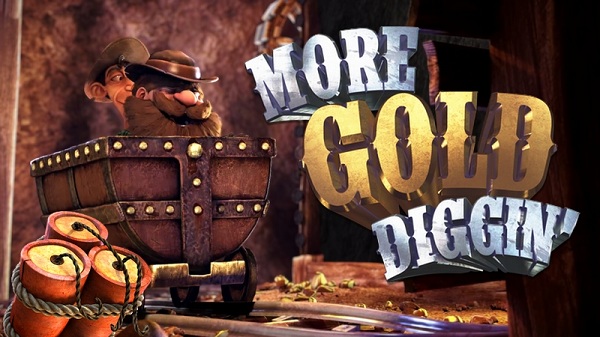 More Gold Diggin er en herlig spilleautomat som forteller en veldig flott historie. Det er spilleverandøren Betsoft som står bak utgivelsen, og spillet ble lansert i mars 2014. Spilleautomaten er oppfølgeren til det populære spillet Gold Diggers. Det er stort sett det samme temaet som er lagt inn. Det er derimot gjort noen endringer på oppsettet og rundt bonusfunksjonene som er satt inn. Det skal jo tross alt være en ny spilleautomat, og ikke bare en ren kopi av den første. More Gold Diggin er en brukervennlig spilleautomat, og den er enkel å ta i bruk for alle slags spillere. Det er kun noen steg man må igjennom før hjulene kan spinnes i gang.
Temaet
I More Gold Diggin får spillerne bli kjent med karakterene Jeb og Cletus. Det er to stakkarslige karer som har en veldig tung jobb. De jobber nemlig med å grave etter kull, og det blir gjort flere meter under bakken, i en ganske mørk mine. Karakterene er fremstilt på en morsom måte, og de er selvfølgelig å treffe på spilleautomatens spilleskjerm.
Spilleskjermen
Det er en ting som er sikkert når det kommer til spilleskjermen og det er det at det er brukt god grafikk. Bildene som man ser på skjermen er veldig klare, og det er også mange flotte detaljer som kommer frem. De to karakterene er satt inn på skjermen også. Skjermen er satt opp slik at det er lagt inn en bakgrunn, et oppsett med hjul, et antall symboler, en logo, og noen knapper. Bakgrunnen er i form av et bilde som viser deler av minen. Det er minen som Jeb og Cletus jobber i, og de er også tatt med som en del av bakgrunnen. Oppsettet med hjul er plassert midt på skjermen, og det er på hjulene at man ser de forskjellige symbolene. Symbolene er i form av veldig fine bilder, og noen av dem er formet i 3D, slik at de står ut fra hjulene. Logoen for spillet er plassert oppe i venstre hjørne, helt i utkanten av hjulene. Den er formet i noen store bokstaver, som er farget i gull og sølv. Knappene er også å se på skjermen, og de ligger på nederste del, rett under hjulene.
Spilleautomatens oppsett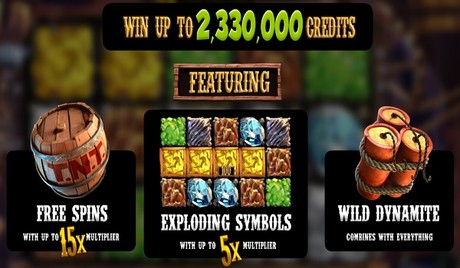 Oppsettet i More Gold Diggin er fastsatt. Det betyr at den er fast og kan ikke endres på. Oppsettet er satt sammen av et antall hjul og et antall rader. Hjulene strekker seg fra venstre til høyre, og det er tilsammen fem stykker. Radene strekker seg fra topp til bunn, og det er tilsammen tre stykker. Denne sammensetningen gjør at det er plass til 15 symboler på oppsettet. Symbolene er ikke faste og de byttes ut etterhvert som hjulene spinner. Som en del av oppsettet så er det også satt inn 25 innsatslinjer. De er heller ikke faste, og spilleren kan selv velge hvor mange som skal være aktive i løpet av en spillerunde. Knappene som er nederst på spilleskjermen er også en del av oppsettet, og de kan blant annet brukes til å bestemme innsatsen.
Innsatser
Innsatsene skal settes i forkant av hver eneste spillerunde. Det er opp til spilleren å bestemme hvor mye det skal satses, og om det skal justeres på mellom hver spillerunde. Innsatsen blir satt ved at spilleren velger hvor mye det skal satses per aktive innsatslinje. Innsatsen som spilleren kan velge ligger mellom 0,20 og én i kreditt. Spilleren har mulighet til å velge opp til fem mynter per innsatslinje, slik at innsatsen blir høyere eller lavere.
Bonusfunksjoner
Det er flere unike bonuser i More Gold Diggin. Blant annet er det lagt inn en funksjon som heter eksploderende symboler. Når man får en vinnende kombinasjon så vil symbolene eksplodere og bli borte, og det vil også sette i gang en multiplikator. Multiplikatoren kan på det meste femdoble gevinstene som man får.