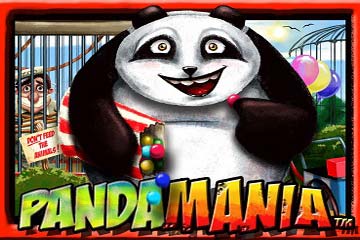 NextGen Gaming er det spillutviklerselskapet som står bak spilleautomaten Pandamania. NextGen Gaming er et spillutviklerselskap som er godt kjent på markedet, og de har flere gode spilleautomater ute allerede. Pandamania kommer nok til å være enda en suksess fra dette spillutviklerselskap. De viser gang på gang at de klarer å komme opp med unike temaer og i tillegg presentere dem på en veldig god måte. Det er ofte morsomme historier som ligger bak tema, og det er helt klart noe som klarer å fange mange forskjellige spillere. I tillegg til de gode teamene pleier NextGen Gaming å legge inn noen gode spesialfunksjoner. Det er da med på å gi spillerne en enda bedre spilleopplevelse. NextGen Gaming er helt klart opptatte av hva spilleren ønsker og hva som trengs for å skape en god spilleautomat, og de klarer å presentere godt i Pandamania.
Tema i spilleautomaten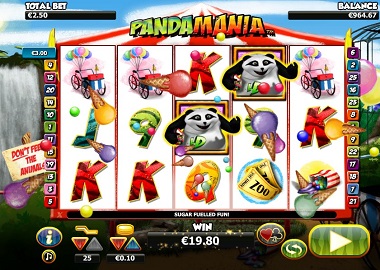 Tema som NextGen Gaming har valgt å sette inn i Pandamania er utrolig morsomt og underholdende. Det ser ut som de har tatt den litt barnslige vrien på det hele og tema hadde passer like godt i en tegnefilm som det gjør i denne spilleautomaten. Hovedkarakteren i spilleautomaten er naturligvis en panda, men det er ikke en hvilken som helst panda. Pandaen er nemlig litt rampete og kanskje litt lei av å bo i en dyrehage, så en dag bestemmer han seg for å gjøre noe med det. Resultatet blir at pandaen har tatt over styringen av dyrehagen. Han har fått hjelp av mange andre forskjellige dyr, slik som apekattene. Vakten for dyrehagen har de fått tak i og han er gjemt bort et eller annet sted, slik at ingen finner han, og dyrene får fortsette å ha styringen. Spilleskjermen i spilleautomaten viser en god del av dette tema. Som bakgrunnsbilde har man forskjellige deler av dyrehagen, slik som et fossefall og et tomt bur. Rammen som er satt rundt hjulene i spilleautomaten er i form av et telt, som trolig har blitt brukt til noe underholdning i dyrehagen. Øverst på teltet har man da spilleautomatens logo, som er formet i grønne og oransje bokstaver. spilleautomatens symboler viser forskjellige bilder av karakterer som er med i tema.
Innsatsen i spilleautomaten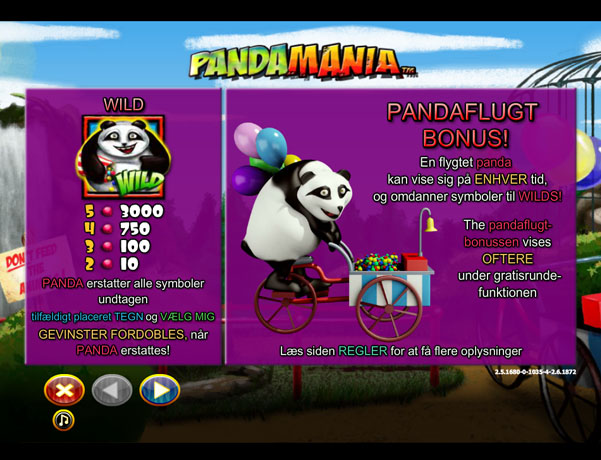 Før man kan sette i gang spilleautomaten Pandamania, så må man faktisk se litt over spilleskjermen. Det er greit å få en oversikt over hva slags oppsett spilleautomaten har, og i tillegg er det greit å vite hva slags justeringer man kan gjøre. I Pandamania har man fem hjul og tre rader med symboler og til sammen har man 25 innsatslinjer. Nederst på spilleskjermen har man et oppsett med knapper, og to av disse skal brukes til å justere innsatsen. Først og fremst har man en knapp som justerer innsatslinjene, da de ikke er faste. Justeringen gjøres ved å bruke to forskjellige piler. Den andre justeringsknappen er til å justere myntverdien man ønsker å spille med. Justeringen skjer på samme måte, ved at man bruker to forskjellige piler. Myntverdien i Pandamania starter på 0,01 mynter og går opp til 2 mynter.
Symbolene i spilleautomaten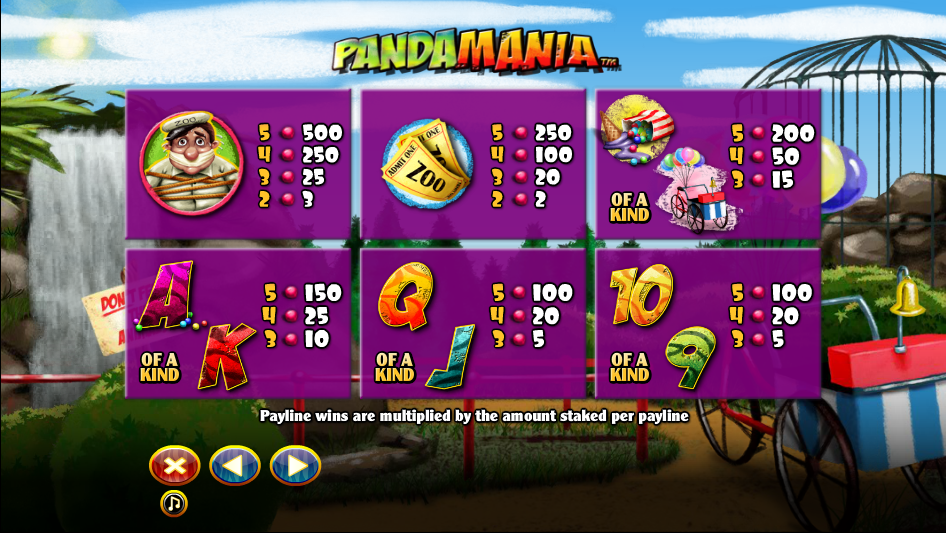 De vanlige symbolene i spilleautomaten har forskjellige verdier når det kommer til vinnende kombinasjoner. Verdiene blir utbetalt i form av en kontantgevinst, som vil avhenge av hvor mange symboler man får i en kombinasjon, og hvilket symbol det er snakk om. De vanlige symbolene i Pandamania betaler ut rundt 500 mynter ved en kombinasjon på fem stykker. Det er noen symboler som har en litt annen verdi i spilleautomaten, og det er spesialsymbolene som er lagt inn. For eksempel har man et symbol som er i form av pandaen selv og den fungerer som spilleautomatens joker. Som joker kan symbolet erstatte alle andre vanlige symboler på hjulene og den øker derfor sjansen for flere vinnende kombinasjoner på hjulene. Et annet spesialsymbol er bonussymbolet. Med tre slike vil man få aktivert bonusrunden som er lagt inn i spilleautomaten.