Ut på havet med rikdom i sikte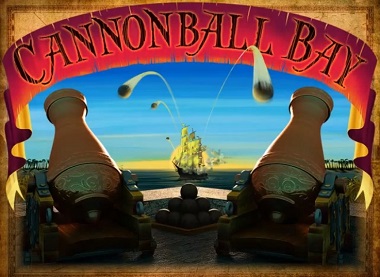 Cannonball Bay er en ny spilleautomat fra den kjente spillutvikleren Microgaming. Siden Microgaming er et stort selskap, har de delt seg inn i flere undergrupper som utvikler og lanserer forskjellige typer pengespill og automater. Det er Genesis Gaming som derfor offisielt står bak Cannonball Bay – erfarne spillere vet dog at kvaliteten kommer fra Microgaming. Cannonball Bay har fokus på havet, på gamle dager når flotte fullriggere og andre majestetiske storskip seilet omkring på jakt etter eventyr. Pirater, nye kontinent og ukjente øyer, militære konflikter – det var en spennende tid. Cannonball Bay er vakkert lagd, man kan straks se at det er havet og seiling som er i sentrum. Bakgrunnen kommer i form av et blått hav, og to store, vakre skip står på hver sin side av skjermen. Man kan også skimte et maritimt kart som dekker bakgrunnen men er gjennomsiktig – slike kart brukes til å regne ut avstand og ulike paralleller. Siden Cannonball Bay er blant de nyere spilleautomatene Microgaming har sluppet ut, er den full av moderne grafikk og små animasjoner som gjør den virkelighetstro og levende. Hver gang man setter hjulene i spinn, vil de to skipene i bakgrunnen plaffe løs på hverandre med kanoner. Fargene på Cannonball Bay er forresten veldig vakre – her finner man ulike nyanser av blått, oransje og grønt. Symbolene består av ulike kortnominasjoner (9-A), samt ulike detaljer fra livet til sjøs. Anker, ror, tønner med krutt og store kister spinner rundt på skjermen, side om side ved kanoner og sjøfarere.
Spesielle funksjoner på Cannonball Bay

Microgaming har alltid skapt spennende spilleautomater, og når de velger et tema, følges det grundig. Alt er på sin plass, alt passer perfekt inn i helheten. Som erfarne kasinospillere vet, er kortsymbolene de lavest betalende, mens de andre tegnede symbolene kan spytte ut gode gevinster. Kisten er den best betalende av de vanlige symbolene på Cannonball Bay, med 1500 mynter i utbetaling fra en vanlig innsats. Innsatsmulighetene er forresten veldig brede, selv om storspillere kanskje bør holde seg unna siden Cannonball Bay ikke tillater innsatser på over ett tusen kroner per spinn. Her finner man også wildsymboler og gratisspinn, noe som vil glede de aller fleste spillere. Wildsymbolet kommer i form av en kanon. Den vil forvandle seg til alle andre symboler etter behov og sørge for at du treffer på kombinasjoner oftere enn forventet. Ja, utbetalingsraten på Cannonball Bay er veldig høy. Kanonen gir også ut de største enkeltgevinstene i spillet, med 2000 ganger innsatsen om man treffer fem like på samme gevinstlinje. Så har man rundene med gratisspinn – disse dukker opp

ganske hyppig, og utløses av symbolet med den noe skremmende sjømannen. Når fem slike sjømenn havner på spillskjermen, vil du få 5 gratisspinn å kose deg med. Det kan virke som et lite antall, men når man har muligheten til å tjene inn flere gratisspinn underveis er det forståelig at Microgaming måtte begrense de første spinnene. Altså kan man lene seg tilbake i godstolen når gratisspinn settes i gang og krysse fingrene – med litt hell vil hjulene spinne veldig lenge uten noen ekstra kostnad. Det beste med disse gratisspinnene er dog den spesielle funksjonen som settes i gang samtidig. Hver gang hjulene spinner, vil kanonkuler skytes mot skjermen. Der de lander, dukker det opp ekstra wildsymbolet. Derfor vil selv beskjedne 5 gratisspinn som regel gi store gevinster.
Jackpot på Cannonball Bay
Mange spilleautomater fra Microgaming har en progressiv jackpot – Mega Moolah er et veldig godt eksempel med utbetalinger på flere titalls millioner kroner. Cannonball Bay har derimot ingen jackpot, verken innebygd eller progressiv. Dette selvfølgelig fordi den allerede har en høy utbetalingsrate og deler ut gratisspinn oftere enn hva vi er vant til. Er du glad i havet, er dette en maskin vi absolutt vil anbefale. Du finner den på utallige nettkasinoer – alle vil jo samarbeidet med Microgaming, en av de eldste og mest kjente spillutviklerne i kasinoverdenen.