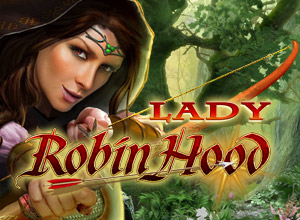 I spilleautomaten Lady Robin Hood, har spilleverandøren Bally klart å vise hvor kreative de kan være i forhold til temaer. Temaet er fengende og spennende, og presentasjonen gjør at alt virkelig henger sammen. Spilleskjermen er flott å se på, og spillerne har mer enn nok underholdning mens de spiller. For å sette i gang en spillerunde så må spilleren selvfølgelig bestemme innsatsen. Det er veldig enkelt å gjøre, takket være det ryddige oppsettet som Bally har satt inn. Det er også lagt inn to gode bonuser i spilleautomaten, og de kan dukke opp etter at man har fått satt i gang spillet.
Temaet
De aller fleste har nok hørt historiene om Robin Hood. Faktisk så har Robin Hood blitt brukt som tema i spilleautomater tidligere. Det er derimot første gangen at den kvinnelige varianten av Robin Hood har blitt satt inn som tema. Bally har gjort en liten vri på det hele, og det er en kvinnelig karakter som er satt i fokus i denne spilleautomaten. Temaet er presentert utrolig godt, og den kvinnelige varianten av Robin Hood dukker opp flere steder på spilleskjermen.
Spilleskjermen
Først og fremst så får spilleskjermen frem en flott og frodig natur. På øverste del av spilleskjermen ser man deler av en skog, og spilleautomatens hovedkarakter er også å se der. Hun er satt inn på venstre side av logoen, og hun står klar til å skyte med sin pil og bue. Logoen er formet i noen elegante røde bokstaver, og den er satt opp mot en gammeldags papirrull. Papirrullen strekker seg bak hjulene, og den dekker også nedre del av skjermen. Hjulene er dekorert med et flott mønster på hver side. På hjulene finner man alle de flotte symbolene som Bally har satt inn. Bokstav og tallsymbolene er dekorert med små juveler. Bildesymbolene er blant annet i form av en pung med gullmynter, et sverd og selvfølgelig er det også et symbol av hovedkarakteren. Grafikken i Lady Robin Hood er av god kvalitet, og den gjør at alle detaljene som er satt inn får komme frem.
Spilleautomatens oppsett
Oppsettet som man finner i Lady Robin Hood er fast. Det betyr at spilleren ikke har noen mulighet til å justere på noe av det. I oppsettet finner man fem hjul og tilsammen er det lagt inn fire rader med symboler. Den sammensetningen gjør at det er plass til 20 symboler på hjulene til enhver tid. Det er også lagt inn 40 innsatslinjer, som også er faste.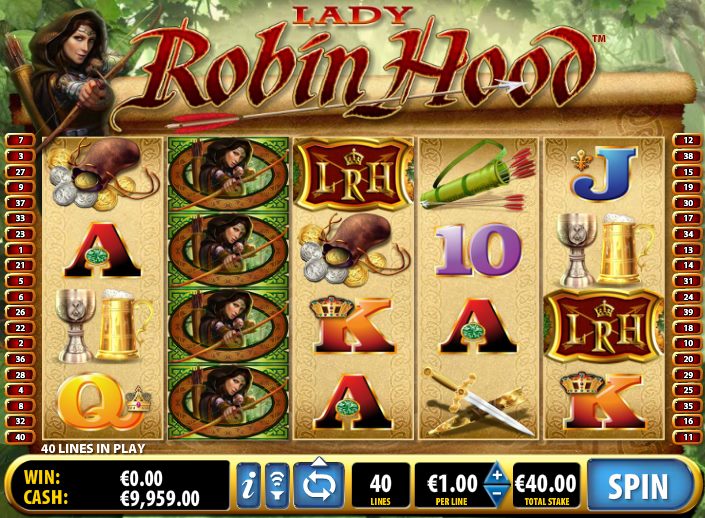 Som en del av oppsettet finner man også flere knapper. Knappene er alle plassert på nederste del av skjermen. Knappene kan brukes av spilleren, for å gjøre ulike justeringer i forhold til spilleautomaten og spillerundene. Først og fremst har man en knapp som brukes til å tilpasse innsatsen. Innsatsen skal fordeles per innsatslinje, og den justeres opp eller ned, ved hjelp av to pilknapper. Som en liten hjelpeknapp så har Bally lagt inn en auto-knapp. Den brukes av de spillerne som ønsker å spille mange runder. Spilleren kan også tilpasse lyden i spilleautomaten, og det er også mulig å lese litt om hvordan spilleautomaten er satt opp.
Bonusfunksjoner
Det er lagt inn to bonuser i Lady Robin Hood. Den ene er en tilfeldig bonus og den kan bli aktivert etter hver eneste spillerunde. Når den aktiveres får man se en flott animasjon over spilleskjermen, hvor det blir skutt ut piler. Pilene vil lande på utvalgte posisjoner på hjulene og de symbolene som blir truffet, vil bli omgjort til wildsymboler. På det meste kan man ende opp med åtte wildsymboler til samme tid. Den andre bonusen må aktiveres av scattere. Det må være minst tre stykker på hjulene for at bonusen skal bli aktivert. Bonusen betaler ut 10 gratisspinn til spilleren, og de blir aktivert med en gang. Gevinstene som blir samlet opp i løpet av de 10 rundene, vil bli doblet i verdi. Flere wildsymboler kan også dukke opp underveis i rundene, slik at vinnersjansene også vil øke.