Fargerik festlighet fra Leander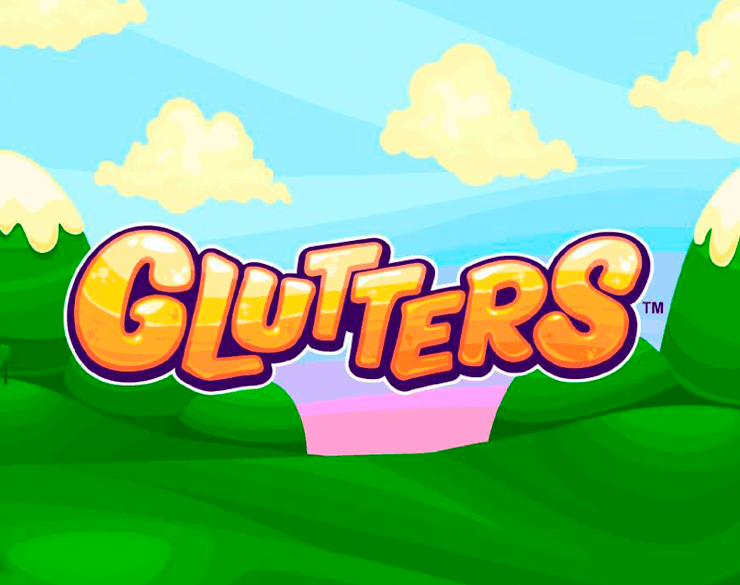 Leander Games er en skandinavisk spillutvikler som lenge har frydet kasinospillere med morsomme, tematiske spilleautomater. Deres maskiner preges av en moderne 3D-grafikk, kule animasjoner og unike temaer som skiller seg fra mengden. Glutters er et perfekt eksempel. Så fort du åpner denne fargeklumpen av en spilleautomat, vil du se hvor mye den skiller seg fra mengden. Glutters handler om underlige vesener uten armer eller ben – de hopper og spretter omkring på jakt etter godbiter å tygge. Dette er med stor sannsynlighet den mest fargerike spilleautomaten du vil se i år. Den er rett og slett full av ulike farger – alle regnbuens farger, faktisk. Til og med kortsymbolene ser fine ut på grunn av det generelle temaet. Nominasjonene fra 10 til A ser tykke og gode ut, man får lyst til å smile bare man ser dem. Så har man de underlige vesenene i egen person. Det virker som at de forandrer seg etter hvert som de spiser. De to minste er lilla og blå, det er også disse som gir de minste gevinstene. Så har man en grønn og en gul skapning – disse gir opp til 250 mynter per gevinstlinje og er i seg selv litt større enn de to smårollingene. Den største av de vanlige symbolene er en oransje skapning med en hanekam. Denne gir opp til 400 mynter og ser ut som at den har fått i seg veldig mye mat. Så har man wildsymbolet – dette kommer i form av et rødt vesen som nesten ikke ser ut til å passe inn i symbolfeltet i det hele tatt. Wildsymbolet vil forvandle seg til alle andre symboler og sørge for at du treffer på større kombinasjoner enn du forventet. Med 20 gevinstlinjer er det nemlig ganske vanskelig å treffe på fem like, med mindre flere wildsymboler dukker opp.
Innsatser og funksjoner på Glutters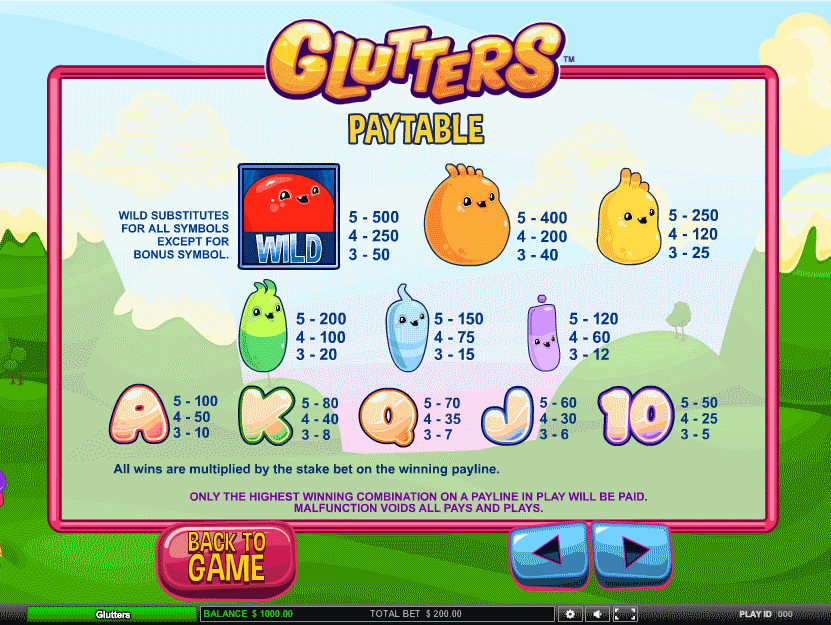 Som på de fleste andre spilleautomater fra Leander, har Glutters veldig brede innsatsmuligheter. Her kan du satse alt fra et par kroner per spinn med alle gevinstlinjer aktivert, og helt opp til to tusen kroner hver gang hjulene spinner. Dette er nok ment til å trekke til seg storspillere, men hvilken seriøs storspiller vil sitte med en så fargerik, barnslig spilleautomat? Glutters er brukervennlig – det er lett å stille inn nivået man ønsker å spille på, samtidig som autospinn-funksjonen settes i gang med ett klikk. Tommelen opp for dette. Noe av det første du vil legge merke til er den underlige maskinen på høyre side. Dette er en av de spesielle funksjonene Leander har inkludert på Glutters. Fra tid til annen, når det har gått er par spinn uten at du har truffet noen gevinst, vil denne underlige maskinen spytte ut ulike typer mat. Epler, muffins, burgere – alt slenges mot utvalgte fargede vesener på skjermen, som gjerne sluker i seg alt de kommer over. Når de spiser vil de forvandle seg til sine større brødre, og om de får i seg nok mat vil de bli til wildsymboler. Fem like wildsymboler gir forresten den største enkeltgevinsten i spillet, med 500 mynter.
Mat deg frem til gratisspinn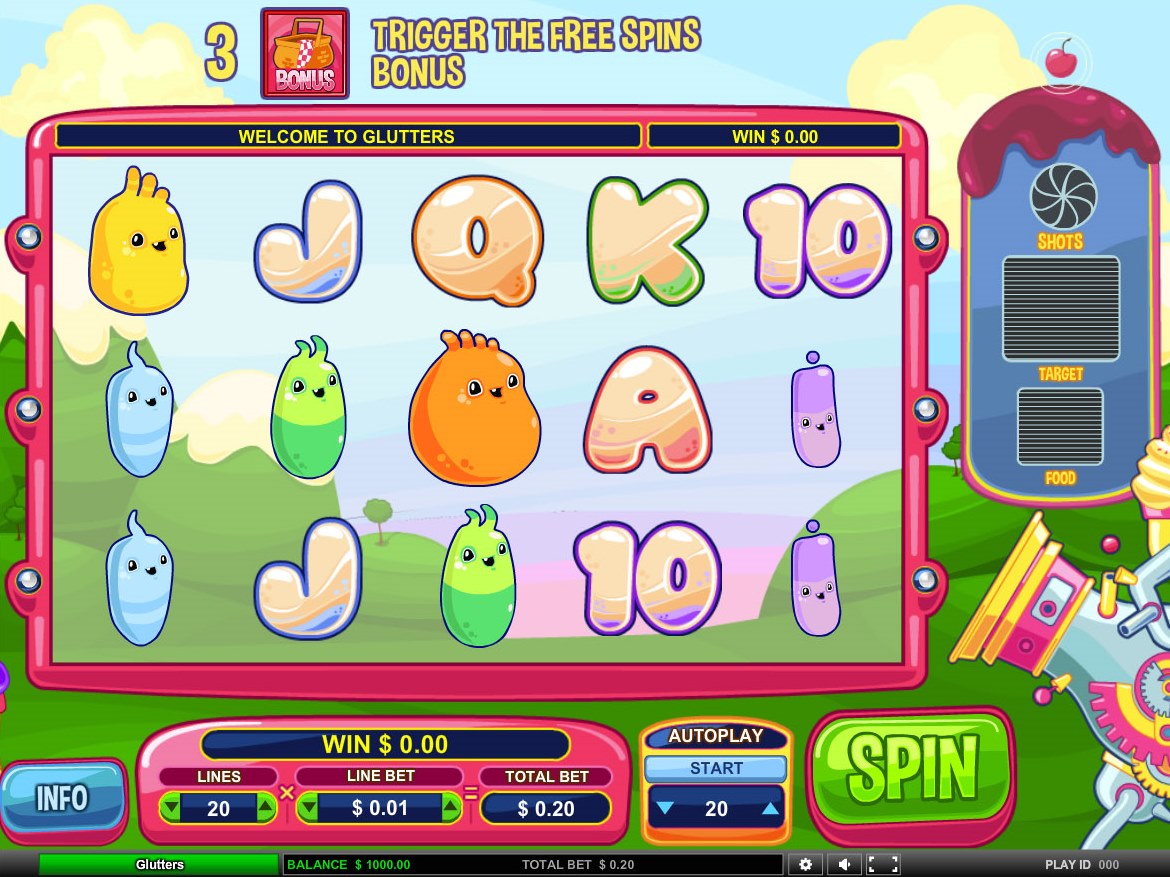 Glutters elsker å spise, og denne nye spilleautomaten fra Leander handler om ulike måter å fore dem på. Bakgrunnsmusikken er noe irriterende på grunn av de høye tonene, men dette er enkelt å slå av om man ønsker. Treffer du på tre bonussymboler, i form av en piknikkurv, vil du bli tatt med til en skjerm der alle de ulike vesenene står klare til å få mat. Skyt matbiter mot dem, og se hvordan de vokser seg større. Etter hvert vil de forvandle seg til store, røde klumper, og du vil håve inn gratisspinn. Når denne første runden er over, blir du tatt med til det gitte antallet gratisspinn der hjulene vil spinne rundt helt kostnadsfritt mens du håver inn gevinstene. Glutters er allerede tilgjengelig på en rekke store spillportaler og mindre nettkasinoer som samarbeider med denne svenske spillutvikleren.