Spilleautomaten Spin Party holder det den lover, og byr på et ekte party på hjulene. Spillet er laget av Play n Go, og inviterer spillere på norske nettcasino på både fengende musikk og utvidende jokere. Musikken i bakgrunnen er rytmisk, rask og glad, og grunnsymbolene er hentet fra kjente fruktmaskiner, så her kombineres det klassiske med det nye.
Spillets oppbygning

Spin Party har fem hjul og tre rader, og symbolene minner mye om klassiske spilleautomater, men jokersymbolene er veldig moderne, og viser dansere som utvider seg over hele hjulet. Det er 10 linjer i spillet, og linjeantallet kan ikke justeres. Myntverdien kan derimot justeres, og man kan velge å satse fra 1 til 5 mynter på hver linje. Myntverdiene går fra 0,01 euro til 2 euro, og dette gir en minimumsinnsats på 0,10 euro, og en maksimumsinnsats på 100 euro. Selvsagt er det mange innsatsnivåer å velge blant mellom disse ytterpunktene. For eksempel kan man velge laveste myntverdi og satse 5 mynter per linje. Da koster det 0,50 euro per spinn. Myntene man vinner har samme verdi som myntene man satser, men gevinstene blir selvsagt ganget med innsatsen per linje, slik at man får større gevinster når man har satset flere mynter på samme linje.
Musikken i spillet er fengende og rask, og man får skikkelig klubbstemning av den. Dersom man vil spille mye, kan man også velge autospinn, og la spillet gjøre selve spillingen på egen hånd. Med klassiske symboler og fengende moderne musikk, har Play N Go virkelig klart å kombinere det nye med det gamle på en fin måte.
Symboler og gevinster
Grunnsymbolene i Spin Party er velkjente for alle som liker klassiske spilleautomater. Sjutallene er mest verdifulle, og gir 1500 mynter for fem like. Bar-symbolet gir 750 mynter for fem like, bjellene gir 500 mynter for fem like, sitronene gir 375 mynter for fem like og kirsebærene gir 250 mynter for fem like. Disse symbolene gir også gevinst for bare to like, men alle vinnerkombinasjoner må starte på hjul 1, og de like symbolene må være plassert etter hverandre, uten andre symboler mellom.
Smågevinstene blir delt ut av klassiske kortsymboler som går fra 10 til ess. Disse symbolene gir bare gevinst for tre eller flere like på rad. Fem tiere gir 50 mynter, fem knekter gir 75 mynter, fem damer gir 100 mynter, fem konger gir 125 mynter og fem ess gir 150 mynter. Alle gevinstene er selvsagt oversiktlig listet opp i gevinsttabellen.
Jokersymboler og free spins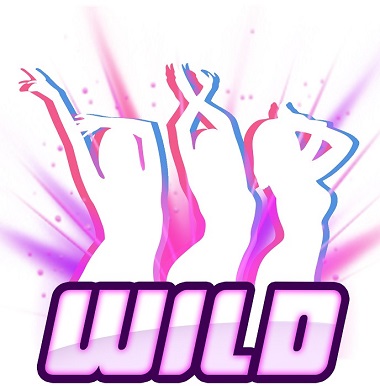 Jokersymbolene i spillet viser dansende jenter. Jokerne kan bare dukke opp på hjul 2, 3 og 4, altså de tre midterste hjulene. Når det kommer en joker, utvider den seg til å dekke hele hjulet, og jokerne erstatter alle andre symboler. Danserne belønner spilleren med et ekstra re-spinn der jokerhjulet holdes på plass.
To eller flere jokersymboler utløses 5 gratis spinn med garantert gevinst på hvert spinn. Hver joker som kommer under gratisspinnene blir fastlåst under det neste gratisspinnet. Hver joker kan holde seg på plass inntil tre spinn, dersom nye jokere kommer i løpet av etterfølgende spinn. Jokerne utløser også et gratis re-spinn under gratisspinnene, og det er mulig å få inntil 20 gratisspinn på rad, alle med garantert gevinst. Totalt kan man vinne inntil 250 000 mynter under gratisspinnene.
Oppsummering
Spin Party er en spilleautomat som byr opp til en skikkelig fest. Stemningen i spillet er god, med moderne musikk og dansende jokersymboler som utvider seg til å dekke hele hjulet.
Jokersymbolene deler ut låste jokerhjul og gratis re-spinn, både i grunnspillet og under gratisspinnene. Musikken og de dansende jokerne er moderne elementer, men symbolene i spillet er hentet fra klassiske fruktmaskiner. Derfor vil dette spillet appellere både til de som elsker klassiske spill og til unge spillere som liker fengende automater med herlig musikk. Dette er ikke et spill for avslappende og stille øyeblikk. Her gjelder det å få opp pulsen, enten gjennom dansing eller gjennom spenningen man opplever når man spinner hjulene.
Prøv spillet i dag på ditt utvalgte online casino, og gjør opp din egen mening!