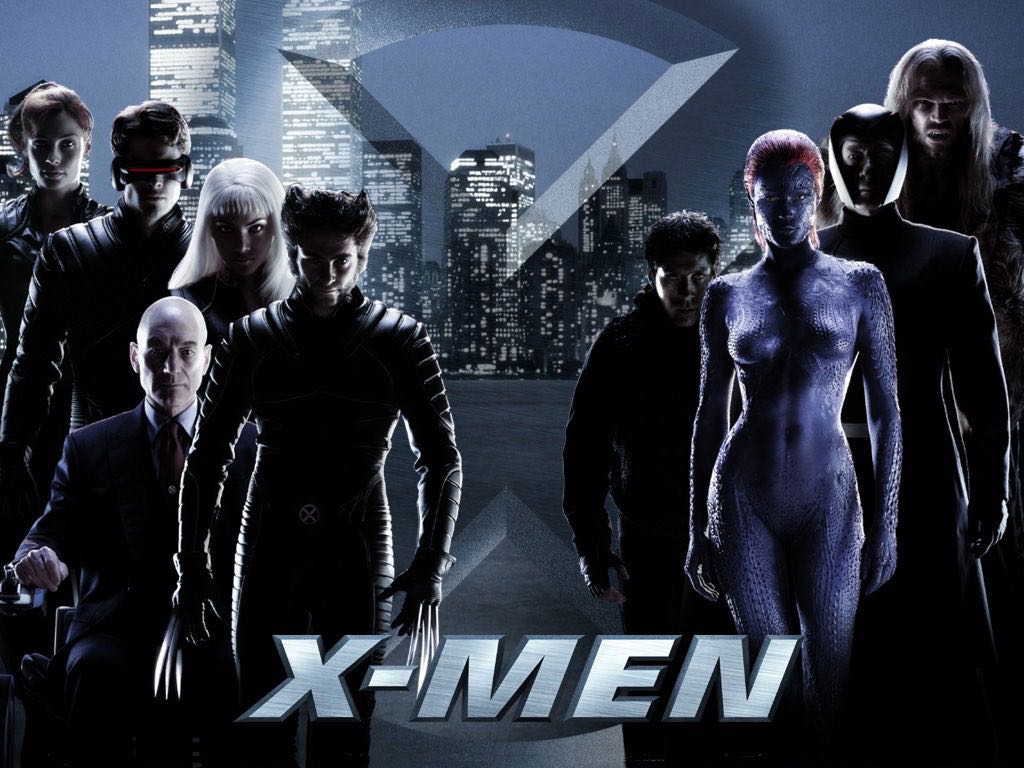 Spilleautomaten X-Men kommer fra Playtech, og den er koblet til Marvel-automatenes progressive jackpotter. Det betyr at man kan få sjansen til å vinne en av fire progressive jackpotter mens man spiller på denne automaten. Jackpotspillet utløses alltid helt tilfeldig, og man kan få sjansen til å spille om progressive jackpotter selv etter et gevinstløst spill. Alle elsker progressive jackpotter, men spillet X-Men kan også by på mye annet spennende.
Spillets oppbygning
X-Men har en klassisk oppbygning, med fem hjul som har tre rader. Det er bare unike symboler i spillet, og det bidrar til å skape den rette stemningen. Man kan aktivere inntil 25 gevinstlinjer. Jo flere linjer man aktiverer, desto flere vinnersjanser har man per spinn. Selvsagt koster det litt ekstra for hver linje man aktiverer, men dersom en linje ikke er aktivert, kan man heller ikke vinne noe på den aktuelle linjen. Med alle linjene i spill, går man aldri glipp av en vinnersjanse. Med lav myntverdi trenger det ikke å koste skjorta å spille på X-Men, selv når alle linjene er aktivert. Den laveste myntverdien er på 0,01 euro, og da koster det i så fall 0,25 euro per spinn når alle linjene er i spill. Den største myntverdien er 1 euro, som gir en totalkostnad på 25 euro per spinn med 25 aktive linjer. Autospinn gjør det lett å spille mange spinn med samme innsats.
Spillets gevinster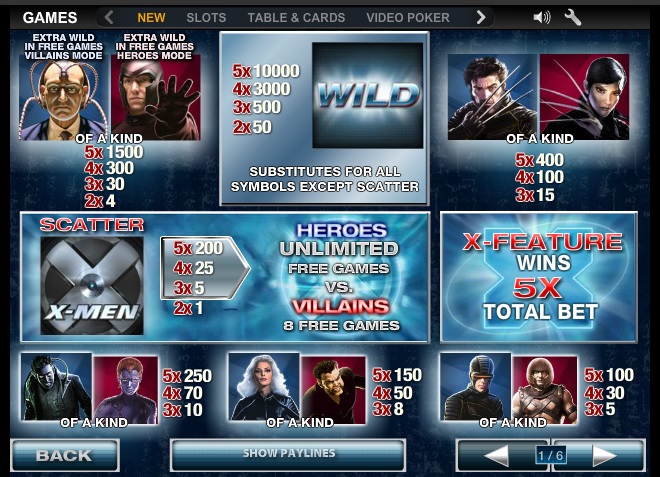 Gevinstene blir delt ut av symboler av helter og skurker, og man kan vinne mellom 100 og 400 mynter for fem på rad. Vinnerrekkene må alltid begynne helt til venstre på spillskjermen, og man trenger minst tre like på rad for å få en gevinst. Jokersymbolet kan erstatte manglende symboler i en vinnerrekke, og dermed gi ekstra mange vinnersjanser. Jokeren viser ordet WILD. Spillets logo fungerer som scatter, det vil si at symbolet ikke trenger å være flere like på rad for å gi gevinst. Man trenger bare flere like scattere et eller annet sted på skjermen. Scatteren gir gevinst for minst to like. Scatteren deler også ut gratisspinn når det er minst tre scattere på hjulene.
Den vanlige jokeren kan danne egne vinnerrekker, men det dukker også opp to spesialjokere som ikke kan danne egne vinnerkombinasjoner. Disse spesialjokerne utløser byttet mellom spillets to ulike modi. De to modiene er et spesialinnslag man får under gratisspinnene.
Gratisspinn med to modi
Gratisspinnene i X-Men er veldig spesielle. For det første kan man, i teorien, spille uendelig mange gratisspinn. Man vinner ikke et visst antall gratisspinn når spinnene starter. I stedet kommer man til gratisspinnenes heltemodus. Heltemodusen har ingen begrensning. Her kan man fortsette å spille gratis uendelig lenge. Men dersom skurkejokeren kommer på skjermen, skifter spillet til skurkemodus. I skurkemodusen kan man bare spille 8 gratisspinn. Hvis man ikke kommer tilbake til heltemodusen i løpet av disse 8 spinnene, er gratisspinnrunden over. Men dersom heltejokeren dukker opp i skurkemodusen, er man tilbake i heltemodusen, der man kan spille uendelig mange spinn. Gratisspinnene kan ikke gjenutløses på vanlig måte, men man kan likevel få veldig mange gratisspinn på rad.
Progressive jackpotter og bonuser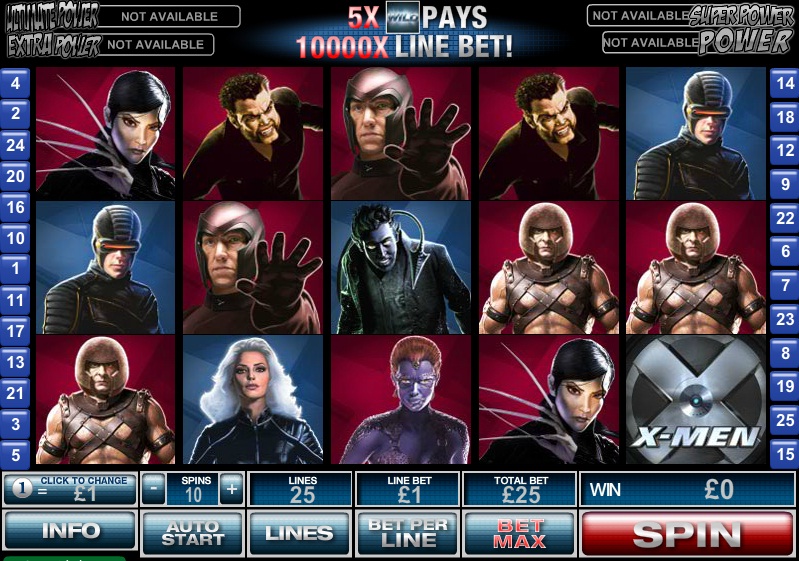 Progressive jackpotter er fristende. Jackpotspillet til Marvel-automatene åpnes helt tilfeldig. Når dette skjer, skal spillerne klikke på symboler. Det er 20 symboler på skjermen, og målet er å finne tre like symboler. Symbolene viser de fire ulike jackpottenes navn, og når man finner tre like, vinner man denne jackpotten.
Et annet morsomt innslag er X-bonusen. Dette innslaget er bare aktivert under grunnspillet, og for å vinne bonusen, trenger man bare å få fem heltesymboler plassert i en X-formasjon midt på skjermen. Bonusen er 5x totalinnsatsen.
Konklusjon
X-Men er en automat inspirert av tegneseriene fra Marvel, og som andre automater med Marvel-tema, er den koblet til nettverket av progressive jackpotter. Spillet har også en X-bonus, jokersymboler og scattere. Det er mulig å vinne et ubegrenset antall gratisspinn, og gratisspinnene spilles i to ulike modi. Automaten byr på morsomme overraskelser.