Pengebakterier og gevinstvirus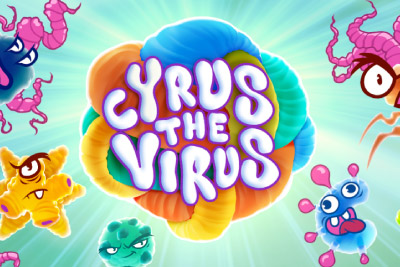 Cyrus the Virus er en av de nyere spilleautomatene fra vår egne Yggdrasil Gaming, en skandinavisk spillutvikler som lanserer flotte, eventyrlige pengespill. Yggdrasil har lenge hatt et veldig godt rykte på grunn av de fantastiske maskinene de skaper, og Cyrus the Virus er et godt eksempel. Dette er ikke den beste spilleautomaten fra det nordiske selskapet, men den har en like god spillatmosfære som de andre maskinene. Her blir man dratt inn i verdenen til ulike bakterier og virus – det er disse bittesmå skapningene som flyter rundt på skjermen og spytter ut mynter. Spillskjermen er lysegrønn og slimete, men bakgrunnsmusikken minner nesten om Jakten på Nyresteinen. Hele automaten er selvfølgelig bygd i 3D-grafikk og fargene er veldig godt utvalgte – de er nøytrale, men gjør samtidig et stort inntrykk fra start. Symbolene består av ulike bakterier og virus, enkelte ser morsomme ut, andre er interessante, mens den mørke bakterien med mange bein og armer er rett og slett skremmende. Det er sistnevnte som gir den største gevinsten i Cyrus the Virus, så man blir nesten nødt til å håpe på at dette beistet dukker opp så ofte som mulig. Cyrus the Virus er bygd opp noe annerledes, noe Yggdrasil alltid har gjort meget bra – de skiller seg ut fra mengden uten å være rare. Spilleautomatene er enkle og brukervennlige, men de er absolutt ikke kjedelige eller ensidige.
Gevinstlinjer som svømmer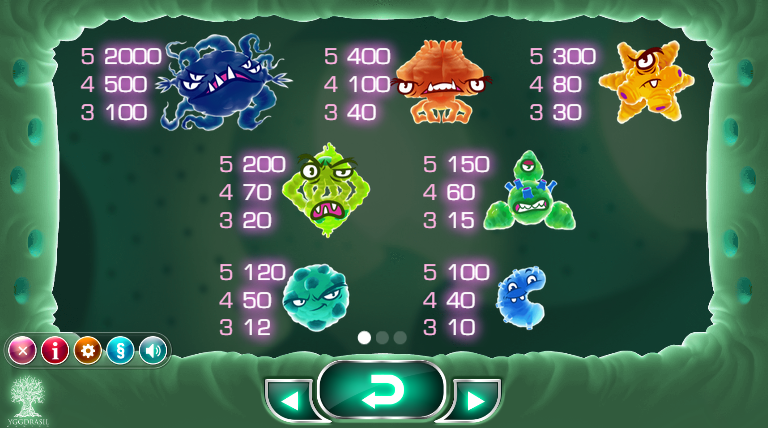 Noe av det førte du vil legge merke til på Cyrus the Virus, er at den kun har ti gevinstlinjer. Det morsomme med disse er dog at de er delt opp, med fem gevinstlinjer på hver side av skjermen. Dermed utbetales gevinster både fra høyre mot venstre og fra venstre mot høyre – ekstra vinnersjanser og derfor hyppige utbetalinger. Når man er nære på å treffe en kombinasjon, vil levende antibiotika dukke opp fra et hull der gevinstlinjene er. Treffes kombinasjonen og en gevinst utbetales, vil disse små hjelperne hoppe ut av sine hus og sprenge viruset eller bakterien i fillebiter. Veldig originalt og godt tenkt av Yggdrasil. Innsatsmulighetene er brede nok for at man skal kunne finne et passende nivå å spille på – maksinnsatsen er på beskjedne førti euro, eller litt over tre hundre kroner. Utbetalingsraten er rimelig høy, altså kan man forvente gevinster med jevne mellomrom. Med maksimal innsats er det forresten gode utbetalinger selv på de minste symbolene – opp til nesten ti ganger pengene tilbake er det minste du kan vinne fra en kombinasjon på fem like.
Ingen gratisspinn, ingen jackpot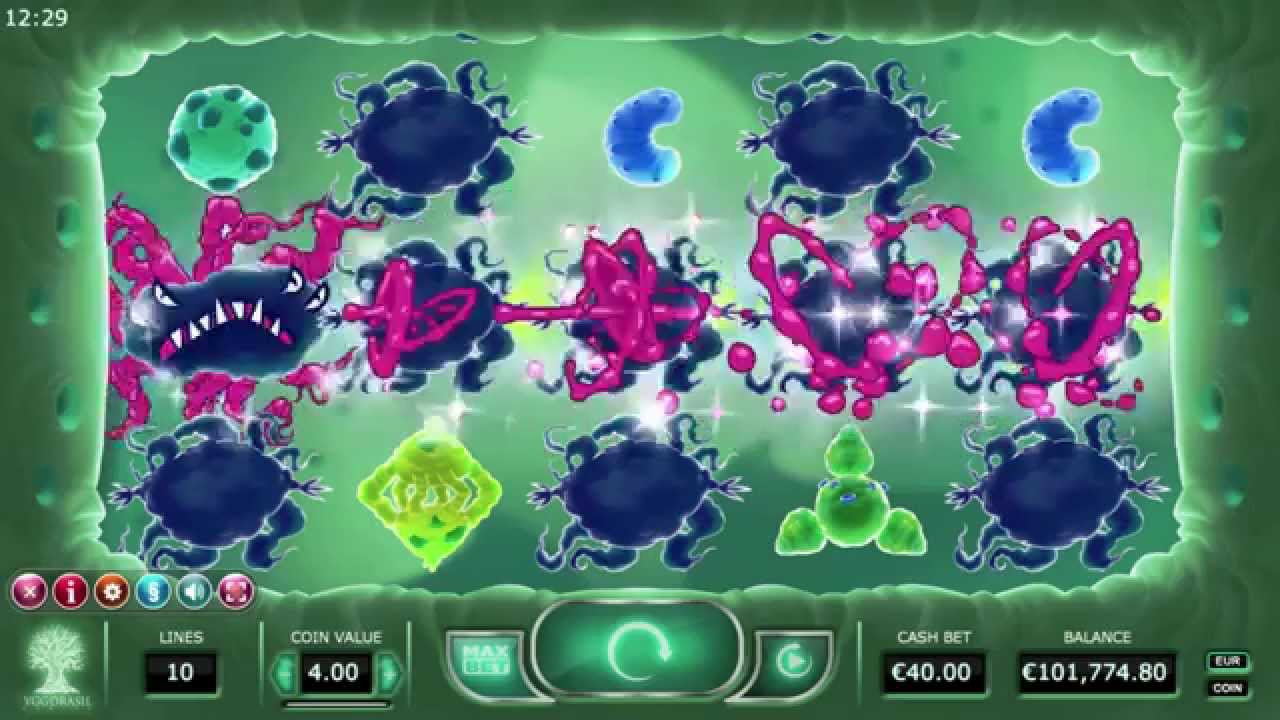 Det meste man kan få ut av Cyrus the Virus på ett spinn fra én gevinstlinje, er åtte tusen euro, altså over nitti tusen kroner. Husk at gevinstlinjene regnes begge veier, og at det er ti av dem totalt. Det betyr en maksimal utbetaling på nesten en million per spinn, i teorien. Derimot er det ingen ordentlig jackpot på Cyrus the Virus, ei heller noen gratisspinn man kan vinne. På det midterste hjulet finnes et wildsymbol som dukker opp fra tid til annen. Dette er det nærmeste man kommer gratisspinn – wildsymbolet vil nemlig spre seg til hele det gitte gevinsthjulet og starte et spinn til helt gratis. Med wildsymbolet på midten er det høy sjanse for å stikke av med en saftig premie, og antibiotikaen vil følge spent med fra sidelinjene. Cyrus the Virus er en simpel, men veldig flott spilleautomat som sikkert vil fryde mange spillere. Skru på autospinn-knappen og følg med mens hjulene spinner. Ingen unødvendige bonusspill eller lange animasjoner, ingen spesielle funksjoner man må lære. Her er det rett på sak, men i avslappet tempo. Bakgrunnsmusikken og de bittesmå lydeffektene er perfekte, og grafikken er på topp – spesielt om man spiller på storskjerm og kan få med seg de små detaljene. De fleste store spillportaler samarbeider allerede med Yggdrasil, selv om de ikke er blant de største spillutviklerne. Prøv ut Cyrus the Virus på ditt utvalgte nettkasino!