Spilleautomaten for filmelskere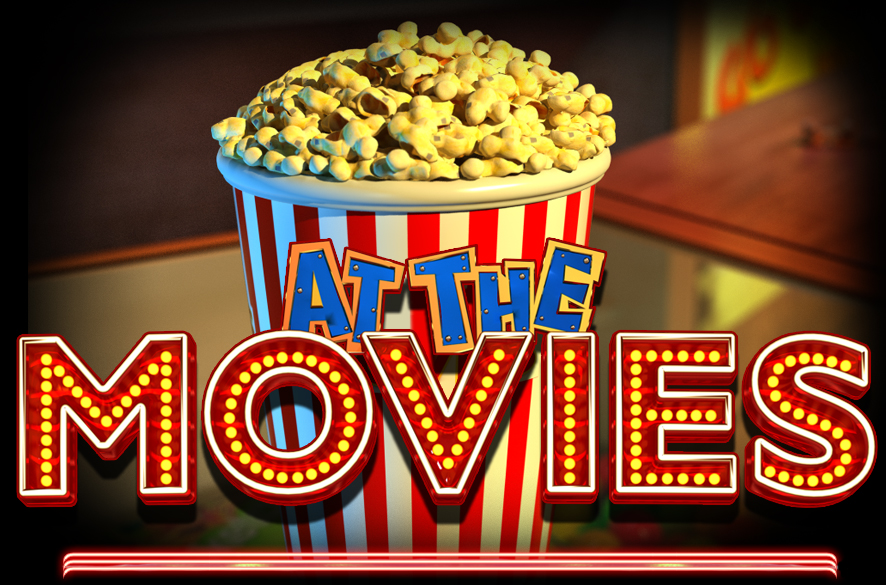 At the Movies er enda en tematisk spilleautomat fra Betsoft Gaming, en av verdens heftige spillutviklere for øyeblikket. Hver av deres spilleautomater blir straks en hit, og At the Movies er et ypperlig eksempel. Dette er langt ifra deres beste spillmaskiner, men også denne er betydelig bedre enn mye annet som har blitt lansert i samme tidsperiode. At the Movies er den perfekte spilleautomaten for filmelskere – hver minste detalj er tatt ut fra en film, eller fra industrien rundt filmer og TV-serier. Selve spillskjermen er formet som inngangen til en klassisk kinosal. Der man kan skru lyden av og på, samt se de ulike kombinasjonene, finner man vanligvis navnet på filmene som går på den gitte kinoen. På midten har man navnet på spilleautomaten – At the Movies. Oversatt fra engelsk betyr dette «I kinosalen», og det er nettopp dette Betsoft har hatt i tankene når de skapte denne maskinen. Bakgrunnen er mørk, men neonlysene inviterer folk til ulike kinosaler der kjente og mindre kjente filmer vises døgnet rundt. På himmelen ser man stjerner og en fullmåne. Den perfekte tiden til å se film. Grafikken her er på topp – Betsoft er kjente for sine 3D-detaljer og nydelige farger. Innstillingene er også tilpasset temaet – linjevalget er en bruskopp, innsatsen er et beger med popkorn, spinnknappen er en scenestarter, mens knappen for maksimal innsats og autospinn-funksjonen er en filmrull i gull. Betsoft satser alltid stort på at hver minste detalj skal følge det valgte temaet. At the Movies er flott å se på, uansett om man er filmelsker eller ei.
Bonusspill og spesielle funksjoner på At the Movies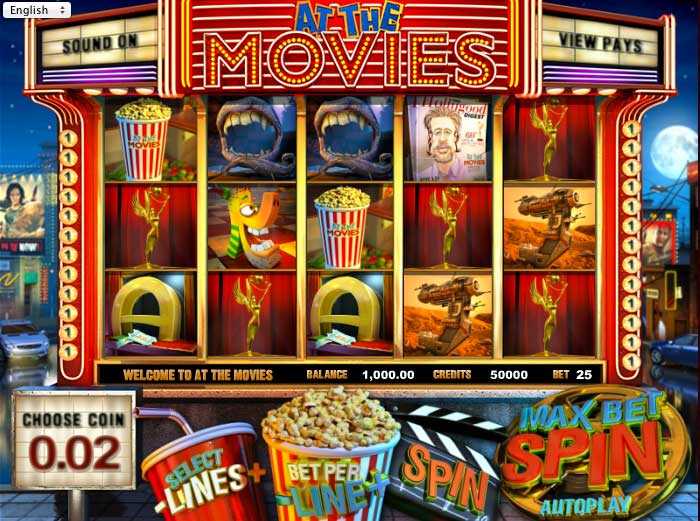 At the Movies er en ganske typisk spilleautomat fra Betsoft Gaming, altså er den full av 3D-grafikk og morsomme animasjoner, samtidig som hver minste detalj er nydelig tilpasset tematikken. Bakgrunnsmusikken og lydeffektene er også fantastiske, og spillopplevelsen i helhet er nærmest fullkommen. Symbolene er tatt ut fra ulike filmer, og ekte filmelskere vil straks kjenne igjen mange av disse. Sjokoladehjerter, romskip, haitenner, underlige dukker, store bokstaver, kjendismagasiner, popkorn og gullstatuetter flyter forbi mens gevinstene ruller inn. De største utbetalingene kommer fra gullstatuetten – dette er ganske innlysende. Med maksimal innsats kan hele 5000 mynter spyttes ut med fem gullstatuetter ved siden av hverandre. Dette er en usedvanlig høy jackpot, selv for Betsoft å være. Så har man maskesymbolet – denne står for wilds, og forvandler seg til alle andre symboler etter behov. Med to-tre maskesymboler på skjermen vil du garantert sitte igjen med en saftig gevinst, spesielt hvis flere gullstatuetter lander ved siden av wildsymbolene. Forresten så vil enhver gevinst som spyttes ut med hjelp av wildsymbolet dobles. Altså vil fire gullstatuetter og ett wildsymbol gi deg hele 10 000 mynter. Dette fra én gevinstlinje!
Gratisspinn på At the Movies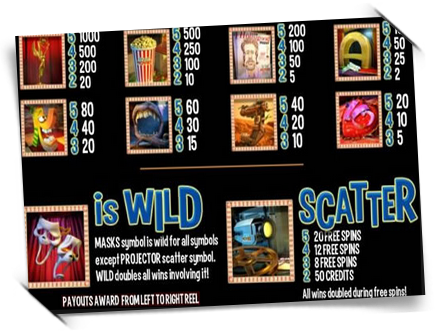 At the Movies er en actionfylt, spennende spilleautomat med mange kule animasjoner og små detaljer i 3D som sikkert vil verdsettes av tusenvis kasinospillere verden rundt. Nei, At the Movies har ikke like mange spesielle funksjoner og bonusspill som andre tematiske spilleautomater fra Betsoft, men den fortjener fortsatt en plass på favorittlistene. Scattersymbolet kommer i form av en film-projektor, slik som man ser i kinoene. Denne deler ut gratisspinn i hytt og pine, og det meste man kan vinne er faktisk hele 20 gratisspinn på én gang. Samtidig vil alle gevinster man vinner under gratisspinnene bli doblet – dette betyr saftige gevinster for alle og enhver som setter av litt tid til å prøve denne nye spilleautomaten fra Betsoft. At the Movies har brede innsatsmuligheter, fra noen få kroner til nesten tusenlappen per spinn. Det betyr at det ikke finnes noen grunn til å unngå At the Movies. Er du smart nok til å kreve en innskuddsbonus eller noen runder gratisspinn fra ditt utvalgte nettkasino, kan du til og med prøve ut At the Movies helt gratis. Betsoft er mestere når det kommer til tematiske spilleautomater. Har du sansen for moderne grafikk, må du prøve ut alle deres maskiner.