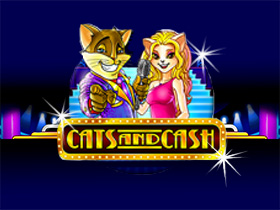 Hvis det er en ting mennesker på tvers av alle kulturer kan være enige i så er det at humor er viktig. Derfor finner vi også veldig mange spilleautomater med en veldig stor dose humor, for utviklerne og casinoene har selvsagt skjønt for lenge siden at humor selger i lange baner. Dette fører til at vi får en og annen automat med veldig humoristiske temaer som grenser mot det absurde. Utviklerne i Play'N Go har blitt veldig flinke på automater med den type temaer, og dermed får vi automaten Cats and Cash. Den handler om akkurat det det høres ut som, nemlig katter og penger.
Litt om automaten og utviklerne
Cats and Cash er altså utviklet av Play'N Go, og disse er ikke akkurat noen lettvektere på det internasjonale markedet. Sammen med noen få andre spilleutviklere har de etablert seg som et av de absolutt største navnene i bransjen, og det betyr gjerne at de må være ekstra skjerpet for å imøtekomme de høye forventningene til deres automater. At de stort sett klarer å gjennomføre dette må være tydelig nok, all den tid de har en stor gruppe med spillere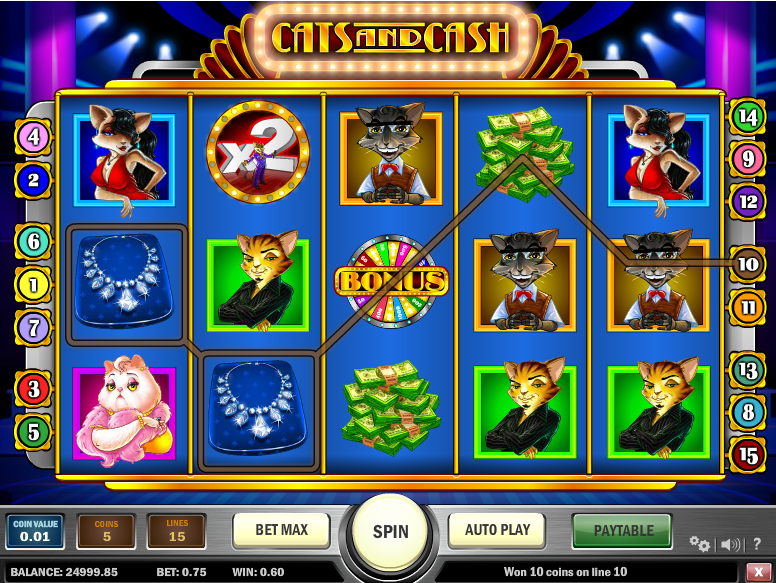 som ser på dem som deres foretrukne spillutvikler. I denne automaten får vi fem hjul med 15 premielinjer, men om du vill kan du fritt justere dette tallet ned. Det samme gjelder både innsats i form av verdien du legger i myntene og i hvor mange mynter du vil satse per linje. Man satser et sted fra en til fem mynter per aktive premielinje, og verdien kan justeres fra 0,01 til 1 dollar, og selvsagt også de fleste andre verdier imellom. Når du vinner vil premien i spillet måles i disse virtuelle myntene, og verdien av disse vil være den samme som verdien du la i myntene før snurret som ga deg premien. Med andre ord: Jo høyere innsats, jo høyere blir premien.
Symboler og grafikk
En ting som er veldig befriende med Play'N Go sine automater er at de faktisk tar seg bryet med å utvikle unike symboler til hver eneste nye automat. Hos mange andre utviklere finner vi altfor ofte standardiserte symboler som går igjen fra automat til automat, veldig ofte symboler fra en kortstokk. Det at Play'N Go dropper dette i Cats and Cash viser at de tar produktet sitt på alvor. Her er alle symbolene relatert til det temaet spilleautomaten er bygget opp rundt. Vi har en stor mengde styrtrike katter i ulike former og fasonger. Alt fra den fine gamle damen til den unge sjarmøren er på plass. Vi ser også hauger med penger, smykker, gullbarrer og noen spesialsymboler. Og de er profesjonelt og godt animert slik at de faktisk virker overbevisende.
Spesialsymboler og bonusspill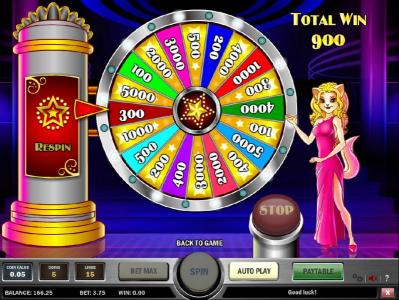 De to vanlige spesialsymbolene finner vi selvsagt i Cats and Cash. Wildsymbolet er en konferansier i en sprakende dress, og dette symbolet fungerer slik wildsymboler skal fungere: Den kan ta form av et hvilket som helst annet symbol, med unntak av andre spesialsymboler. Den sedvanlige joker-funksjonen som så mange spillere har blitt glad i med andre ord. Scattersymbolet er passende nok en fisk, som katter jo er så glad i. Tre eller flere slike symboler hvor som helst på skjermen, og du får gratisspinn. To bonussymboler finnes det også. Lykkehjulet kommer du passende nok til ved å få tre lykkehjul på skjermen. Alt du trenger å gjøre er å trykke på stoppknappen og håpe at det stopper på den største premien. Hvis du får tre eller flere gave-symboler blir du tatt med til et rom fullt av gaver. Du skal enkelt og greit velge den du vil ha og ta premien. Det som enten kan gi deg full glede eller massiv frustrasjon er at du får se beløpet i de andre gavene etter at du har tatt imot ditt eget.
Anbefaling
Mye kommer an på om du faller for temaet eller ikke. Hvis rike og glamorøse katter er noe som tiltaler deg, er det ingenting ved denne automaten som tilsier at du ikke skal prøve den. Den er rett og slett skikkelig vellaget, og to gode bonusspill taler sitt klare språk.