Om spillet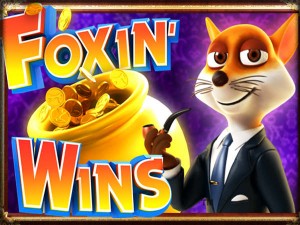 NextGen Gaming er spillutviklerselskapet som står bak videoslotspillet Foxin Wins. NextGen Gaming står bak mange av de mest populære slotspillene man finner på nettkasinoer, og når man ser på utformingen på deres spill så forstår man hvorfor. Bare se på Foxin Wins. Det er et slotspill som inneholder alt man kan ønske seg. Det er et slotspill som har et godt valgt tema som er presentert på en utrolig god måte, i tillegg er dette et tema som kommer til å falle i smak hos mange. Ser man videre på spillet finner man en mengde flotte spesialfunksjoner, som kun er med på å øke den gode spilleopplevelsen.
Spillets tema
Tema i spillets Foxin Wins omhandler en rev. Symbolet på en rev forbindes gjerne med litt snikende oppførsel, og det å kunne liste seg rundt uten å bli oppdaget. Dette stammer nok fra personligheten og oppførselen som rever ofte har. Det passer uansett utmerket som tema til et slotspill, for i Foxin Wins har man med seg denne reven underveis i spillet – og han er der for å hjelpe spilleren med å klare snike til seg så mange gevinster som overhode mulig. Reven har fått en morsom karakter i spillet, og han dukker stadig vekk opp underveis når man spiller.
Grafikk og lyd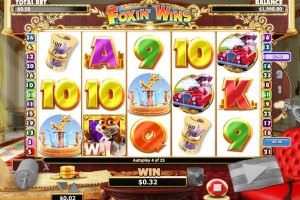 Det er ingen tvil på at NextGen Gaming har jobbet mye med utviklingen av Foxin Wins. Det første som slår en når man ser på slotspillet Foxin Wins er hvor fargerikt det er. Dette spillet er en fryd for øyet, og skaper med en gang en positiv opplevelse. Symbolene som man finner på hjulene er utformet på en morsom og leken måte, som setter en slags standard for temaet som følger spillet.
Lydbildet som er lagt på spillet er en bred og variert bakgrunnsmusikk, noe som gjør at man hele tiden har litt underholdende musikk med seg. I tillegg er det lagt på en mengde lydeffekter som blir aktivert underveis når man spiller.
Spillets oppsett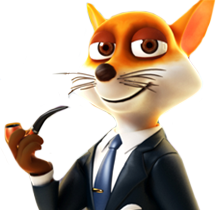 Oppsettet i Foxin Wins er et klassisk oppsett når det kommer til slotspill. Man har til sammen fem hjul, tre rader med symboler og totalt så har man 25 innsatslinjer. Innsatslinjene er lagt ned som faste linjer, det vil si at spilleren har ikke mulighet til å endre på antallet underveis i spillingen. Innsatsen i spillet legges på ved at spilleren velger hvor mye det skal satses per innsatslinjer. Det er satt noen grenser på hvor lite og hvor mye man kan satse. Innsatsen per linje kan ligge på mellom 0,10 kr og opp til 20 kr. Det vil si at det er et ganske stort spenn i innsatsnivået, noe som gjør at spillet kan passe for de aller fleste. Satser man med høyest mulig innsats vil man ha en total innsats på 500 kr per spillerunde. Øverst i venstre hjørne på spilleskjermen vil man hele tiden ha en oppdatert oversikt over hvor mye man satser per runde.
Spesialfunksjoner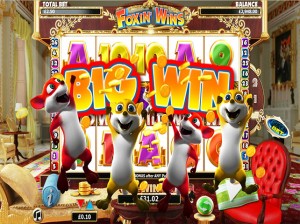 I Foxin Wins har man en spesialfunksjon som blir påvirket så fort man setter innsatsen i spillet. Det er en funksjon som har blitt kalt SuperBet – superinnsats. Den fungerer slik at den plasserer ut wildsymboler på noen av hjulene. Antallet wildsymboler som blir plassert ut kommer an på hvor mye man satser. Det er tre ulike nivåer man kan ligge på. På det første nivået får man et wildsymbol på hjul to og fire. På det andre nivået får man to ekstra wildsymboler, som blir plassert på hjul en og fem. Ligger man på nivå to vil man også ha en multiplikasjonsfunksjon som dobler alle gevinster. På det tredje nivået så vil man ha et wildsymbol på hvert eneste hjul i spillet. Det er gratisspinn å aktivere i Foxin Wins. Det er scattersymbolet som kan aktivere disse rundene, og man trenger minst tre slike symboler på hjulene. Når gratisspinn blir aktivert får man også en kontantgevinst.