Om spillet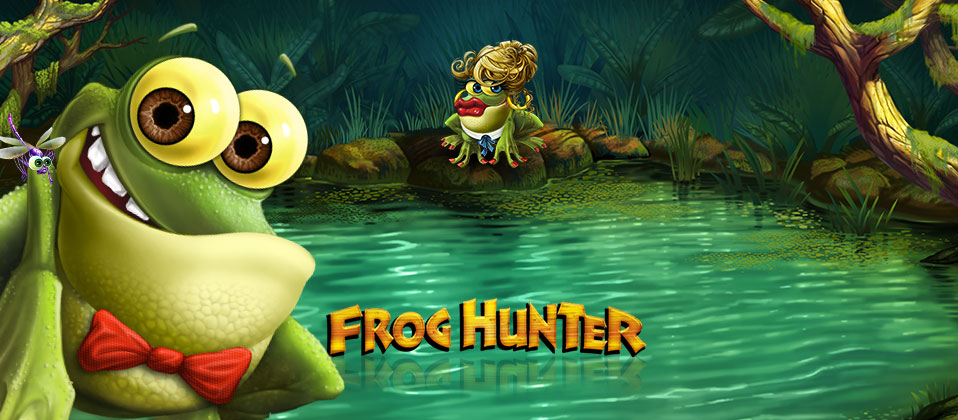 Betsoft er det spillutviklerselskapet som står bak spillet Grodjakten. Grodjakten kan ikke defineres som kun én type spill, for Betsoft har nemlig valgt å sette sammen spillet av ulike deler. De har tatt tak i to av de mest populære typene spill som man finner i et kasino, nemlig inspirert av den klassiske enarmede banditten, med funksjoner fra en moderne spilleautomat. Grodjakten er et resultat av denne sammensetningen og det ser ut til at Betsoft har klart å gjøre det utrolig bra.
Spillets tema
Groda er det svenske ordet for frosk, altså ville spillet hett «froskejakten» dersom det var oversatt til norsk. Temaet i automaten er nettopp dette – jakt på frosker. Symbolene er av forskjellige frosker, vannliljer, krokodiller, øyenstikkere, samt forskjellig frukt, som er tradisjonelle spilleautomatsymboler. Med symbolene og de grønne bladene rundt føler man nesten at man befinner seg i en eller annen eksotisk elv.
Grafikk og lyd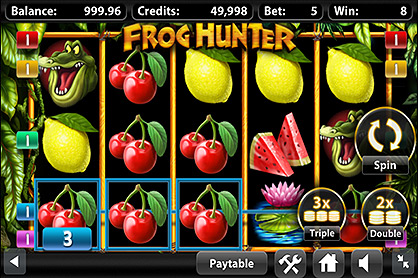 Grafikken er både godt valgt ut og godt gjennomført. Her har Betsoft jobbet alt de kan for grafikken og resultatet er utrolig godt. Grafikken er fargerik, klar i bildene og utformet på en veldig ryddig måte. Når man ser på bakgrunnen i spillet ser man den eksotiske biten av spillet. Det er en bakgrunn som har en sort grunnfarge, men som er pyntet med masse flotte grønne blader. På toppen av spilleskjermen finner man spillets logo og man ser at hjulene er rammet inn med det som kan ligne bambus. Hjulene man finner i spillet er selvfølgelig pyntet med symbolene, som alle er flotte og fargerike. Man ser symboler som blant annet er formet som kirsebær, plommer, sitroner, en krokodille og noen vakre små frosker. Lydbildet som er lagt på spillet er todelt. Man har bakgrunnsmusikken som gjerne forbindes med klassiske enarmede banditter, men også en mengde lydeffekter som blir aktivert underveis. Disse er godt tilpasset spillets tema.
Innsats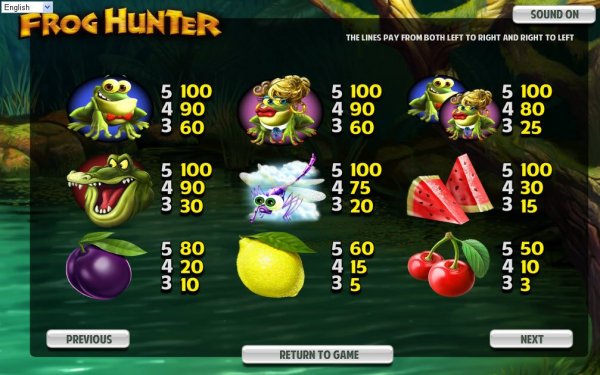 I Grodjakten må innsatsen justeres før man setter i gang spillet. Totalt har man fem hjul, tre rader med symboler og totalt fem innsatslinjer. Innsatslinjene er ikke faste, så man kan justere antallet. Det neste man må gjøre er å justere myntverdien man ønsker å spille med. Det er denne som regulerer innsatsnivået i spillet. Myntverdien kan ligge på mellom 0,10 og opp til 5 per mynt. Justeringene i spillet kan man enkelt endre ved å bruke knappene som man finner nederst på spilleskjermen.
Spesialfunksjoner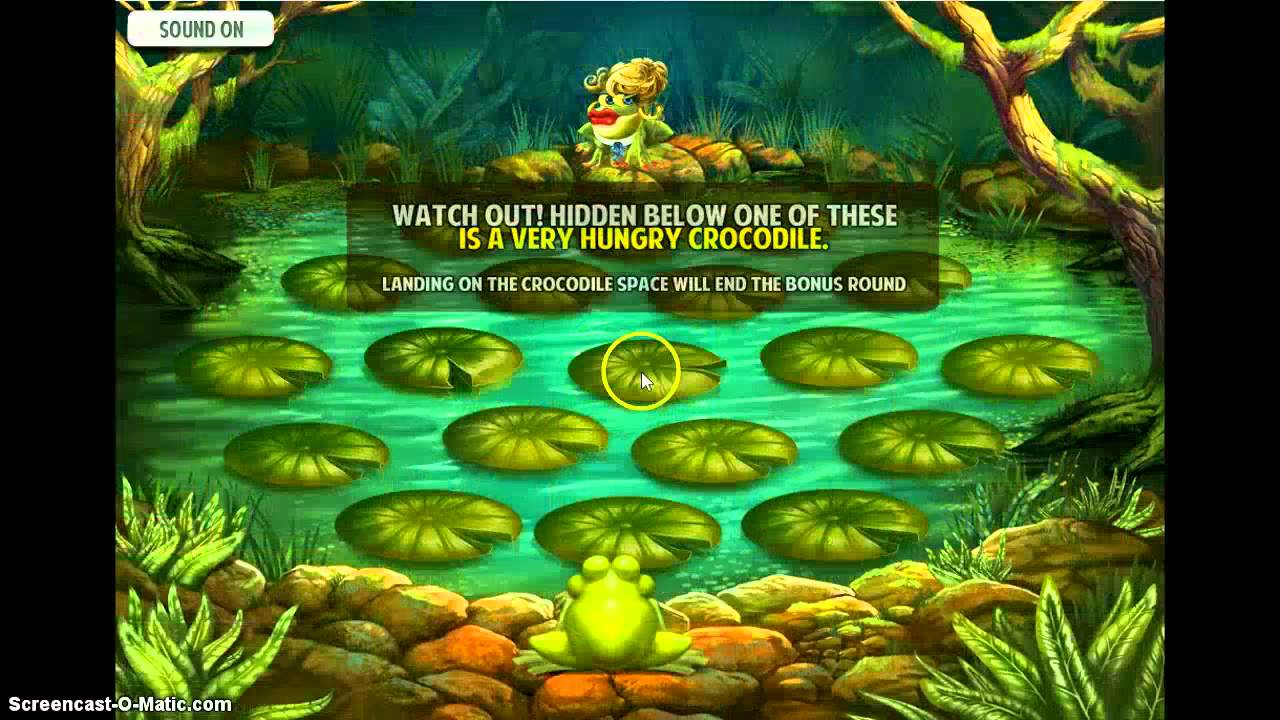 I Grodjakten har man to ulike spesialfunksjoner som kan aktiveres i løpet av spillet. Den ene funksjonen heter Dragonfly og den andre heter Water Lily. Disse funksjonene bidrar til økt sjanse for gode gevinster, og det ser ut til at de kan bli aktivert rimelig ofte i spillet. Dragonfly-funksjonen blir aktivert ved at et spesialsymbol dukker opp til venstre for den kvinnelige frosken eller til høyre for den mannlige frosken. Når denne funksjonen er aktivert får man en multiplikatorfunksjon som enten dobler eller tredobler gevinstene. Water Lily-funksjonen er et bonusspill hvor man skal hjelpe frosken med å komme seg over dammen. Dette gjør man ved å flytte på vannliljene, men man må passe seg for den sultne krokodillen. Gjør man det bra i dette bonusspillet har man gode sjanser for å vinne store gevinster.