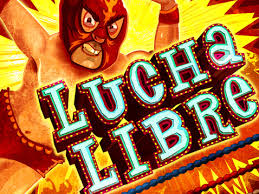 Spilleautomaten Lucha Libre er et av de nyeste utgivelsene til spillutviklerselskapet RealTime Gaming. Spilleautomaten leveres med et unikt tema, som virkelig er godt presentert på spilleskjermen. I tillegg til det er spilleskjermen satt sammen på en flott måte. Spilleautomaten leveres også med flere gode spesialfunksjoner, som aktiveres underveis i en spillerunde. Spesialfunksjonene gir spilleren noe å se frem til i en spillerunde. Lucha Libre har mye bra å by på, og RealTime Gaming har virkelig tilført noe bra til spillemarkedet.
Temaet
Temaet som RealTime Gaming har valgt å gå for denne gangen er utrolig unik. De har tatt for seg en kampsport, og presentert den på best mulig måte. Det er tydelig at det er fokus på en kamp innen den kampsporten. Det er flere deltagere som er representert, i tillegg til en dommer eller kommentator. Temaet gir spillerne noe som de ikke har sett tidligere.
Spilleskjermen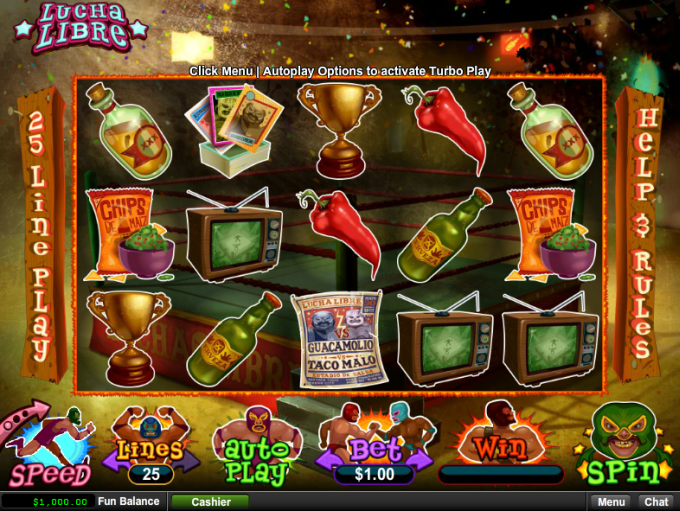 Spilleskjermen i Lucha Libre er utrolig flott laget. Det er mye som skjer på spilleskjermen, men den gode grafikken gjør at man tydelig får med seg alle detaljene. Øverst i venstre hjørne finner man logoen for spilleautomaten. Den er i form av noen blå og røde bokstaver, som er dekorert med en blå stjerne på hver side. Midt på spilleskjermen finner man hjuloppsettet. Det er en oransje ramme som er plassert rundt. Bakgrunnen på selve hjulene er til tider gjennomsiktig, slik at bakgrunnsbildet kan skimtes gjennom. Symbolene som er fordelt over hjulene er alle satt inn til å passe med temaet. Bakgrunnsbildet er litt vanskelig å forstå, men det ser ut til at en kamp har blitt avsluttet, og det flyter små konfetti i luften. Nederst på spilleskjermen finner man knappene i spilleautomaten. De er representert med hver sin kampsportdeltager.
Innsatsene
I Lucha Libre har spilleren to justeringer å ta seg av i forhold til innsatsen. Det er en justering som går på innsatslinjene og så er det en som går på innsatsen per aktive innsatslinje. Antall innsatslinjer ligger på 25 stykker, men siden de kan justeres, er det helt opp til spilleren å bestemme hvor mange det skal spilles med. Innsatsen per innsatslinjer starter på 0,01 i kreditt, og kan justeres oppover.
I tillegg til de to justeringsknappene, er det også lagt inn to hjelpeknapper. Den ene er plassert nederst i venstre hjørne, og med den kan spilleren sette opp farten på hjulene. Det er med andre ord en knapp som lager litt fortgang i en spillerunde. Den andre hjelpeknappen er plassert mellom de to justeringsknappene. Den er merket med teksten autoplay, og vil gjøre at spilleautomaten går automatisk i et bestemt antall runder. Hvis spilleren ønsker å sette i gang spilleautomaten på vanlig måte, kan det gjøres med den vanlige spinnknappen, som er plassert nederst i høyre hjørne.
Spesialfunksjoner
Det er flere gode spesialfunksjoner å se frem til i Lucha Libre. Det er lagt inn to spesialsymboler, og de kan utgjøre mye positivt når de først dukker opp på hjulene i en spillerunde.
Det første spesialsymbolet er et wildsymbol. Wildsymbolet har samme funksjoner som en joker, og den vil automatisk øke sjansen for vinnende kombinasjoner i en spillerunde. Den kan nemlig kombineres med alle andre vanlige symboler på hjulene. I Lucha Libre kan man også få noe som heter jumping wilds på hjulene. Det er et wildsymbol som kan hoppe posisjon på hjulene, slik at den kanskje skaper en enda bedre kombinasjon.
Det andre spesialsymbolet i spilleautomaten er et scattersymbol. Det første som gjør scattersymbolet spesielt er det at den kan dukke opp spredd på hjulene, og likevel aktivere en spesialfunksjon. Spesialfunksjonen som scattersymbolet står for er gratisspinnene. Det må være minst tre synlige scattere på hjulene for at funksjonen skal settes i gang. Gratisspinnene deles ut i et bestemt antall, og det som er så flott med dem er at de ikke koster noe for spilleren. Spilleren kan spille gjennom dem, og kun se frem til å få eventuelle gevinster.