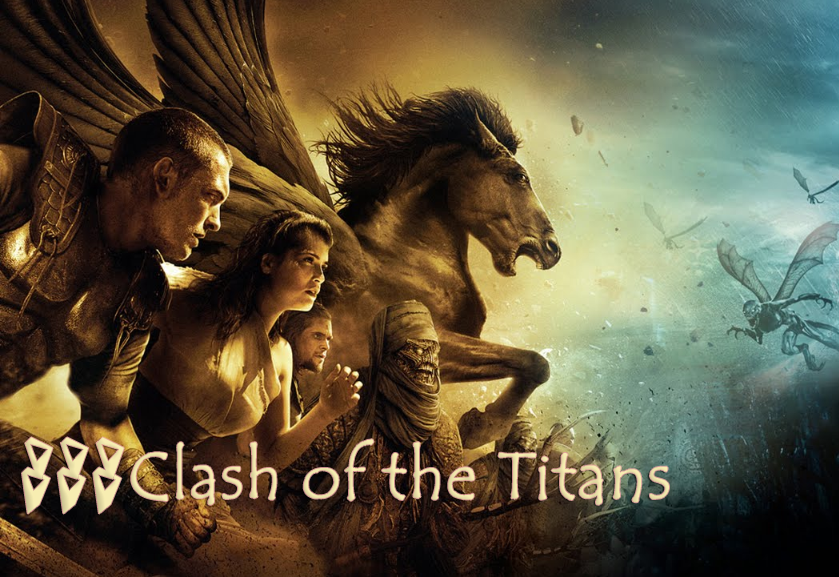 Clash of the Titans er enda en imponerende spilleautomat fra 888 Slots. Spilleautomaten imponerer så raskt man får øye på spilleskjermen. Det er tydelig at spilleverandøren har kjørt løpet fullt ut når det kommer til denne spilleautomaten, og det er det spillerne som får sitte og nyte. Det er utrolig flott å spille Clash of the Titans. Det er ikke bare spilleskjermen som setter en standard, men også oppsettet, temaet og ikke minst, bonusene. Clash of the Titans har mer enn nok å by på.
Temaet
Clash of the Titans er selvfølgelig inspirert av storfilmen Wrath of the Titans. Det er en intens film, og mye av den samme stemningen er bygget inn i spilleautomaten. Det er ikke en direkte kopi fra filmen, men inspirasjonen er hentet derfra. Det er lagt inn flere flotte karakterer, og man kjenner virkelig på det at det snart er tid for kamp. Presentasjonen av temaet kunne ikke ha vært bedre. Det er full fokus på det som skal til for å skape den perfekte stemningen.
Spilleskjermen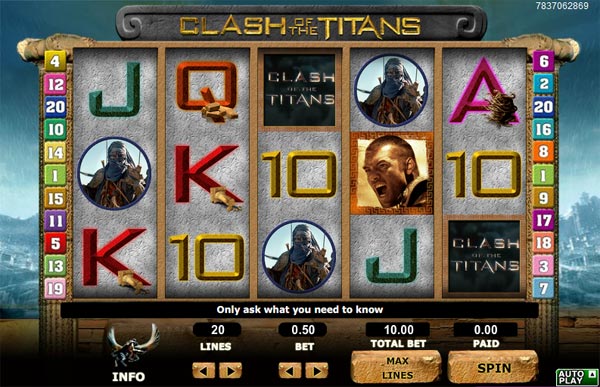 888 Slots har slått til med grafikken i denne spilleautomaten. Grafikken er så klar og tydelig at det egentlig ser ut som den er hentet direkte ut fra en film. Bakgrunnsbildet er mørkt og dystert, akkurat slik det bør være i en spilleautomat med et slikt tema. Øverst på spilleskjermen finner man logoen, som er satt opp på en mørkegrå steinhelle. Selve teksten på logoen er i gull. Rett under logoen har man hjuloppsettet. Rammen ser ut til å være laget av treverk, og den er enkel, men flott. Hjulene har fått en grå bakgrunn, som igjen ser ut til å være laget av stein. Symbolene er plassert opp mot den fargen. Noen av symbolene er faktisk ganske fargerike, og det gjelder for symbolene fra en kortstokk. De resterende symbolene er i bildeform, og de er alle plassert inn i en sirkel. Bildene viser blant annet forskjellige karakterer, i tillegg til noen monstre som også dukker opp i temaet. Også knappene i spilleautomaten er bygget inn i den flotte spilleskjermen. Det er treverk som er satt bak de også, og den går til slutt ut i sort. Knappene er også formet til å se ut som de er laget av treverk.
Innsatser og oppsettet
Innsatsene i Clash of the Titans, settes på to forskjellige måter. Spilleren har muligheten til å justere ned på antall innsatslinjer, i tillegg til å bestemme hvor mye det skal satses per innsatslinje. På det meste kan man ha 20 aktive innsatslinjer, og disse finner man merket opp på hver side av hjulene. Per innsatslinje er det mulig å satse mellom 0,05 og 5 i kreditt. Begge justeringsknappene er å finne nederst på spilleskjermen, og de er satt opp ved siden av hverandre. Det er tre andre knapper å bruke i Clash of the Titans. Den ene er spinnknappen, og den må brukes for å spinne i gang hjulene. Det er også lagt inn en informasjonsknapp, som gir spilleren tilgang til informasjon om spilleautomaten. Den siste knappen er en maxlines-knapp, som reaktiverer alle innsatslinjene.
Bonuser
Wildsymbolet fungerer som en joker, slik den pleier. I tillegg til det betaler wildsymbolet ut veldig bra i seg selv. Ved en kombinasjon på fem stykker, sitter spilleren igjen med en gevinst på 10 000 mynter. Oppå dette kan wildsymbolet aktivere en plukk og vinn bonus. Det skjer så fort man har et wildsymbol på første og siste hjul i oppsettet. I bonusen har spilleren mulighet til å vinne en kontantgevinst med en verdi på opp til 100 ganger innsatsen.
Scattersymbolet har også flere funksjoner på hjulene. I det man har to eller flere scattere, vil man begynne å motta en kontantgevinst. Med to scattere får man en kontantgevinst som har en verdi på dobbelt av innsatsen. Får man derimot fem stykker, vil kontantgevinsten ha en verdi på 100 ganger innsatsen. Med tre eller flere scattere sitter man også igjen med et antall gratisspinn. Det deles ut 12 gratisspinn om gangen, og alle gevinstene som hentes inn i løpet av de rundene, vil få en tredoblet verdi.