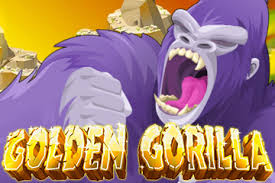 Golden Gorilla er en spilleautomat fra spillutviklerselskapet Rival Gaming. Rival Gaming står bak flere gode spilleautomater som allerede er på markedet og Golden Gorilla er da en av dem. Utformingen på denne spilleautomaten er utrolig bra og Rival Gaming imponerer både med valg av tema og med grafikken som er lagt på spilleskjermen. Tema man finner i Golden Gorilla er satt til jungelen og for mange kan det nok også forbindes med historiene om Tarzan. Det er nemlig satt inn en kvinnelig og en mannlig karakter, i tillegg til alle de flotte dyrene. Jungelen er helt klart på plass i spilleautomaten og det er en eksotisk stemning som dukker opp når man spiller. Tema er med på å gi et godt inntrykk av spilleautomaten, og i tillegg har man flere gode spesialfunksjoner, noe som løfter spilleopplevelsen enda mer. Rival Gaming har nok en suksess med spilleautomaten Golden Gorilla.
Grafikk og spilleskjermen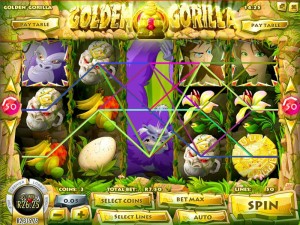 Grafikken som Rival Gaming har brukt i Golden Gorilla er helt klart av høy kvalitet. Spilleskjermen får virkelig frem tema og det hele er satt sammen på en fin måte. Bakgrunnen og rammen rundt spilleautomatens hjul viser flere eksotiske planter og blomster, i tillegg til deler av det som trolig er et gammelt bygg i jungelen. Øverst på spilleskjermen finner man spilleautomatens logo, som også er formet i noen store bokstaver som ser ut til å være hugget ut av stein. Midt i mellom de to ordene i logoen har man en gyllen gorilla. Spilleautomatens hjul og symboler er plassert midt på spilleskjermen og er delt opp med noen grønne slyngplanter. Symbolene på hjulene er alle i form av ulike bilder, hvor man blant annet ser ulike dyr og ulike blomster. Nederst på spilleskjermen finner man spilleautomatens knapper. De er bygget inn i resten av rammen, slik at de virkelig passer inn på spilleskjermen.
Spesialfunksjoner i spilleautomaten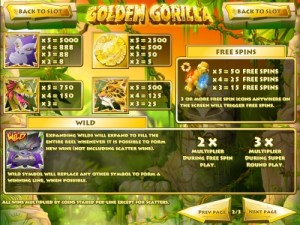 Golden Gorilla har flere gode spesialfunksjoner som kan aktiveres. Det er flere spesialsymboler som kan dukke opp på spilleskjermen og de har alle hver sin funksjon de kan aktivere. Først og fremst har man to forskjellige wildsymboler. Den ene er i form av en gorilla og fungerer som et vanlig wildsymbol. Den er med andre ord spilleautomatens joker og kan derfor erstatte alle andre vanlige symboler som dukker opp på hjulene. Det andre wildsymbolet er i form av en lilla gorilla og den fungerer som et ekspanderende wildsymbol. Det vil si at når den først dukker opp på hjulene så vil den dekke hele hjulet, noe som er med på å øke sjansen for vinnende kombinasjoner. Det ekspanderende wildsymbolet er også med på å øke eventuelle gevinster. Dukker den opp i bonusrunden vil den doble gevinsten, og dukker den opp i super bonus runden så vil den tredoble gevinsten. Symbolet av den gylne apekatten er spilleautomatens scattersymbol og den kan da aktivere gratisspinnrundene. Man trenger minst tre stykker på hjulene samtidig og man kan få opp til 50 gratisspinnrunder. Den gylne gorillaen kan ende opp med å få flere gylne apekatter på hjulene og det vil da trigge super bonus runden. I super bonus runden kan man ende opp med å komme til et plukk og vinn runde, hvor det er mange gode gevinster i vente for spilleren.
Hvordan kommer man i gang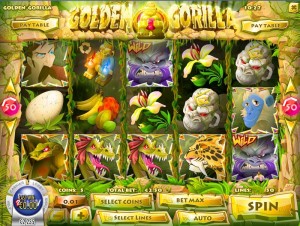 Innen man setter i gang spilleautomaten er det mange justeringer som spilleren kan ta seg av. Spilleautomaten har totalt 50 innsatslinjer, men for de som syntes det er litt mye, kan man helt enkelt sette ned antallet. I tillegg er det opp til spilleren å velge antall mynter per aktive innsatslinje, i tillegg til at verdien per mynt må settes. De ulike justeringene gjør man ved å bruke de tilhørende knappene. Myntverdien i spilleautomaten starter på 0,01 mynter og går da opp til 0,25 mynter. Man kan på det meste ha 10 mynter på en innsatslinje. Når man er ferdig med justeringene kan man trykke på spinnknappen.