Tema og utseende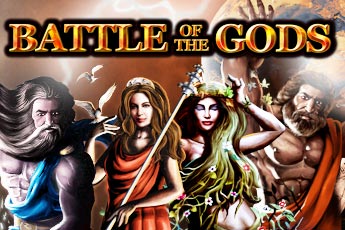 En av de nyeste lanseringene hos nettkasinoene der ute fikk navnet Battle of the Gods, en spilleautomat fra utvikleren Playtech. Dette er en spennende spilleautomat med hovedfokus på gresk mytologi – om du har peiling på alle de ulike gudene grekerne pleide å tilbe, vil du stortrives med symbolene Playtech har skapt. Spillskjermen har fått tydelige greske drag, med en typisk gresk bord som strekker seg gjennom granitt. Battle of the Gods er ganske mørk, nesten dyster spilleautomat – kanskje fordi den har et såpass kraftig tema som en kamp mellom gudene og titanene? Nesten et dusin greske guder og skumle titaner spinner forbi på skjermen, der de slåss om å få danne en vinnerrekke. Symbolene er utrolig fine, med mørke skygger og mystiske farger som preges av rødt og blått. Atlas, Zeus, Poseidon, Athena, de interesserte vil nok fryde seg med å undersøke de kompliserte symbolene. Best gjøres dette dog på storskjerm – om du spiller på en liten skjerm eller på en mobiltelefon/nettbrett, kan symbolene faktisk se noe kantete ut. Dette altså fordi skjermen er så liten at de store, opptegnede symbolene må krympes digitalt.
Grafikk og detaljer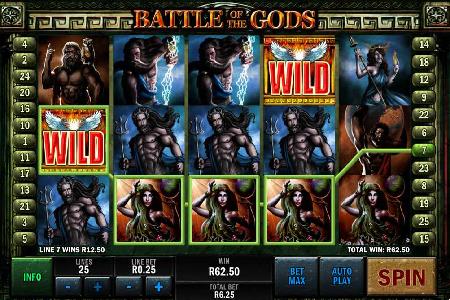 Playtech har gjort en veldig god jobb med symbolene, som alle er animerte og fint opptegnede med rikelige detaljer. Animasjonene er ikke særlig spennende, men bare at de finnes er godt nok for oss. Derimot har Playtech gjort en tabbe med bakgrunnsmusikken og lydeffektene på Battle of the Gods. En kort lydeffekt spilles av hver gang du spinner hjulene. Om du klarer å høre på denne ti-tolv ganger uten å gå lei og skru av lyden helt, vil vi klappe for deg. Grafikken ellers er lagd godt, selv om vi vet at Playtech kan mye bedre. 3D-grafikk rundt kantene av spillskjermen og en ordentlig bakgrunn kunne gjort susen. Battle of the Gods er derimot veldig brukervennlig og lett å forstå – dette skal de ha tommelen opp for. Man kan lett skille mellom gudene og titanene på deres ulike glød, og de andre symbolene skiller seg veldig fra bildesymbolene. Det hadde gjort seg med noen videosnutter eller animerte guder som bevegde seg rundt på spillskjermen, men Playtech kan dessverre ikke helt måle seg med Net Entertainment og Microgaming når det kommer til 3D-grafikk. Battle of the Gods er samtidig tydelig lagd av noen som brenner for antikk mytologi.
Utbetalinger og funksjoner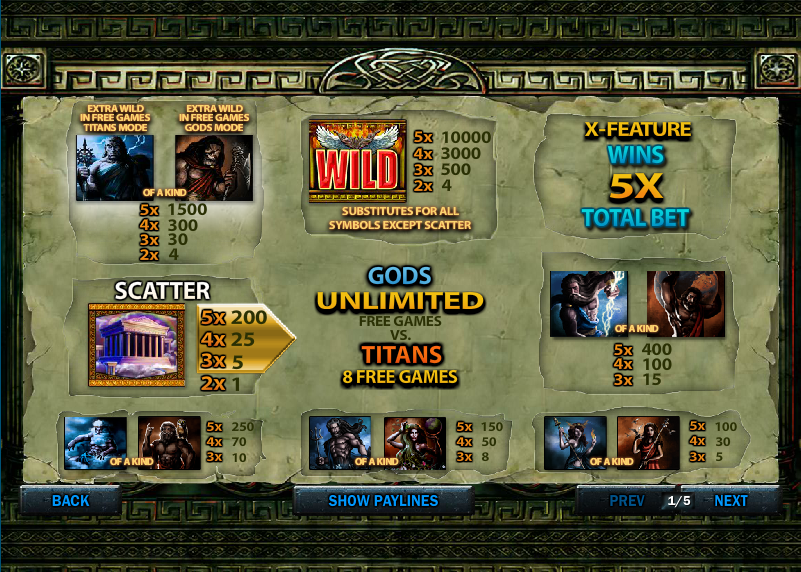 Battle of the Gods har en god utbetalingsrate som lar spilleren stikke av med gevinster nesten hele tiden. De fleste gevinstene dekker dog så vidt innsatsen, uansett hvilket symbol som kommer opp – tre på rad rekker ikke, med mindre det er wildsymbolet vi snakker om. Med 25 gevinstlinjer er det ikke så lett å treffe på en kombinasjon blant over ett dusin ulike symboler, men når man først får 4 eller 5 på rad vil gevinstene pøses på. Wildsymbolet forvandler seg til alle andre symboler og hjelper deg med å danne kombinasjoner, samtidig som 5 wildsymbol på rad vil spytte ut jackpotten. Ulike gudesymboler gir fra en dobling av innsatsen og helt opp til 1500 ganger pengene tilbake. Det er også en liten spesiell funksjon på Battle of the Gods som mange vil sette pris på – når fem symboler med guder danner et kors midt på skjermen vil en femdobling av innsatsen bli utbetalt. Det finnes ingen animerte bonusspill her ellers, kun en rekke gratisspinn med sine særegne preg.
Gratisspinn og jackpot
Scattersymbolet på Battle of the Gods kommer i form av et gresk tempel, der man før i tiden hadde diskusjoner både mennesker imellom, og med gudene. Tre greske templer starter i gang en runde gratisspinn der hele skjermen fylles kun med gudesymbolene, den blå delen av spilleautomaten. Disse kan utvides i det uendelige, eller helt frem til det ekstra wildsymbolet dukker opp på den midterste skjermen – da vil man nemlig bli sendt til titanenes verden. Altså fylles hele skjermen med titansymbolene og 8 gratisspinn settes i gang. Her ender som oftest gratisspinnene med en saftig gevinst, men er man ekstra heldig og treffer på gudenes ekstra wildsymbol på den midterste skjermen, blir man invitert tilbake til tempelet. Med gullhår på et gdot skjult sted kan man altså spinne hjulene i mange dager uten å bruke så mye som en krone. Millionærhåpet holdes i live av Battle of the Gods.