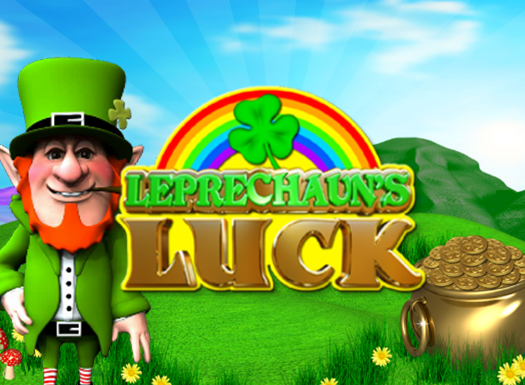 Feiringen av St. Patrick's Day skjer stort sett bare en gang i året. Spilleverandøren 888 syntes ikke at det er ofte nok, så de har valgt å gjøre denne feiringen tilgjengelig hver eneste dag, om man selv vil. Feiringen skjer naturligvis gjennom den flotte spilleautomaten Leprechaun's Luck. Det er en fargerik og fin spilleautomat, som virkelig setter spillerne i stemning for litt fest. Spilleautomaten er satt opp slik de fleste spilleautomater er. Spilleautomaten har også flere gode bonuser å by på. Oppå bonusene leveres også Leprechaun's Luck med to progressive jackpotter. Det i seg selv er grunn nok til å prøve ut noen spillerunder.
Temaet
Leprechaun's Luck får frem alt det essensielle for å komme i ekte irsk festhumør. I Irland er det stor feiring rundt St. Patrick's Day, og det er denne dagen som er mest i fokus. Spillerne kan glede seg til å se flere av de ulike elementene rundt temaet, presentert på den flotte spilleskjermen. Trenger man å varme opp litt i forkant av selve feiringen, så har Leprechaun's Luck det som skal til.
Spilleskjermen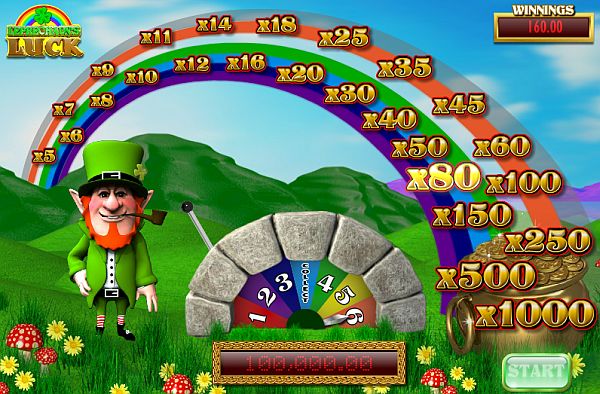 Man skal lete lenge etter en så fargerik spilleskjerm som det man finner i denne spilleautomaten. Fargene er sterke, og de lyser enda bedre frem, takket være grafikken som er brukt. Grafikken gjør fargene enda klarere, i tillegg til at alle detaljene også får komme frem. Som bakgrunnsbilde er det lagt inn en skikkelig irsk eng, hvor solen skinner, det er blå himmel, og gresset har aldri vært grønnere. Små gule blomster og små fluesopp stikker også frem i gresset. Logoen er plassert et litt uvanlig sted. Istedenfor at den er på toppen av spilleskjermen, er det faktisk plassert nederst i venstre hjørne. Logoen er fargerik i seg selv, med blant annet en regnbue som stiger opp bak bokstavene. Rammen rundt hjuloppsettet er utrolig flott. Den er formet i gull og den er satt inn med et utrolig flott mønster. Inne i rammen finner man de hvite hjulene, som er fylt opp med ulike symboler. Symbolene er noe av det som får frem temaet mest. Det er der man får se ulike elementer som forbindes med St. Patrick's Day, og med Irland. Det er blant annet lagt inn en øl, en mann med en stor grønn hatt og en stor krukke som er fylt til randen med gull. De høyeste symbolene fra en vanlig kortstokk er også tatt med. De er fargerike de også, og dekorert med et flott irsk mønster.
Oppsett og innsats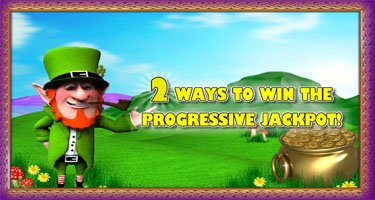 Leprechaun's Luck er satt sammen av fem hjul og tre rader. Utover de 15 posisjonene finner man symbolene. Når det kommer til innsatslinjer er det en total på 20 stykker, og de er faste. Oppsettet på innsatslinjene finner man oppmerket på hver side av hjulene.
Med de faste innsatslinjene, er det kun en justering for spilleren å ta seg av. Spilleren skal kun tenke på hvor mye som skal satses per innsatslinje. Det er forhåndsbestemt at det er en mynt som satses per innsatslinje. Den totale innsatsen i en spillerunde vil alltid ligge på mellom 0,20 og 200 i kreditt.
Det er noen andre knapper som er lagt inn i spilleautomaten også. Hvis spilleren ønsker en oversikt over gevinster, så får man det ved å trykke på knappen merket med Paytable. Ønsker spilleren at spilleautomaten skal gå automatisk, så gjøres det ved å trykke på autoplayknappen. Spilleren har også den unike muligheten til å endre bakgrunnsfarge på hjulene. Det gjøres ved å trykke på «change color»-knappen.
Bonuser og jackpotter
Ser man etter en spilleautomat med bonuser og jackpotter, så er Leprechaun's Luck spilleautomaten å velge. I løpet av en spillerunde har man muligheten til å aktivere et bonusspill, og få tildelt gratisspinn. Det er også to ulike jackpotter å vinne, og de er begge progressive, og kan raskt ha en høy verdi. De ulike bonusene aktiveres ved ulike kombinasjoner med spesialsymboler. Det er også gjennom den ene bonusen at man kan vinne den ene jackpotten. Den andre kan vinnes ved at symbolet av ønskebrønnen dukker opp på den midterste posisjonen på hjulene.