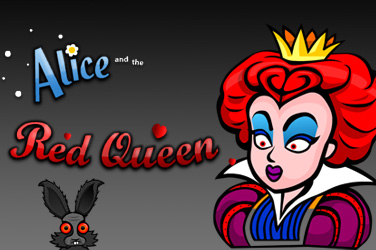 Det finnes allerede ganske mange spilleautomater som har blitt inspirert av Alice i Eventyrland. Det er det derimot ikke noe rart i da dette er et eventyr som er høyt elsket av utrolig mange, både unge og gamle. De aller fleste spillutviklere har med andre ord vært innom dette temaet tidligere, men nå er det altså turen til spillutviklerne hos 1×2 Gaming. De har nemlig lansert en spilleautomat med tittelen Alice and The Red Queen, et spill som ble lansert i 2014. Spillet har uten tvil klart å skille seg ut fra mengden med sine oppfinnsomme lydeffekter, grafikk som er tydelig inspirert av tegneserien og en rekke kommentarer som vil dukke opp underveis i spillet. 1X2 Gaming er ikke det største iGaming selskapet som finnes der ute, men det er ikke noe tvil om at de har vokst seg større og større i løpet av de siste par årene. De sørger alltid for at deres spilleautomater inneholder noen veldig interessante elementer som man ikke vil kunne finne på noen andre spilleautomater.
Innsatsalternativ for spillerne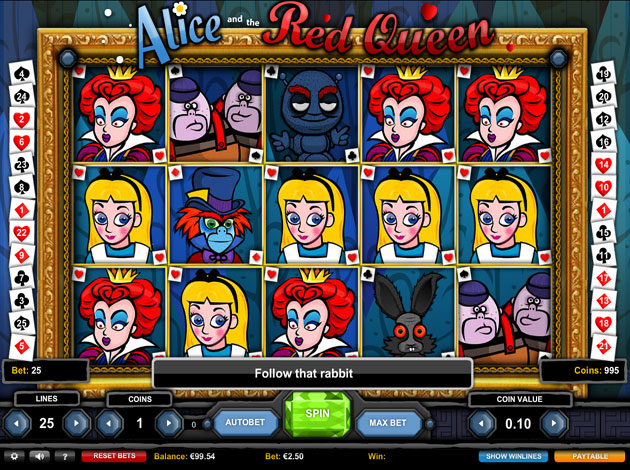 Menyen i spillet har fått et enkelt og vakkert design med farger som sørger for at den enkelt sklir inn i resten av designet til spillet. Bakgrunnen sklir rett inn i spillets bakgrunnbilde, mens knappene på menyen har blitt laget i fine blå farger som vil dukke opp flere andre steder i spillet. I denne menyen er det tre ulike ting som spillerne vil kunne tilpasse deres egne behov. Det er 25 spillelinjer som spillerne kan deaktivere en etter en om de ønsker, deretter kan spillerne bestemme verdien på myntene og til sist hvor mange mynter som skal satses på hver spillelinje. Myntene kan ha en verdi på enten 0,01, 0,02, 0,05, 0,10, 0,20 eller 0,50. Deretter kan spillerne satse opp til fem av disse myntene på hver aktive spillelinje. I tillegg til dette kan spillerne finne flere andre innstillinger og justeringer i den samme menyen. Der kan spillerne justere på både lyden, grafikken eller sette hele spillet på autopilot om det skulle være ønskelig.
Bonusrunder
Denne spilleautomaten vil absolutt ikke skuffe når det kommer til ekstrafunksjonene som er tilgjengelig. I Alice and the Red Queen kan spillerne nemlig finne en spennende gratisspinn­funksjon, et wildsymbol og to spesialsymboler til. Wildsymbolet vil kunne aktivere den beste vinnende kombinasjonen i spillet, men kan selvfølgelig ikke erstatte andre spesialsymboler. Spesialsymbolet som viser en tekanne er den som kan aktivere spillets gratisspinnfunksjon. Gjennom dette symbolet vil spillerne nemlig kunne få både 5, 10 og 15 gratisspinn. Dette antallet vil være avhengig hvor mange tekanner som dukker opp. Spillerne vil ikke kunne vinne flere gratisspinn i løpet av funksjonen, men alle gevinster som bli vunnet i løpet av bonusrunden vil bli doblet! Det er også i gratisspinnfunksjonen at det siste spesialsymbolet kommer til rette, denne kan nemlig utbetale «scattered». Det betyr at den kan utbetale opp til 200 mynter uansett hvor på hjulene den dukker opp.
Symboler i Alice and the Red Queen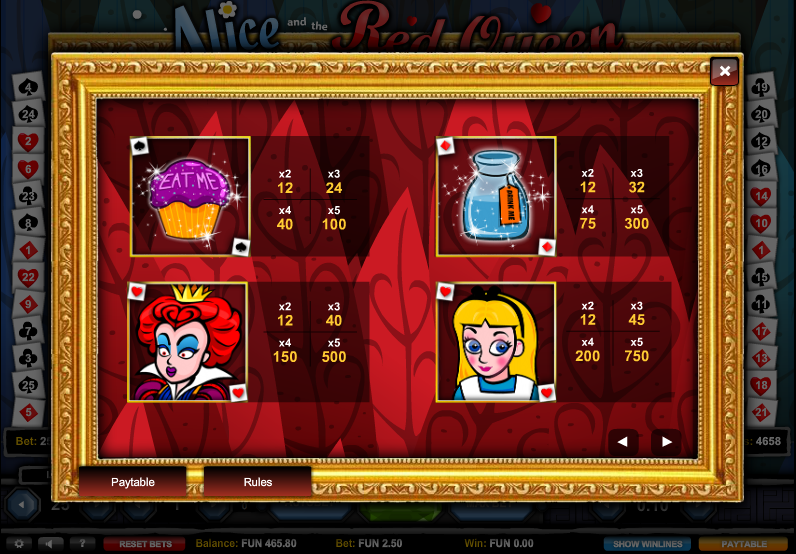 Symbolene som vil dukke opp på spillets hjul vil ikke være noe overraskelse. Her vil spillerne nemlig kunne få et gjensyn med alle de kjente og kjære karakterene fra eventyret. Både kaninen med uret, den gale hattemakeren, tvillingene, den stripete katten og dronningen vil dukke opp.
Sammendrag
Alice and the Red Queen er en spilleautomat som har blitt gjennomført fra begynnelse til slutt. Det er nemlig ikke bare spillets tittel som avslører temaet, denne er svært tydelig på alt fra grafikken til symbolene til lydeffektene. 1X2 Gaming har gjort en utrolig flott jobb og det er tydelig at det er noen Allice i Eventyrland som har vært med i utviklingen av dette spillet. I tillegg til det flotte utseende til spillet, kan den friste med flere ulike ekstrafunksjoner som en helt unik «Flush» funksjon, en gratisspinn runde og et scattersymbol. Her kan spillerne med andre ord finne absolutt alt man kan ønske fra en spilleautomat og litt mer.