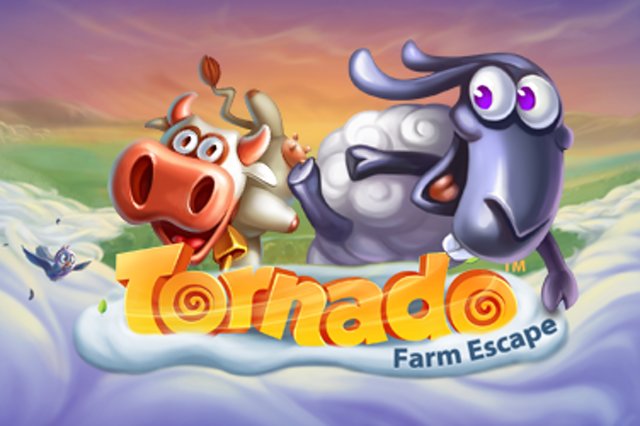 Spilleautomaten Tornado Farm Escape er utviklet av spillselskapet Net Entertainment. Net Entertainment er definitivt et av de største navnene på markedet for spilleautomater, og de har utviklet veldig mange gode spilleautomater. De viser gang på gang at de klarer å komme opp med unike temaer for sine spill, og de klarer også legge opp til en god presentasjon av temaet hver gang. I deres spilleautomater finner man også ofte gode spesialfunksjoner, som da er med på å gjøre at spillingen blir mer spennende for spilleren. Spilleautomaten Tornado Farm Escape er et av deres nyeste tilskudd på markedet, og de har nok en gang et godt resultat å vise til sine spillere. Det er et unikt tema som er godt presentert, og spilleautomaten er nydelig satt opp for at spilleren skal kunne komme i gang på en så enkel måte som mulig.
Spilleskjermen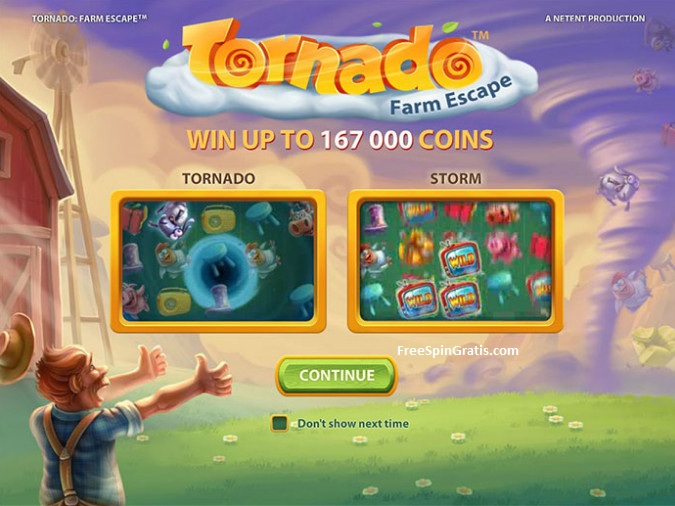 Spilleskjermen i Tornado Farm Escape er tydelig satt opp i forhold til tema. spilleautomaten er en del av en serie som Net Entertainment har kommet opp med, som alle har tornadoer som tema. I Tornado Farm Escape så er det en tornado som tilsynelatende beveger som over en gård, og det ender da opp med mange gårdsdyr som blir fanget inne i denne tornadoen. Bakgrunnsbildet på spilleskjermen er satt opp slik at det ser ut som man befinner seg inne i selve tornadoen. Ser man nærmere på bilde kan man se deler av gården, og det er tydelig at man befinner seg høyt oppe i lufta. Øverst på spilleskjermen finner man logoen til spilleautomaten. Den er formet i store oransje bokstaver, med litt mindre blå bokstaver. Det hele er plassert over en stor hvit sky. Hjulene i spilleautomaten er plassert midt på spilleskjermen. Hjulene har en grønn bakgrunn, som går i ett med bakgrunnsbildet. På hjulene har man spilleautomatens symboler og de er alle formet til å passe tema. Man ser forskjellige gårdsdyr i det som ser ut som flygende posisjoner, i tillegg til at det er flere møbler som også er satt inn som symboler. Symbolene er alle formet i tegneserieaktige bilder.
Oppsettet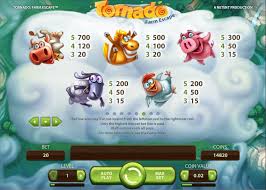 Oppsettet som er brukt i Tornado Farm Escape er veldig tradisjonelt og består av fem hjul og tre rader med symboler og til sammen er det lagt inn 20 faste innsatslinjer. Nederst på spilleskjermen finner man et oppsett med knapper og to av disse er justeringsknapper. Justeringsknappen til venstre er satt til å bestemme innsatsnivået man ønsker å ligge på. Den starter da på en og kan justeres opp til 10. Justeringsknappen som er satt til høyre er den som justerer myntverdien man ønsker å spille med. Myntverdien starter på 0,01 mynter og går opp til 1 mynter. Det er to hjelpeknapper lagt inn i spilleautomaten også, og det er bet maks knappen og autoplayknappen. Den grønne knappen i midten er den som setter i gang spilleautomaten på vanlig måte.
Spesialfunksjoner
Det er flere gode spesialfunksjoner lagt inn i spilleautomaten. Først og fremst har man et wildsymbol som fungerer som en joker. Wildsymbolet er i form av en tv og den kan erstatte alle vanlige symboler på hjulene. Dukker denne opp underveis i en av bonusene i spilleautomaten, vil den ha høyest verdi, da den kan betale ut opp til 4.500 mynter. Det er lagt inn en bonus som har fått navnet Tornado. Hvis man får et symbol med en rød pil på hjul en og et symbol med en blå pil på hjul fem vil denne bonusen bli aktivert. Det som skjer da er at tornadoen blir aktiv og vil ta med seg alle aktive og wildsymbolene som finnes på hjulene. Bonusen ender når det ikke er flere symboler å plukke opp. En annen bonus er Storm bonusen, som blir aktivert helt tilfeldig. Den fungerer slik at den plasserer ut tilfeldige wildsymboler på hjulene, slik at sjansen for gevinstgivende kombinasjoner vil ende opp med å øke.