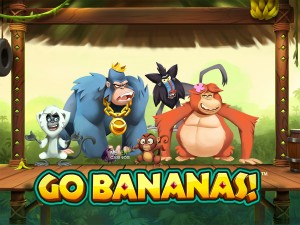 I Go Bananas møter spillerne fem aper som bor i et trehus. Spillet har 20 faste gevinstlinjer, 5 hjul og 3 rader med symboler. Den teoretiske utbetalingen er 96,9 %. Det er ingen gratisspinn eller bonusspill i spillet, og heller ingen progressiv jackpot, men man kan vinne inntil 140 000 mynter. Innsatsen kan stilles fra 0,20 til 200 euro per spinn, så her burde de fleste bli fornøyde. Spillet ble lansert i september 2014, og man kan teste det ut med lekepenger før man velger å spille med ekte penger. Spillet er laget av det svenske selskapet Net Entertainment. Net Entertainment er kjent for gode spill med mange innslag. Go Bananas er også et vellaget spill, men det har ikke så mange ekstrainnslag. Det eneste innslaget er jokersymbolet. Det er veldig mange jokersymboler i spillet, men dette er spillets eneste bonus.
Om spillet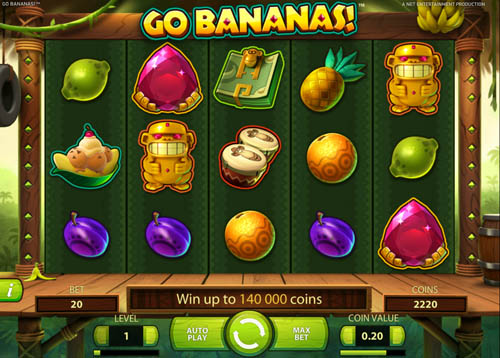 Mange spillere kommer sikkert til å bli skuffet når de leser at det ikke er verken gratisspinn eller bonusspill i denne automaten, men det er ingen grunn til å gi opp spillet av den grunn. Go Bananas inneholder mange jokersymboler, som blir utdelt av de rause apene. Hver gang en ape kommer på skjermen, deler den ut et visst antall jokere. Hver ape har sitt unike jokermønster, som man kan lese mer om i spillets utbetalingstabell. Man er selvsagt ikke garantert gevinst selv om man får en mengde jokere, men jokerne øker vinnersjansen betraktelig. Gorillaen er den mest rause apen, og deler ut hele 5 jokersymboler hver gang den dukker opp. Dersom det kommer to aper på hjulene samtidig, blir det ekstra spennende, for da kan man få veldig mange jokere på skjermen. Når en ape inngår i en vinnerkombinasjon, animeres apen, og hver ape har sin egen morsomme animasjon. Jokersymboler kommer ganske ofte, slik at man får ganske gode vinnersjanser på denne måten.
Symboler og gevinster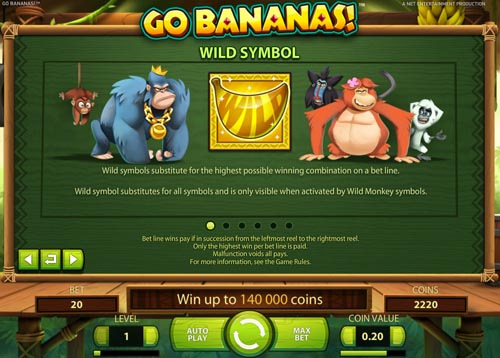 Go Bananas er et raskt spill med god grafikk og fine lydeffekter. Handlingen foregår i et trehus, som danner rammen rundt spillet. Symbolene inkluderer frukter, trommer, gullstatuer, penger og juveler. Som vanlig må man få minst tre like symboler på rad, på samme gevinstlinje, for å få gevinst, og alle vinnerrekker må starte ytterst til venstre. Man kan vinne inntil 700 ganger innsatsen dersom man er heldig, men de fleste gevinstene er selvsagt ganske små. Spillets utbetalingstabell gir en fullstendig oversikt over alle symbolene, og verdiene av dem.
Jokere
Det er jokerne som er spillets hovedtema, og de fem jokerne er representert av fem aper. Apene erstatter andre symboler med jokere, slik at man kan få ganske mange jokere samtidig på skjermen. De fem apene er presentert med rammer i hver sin farge. Apen i den grønne rammen er en spøkelsesape, som omdanner et av symbolene ved siden av seg til en joker. Apen med rosa ramme er en gorilla, og dette er det mest verdifulle jokersymbolet. Gorillaen deler ut hele fem jokere. Apen i lilla ramme er en bavian, som omdanner symbolene over og under seg til jokere, slik at man kan få et jokerhjul. Apen i turkis ramme er en langur. Denne apen omdanner de to neste symbolene på samme rad til jokere, mens den kvinnelige apen i den brune rammen omdanner symbolet under seg til jokere. Den kvinnelige apen er en orangutang, og det kommer ofte flere kvinnelige aper samtidig på hjulene.
Oppsummering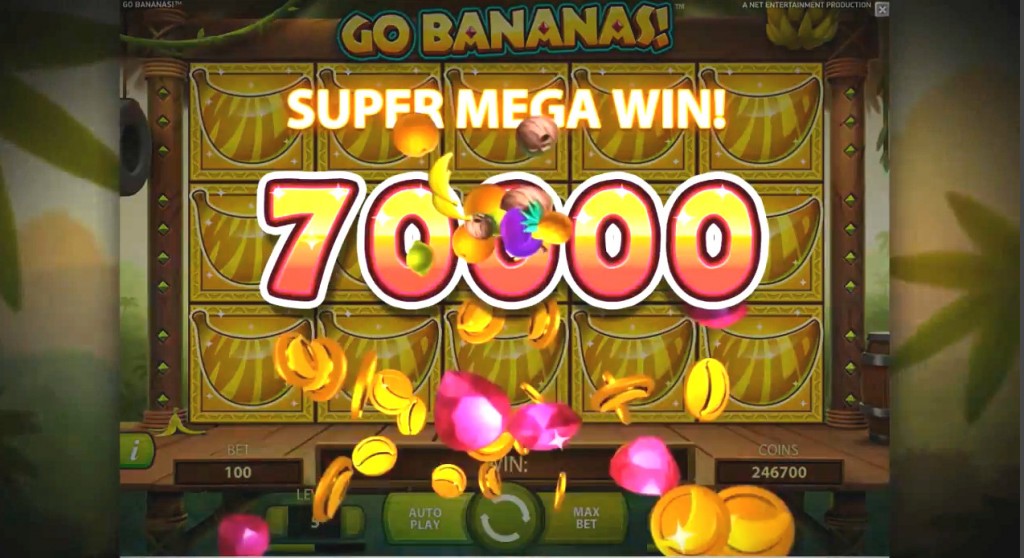 Go Bananas er et spill med morsomt tema. Grafikken er herlig, men musikken er mindre imponerende. Det spilles bare en kort melodi mens hjulene spinner. Når hjulene står stille, er det bare fuglesang i bakgrunnen. Men man blir i hvert fall ikke forstyrret av unødig musikk eller lydeffekter. Automaten har ingen gratisspinn eller bonusspill, og det kan være et savn for mange. Dette er et spill som er morsomt å spille et par ganger, men man kan også raskt gå lei av det. Jokerinnslaget er morsomt, men det er spillets eneste ekstrainnslag.