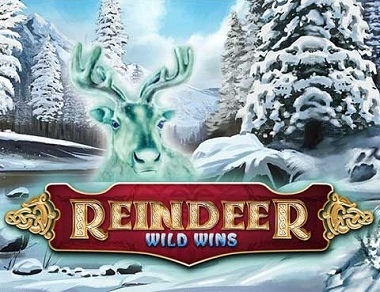 I denne spilleautomaten vil kasinospillere bli tatt med på en spennende reise til et vakkert vinterlandskap. Spillet har nemlig fått et nordisk tema, noe som betyr is og snø. Det hele handler om reinsdyr jakt i ulike områder sånn som Island og Grønland, hvor sånne aktiviteter er mest populært. Det er med andre ord et vakkert og utrolig spennende spill som ikke bare har et flott tema men også et flott design. Det er ikke noe tvil om at kasinospillere vil elske dette spillet da den også har blitt fylt opp med en rekke ulike ekstrafunksjoner som kan belønne spillerne med fine gevinster. Det finnes en gratisspinn funksjon, to spesialsymboler, multiplikatorer og enda litt mer.
Spillets design og grafikk
Reindeer Wild Wins har som nevnt allerede fått et vakkert design, det er tydelig at spillutviklerne hos Genesis Gaming ville fokusere på nettopp dette. I bakgrunnen vil spillerne nemlig kunne se snødekkede trær da hjulsettet har blitt plassert midt ute i skogen. Dette sammen med den vakre blå himmelen har skapt den perfekte stemningen i spillet. Hjulsettet består av fire rader og fem snurrende hjul, men det er ikke det vanlige antallet spillelinjer som finnes her. I stedet vil spillerne ha 1 024 ulike måter de kan vinne på. Hjulene består av det som kan se ut som et reinsdyrskinn som er strekt utover og festet på en ramme av trestokker. Menyen, som har fått de samme fargene, har deretter blitt plassert under hjulene og de ulike knappene har blitt plassert på en bit med treverk.
Symboler og spesialsymboler i spillet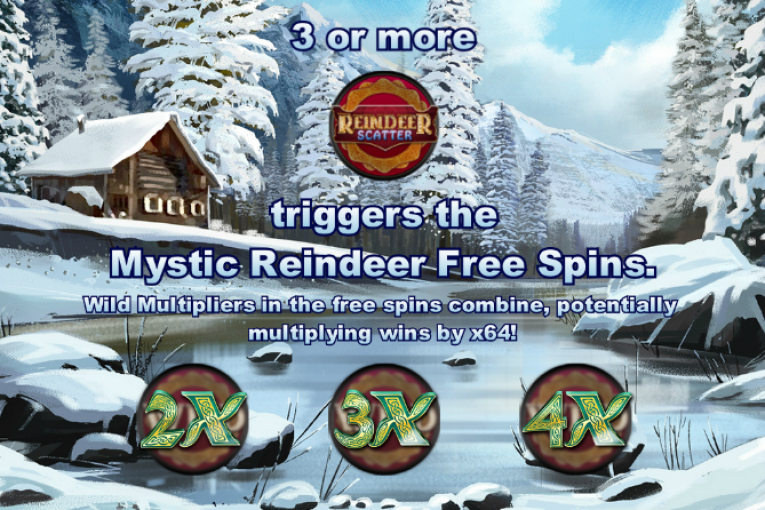 Da dette spillet handler om reinsdyrjakt, har spillutviklerne hos Genesis Gaming skapt tre flotte jegere. Disse tre flotte damene har fått hver sin farge som de representerer, og de vil dukke opp som hvert sitt symbol i spillet. I tillegg til disse tre symbolene vil spillerne også kunne se de klassiske spillekortsymbolene, denne gangen har de fått et vakkert mønster på seg samt ulike farger. Til sist er det et symbol som selvfølgelig viser frem det hele spillet handler om, nemlig reinsdyret. Disse hovedsymbolene vil kunne belønne spillerne med gevinster opp til 150, 200, 250 og 300 mynter for fem stykker. Deretter finnes det som sagt to ulike spesialsymboler i Reindeer Wild Wins, et wildsymbol og et scattersymbol. Wildsymbolet vil kunne erstatte andre symboler på hjulene, mens scattersymboler kan både gi gevinster på opptil 800 mynter til spillerne og aktivere gratisspinn funksjonen. Dette skjer dersom tre, fire eller fem scattere vises på hjulene. Scattersymbolene vil også kunne gi spillerne enda flere gratisspinn når de dukker opp i løpet av den funksjonen.
Innsatsalternativ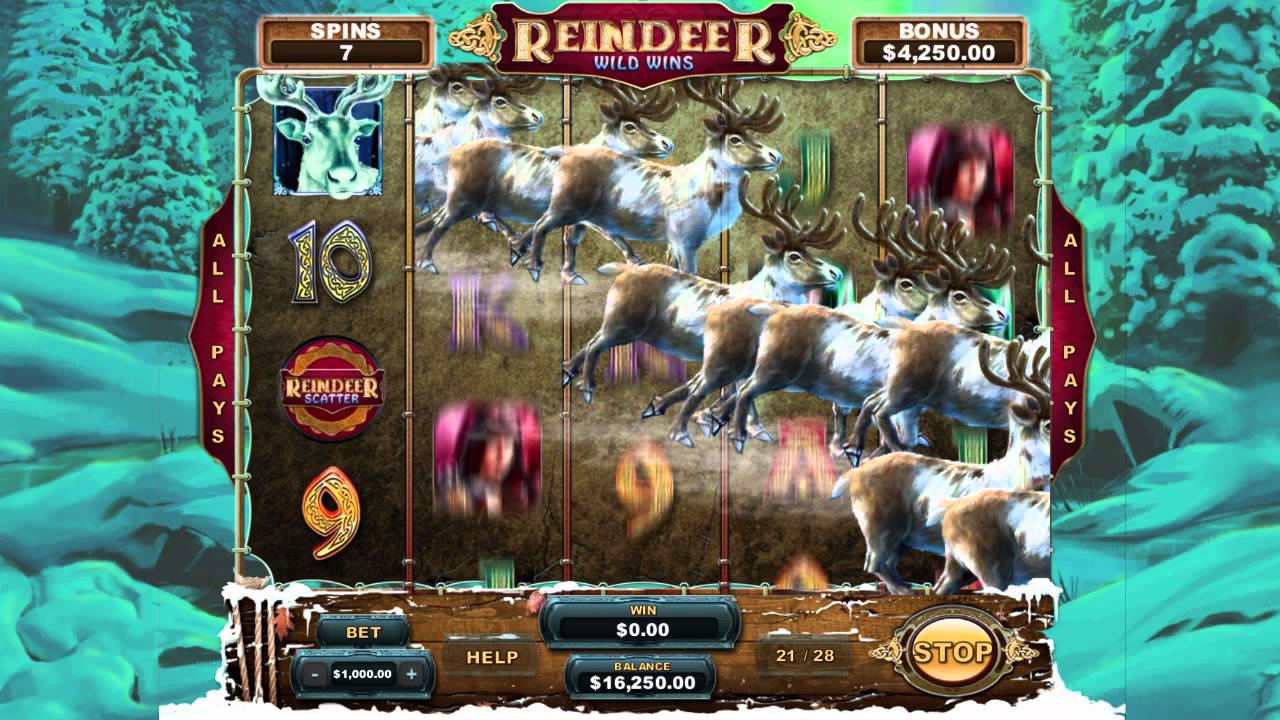 I Reindeer Wild Wins finnes det kun en enkel innstilling som spillerne må justere på før de kan komme i gang med spillet. Da det ikke finnes noen ordentlig spillelinjer, kan spillerne heller ikke justere på det og det er heller ikke noen innstilling for antall mynter som satses per spillelinje. Det eneste spillerne dermed må bestemme seg for er hvor mye de skal satse per spillerunde. Dette kan være mellom 0,40 og opp til 80. Dersom spillerne bare vil sette spillet på autopilot mens de henter seg en kopp kaffe, kan de benytte seg av autospill-knappen. Denne funksjonen vil kunne snurre i gang opptil 25 automatiske spinn.
Oppsummering
Reindeer Wild Wins er et spill som er satt sammen av fem hjul og ingen spillelinjer, i stedet finnes det hele 1 024 ulike måter som spillerne kan vinne noen flotte gevinster på. Det er Genesis Gaming som står bak dette spillet og de kan absolutt være stolte av resultatet. Det er et spill som kan by på det meste, inkludert spesialsymboler, multiplikatorer og en spennende gratisspinn funksjon. Ikke bare det, men grafikken i designet er utrolig flott og sørger for at spillerne kommer i riktig stemning for en spilleautomat som dette. Dette er rett og slett et spill som vil falle i smak hos absolutt alle slags kasinospillere.