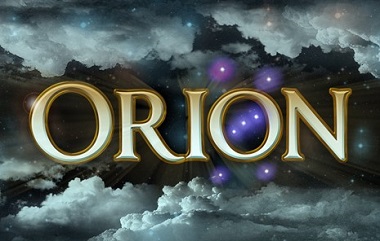 Spilleautomaten Orion som kommer fra spillutviklerselskapet Microgaming tar for seg to virkelig store temaer. Orion er for noen det mest kjente stjernebildet som finnes på himmelen. Når man ser på himmelen så kan man se tre veldig sterke stjerner i en linje, og det er faktisk Orion. For noen så er det ikke dette de forbinder ordet Orion med, men det er heller noen som knytter det opp til den greske mytologien. Der finner man en karakter som het Orion. Han var faktisk en kjempe og han var kjent for å ha utrolig mange magiske evner. Blant annet sies det at han kunne gå på vannet. Det som er morsomt er at disse to forbindelsene til Orion har en sammenheng. Det sies nemlig at det var kjempen Orion fra den greske mytologien som faktisk ble til det kjente stjernebilde som man i dag kjenner som Orion. Dette skjedde da etter han døde og han ble da til et av de mest kjente stjernebildene på himmelen. Det er i alle fall Orion som er tema for denne spilleautomaten og Microgaming har gjort en utrolig god jobb med å forme tema til å passe godt inn i spillet.
Spillets oppsett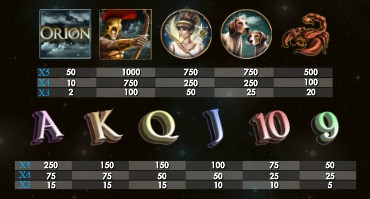 Oppsettet i Orion er enormt. Totalt så har man faktisk 50 innsatslinjer som er fordelt over de fem hjulene og fire rader med symboler. Innsatslinjene er mange og derfor har Microgaming latt de være mulige å tilpasse. Det er ikke alle spillere som ønsker å spille med 50 aktive innsatslinjer, så derfor er det mulig å sette ned antallet. Myntverdien er også latt være opp til spilleren, i tillegg til hvor mange mynter som skal satses per aktive innsatslinje. Myntverdien kan ligge på mellom 0,01 euro og opp til 0,20 euro. Når det kommer til innsatsnivå i spillet så kan man ligge på mellom en og opp til 20. Spiller man med alle innsatslinjene aktivert og med høyest mulig innsats så kan man ha en så lav innsats som 0,50 euro og en så høy innsats som 200 euro.
Grafikken i spillet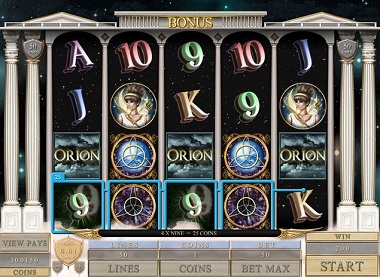 Grafikken i denne spilleautomaten viser tydelig hva spillet handler om. Det er stjernebilder lagt inn i spillet, og ikke bare Orion, men også flere andre kjente stjernebilder. Grafikken er flott i forhold til tema og man har klare bilder hele veien gjennom spillet. Spilleskjermen er virkelig flott å se på og det er tydelig at Microgaming har gitt det lille ekstra når det kommer til Orion. Bakgrunnsbildet i spillet er rett og slett en mørk stjernehimmel. Det eneste man ser er en mengde stjerner som lyser opp og det skaper en helt spesiell stemning. Oppå denne flotte stjernehimmelen så er det plassert noen flotte store stolper som er veldig typiske for den gamle greske tiden. Det er satt to store stolper på hver side av spilleskjermen og er hengt sammen med noen flotte buer som igjen skaper hjulene i spillet. Midt på dette oppsettet med buer så finner man spillets logo, som er lagt i en helt enkel form med blokkbokstaver. Symbolene som spinner rundt på hjulene er flotte og er i form av ulike detaljerte bilder. Det er bilder som er formet til navn på ulike stjernebilder, slik som stor hund og lille hund og skorpionen. Dette er alle stjernebilder som kobles til Orion.
Spesialfunksjoner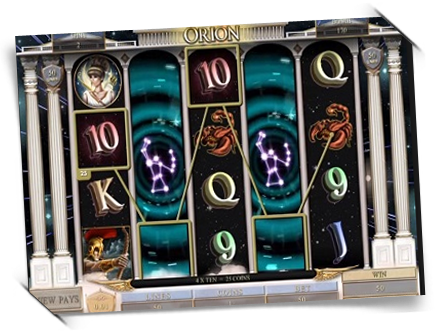 Scattersymbolet i spillet har en todelt funksjon. I det man får tre eller flere symboler med spillets logo på hjulene så vil man aller først få en kontantgevinst. I tillegg til kontantgevinsten så vil man få utdelt noen gratisspinn. Man får et minimumsantall på åtte gratisspinn. Underveis i gratisspinnene så vil man se at wildsymbolene kommer som stablet på hjulene. Det vil si at de aldri dukker opp alene, noe som gjør at man automatisk får flere på hjulene. Wildsymbolene hjelper til at man får flere vinnende kombinasjoner på hjulene. Det er ikke satt noe begrensning til hvor mange ganger man kan aktivere gratisspinnene.