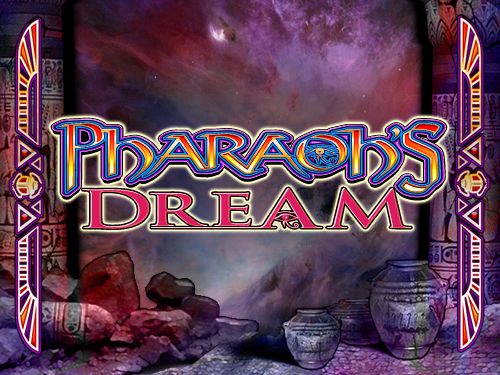 Pharaoh's Dream er Bally sin tolkning av det eksotiske landet Egypt. De har satt inn temaet på sin måte, og de har klart å hente frem sitt eget syn på landet, og ikke minst den eksotiske kulturen. Spilleautomaten Pharaoh's Dream har noe å by på for alle slags spillere, uansett om man er glad i temaet eller ikke. Det vil nok være mange som tenker at dette temaet er godt oppbrukt, men med Bally sitt eget preg på det, vil Pharaoh's Dream by på en ny opplevelse. Det er ingen sak å sette i gang spilleautomaten heller, så det er rett og slett bare å gjøre det, og selv få oppleve det Pharaoh's Dream har å by på.
Temaet
Det er som nevnt Egypt som er i fokus i Pharaoh's Dream. Bally har klart å lage en ny variant av dette populære temaet, og det hele er utrolig flott. De har tatt i bruk litt andre farger, og de har også vært kreative med elementene som de har hentet inn. Spillerne vil sitte igjen med et godt inntrykk av temaet, i tillegg til at man får en liten smakebit av landet.
Spilleskjermen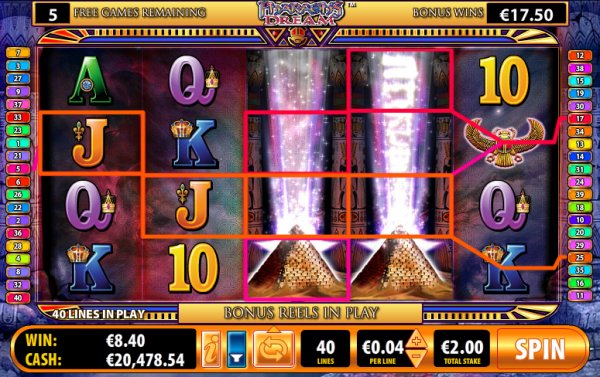 Fargebruken er det første man legger merke til på spilleskjermen i Pharaoh's Dream. Fargene går i mange lilla og rosa nyanser, og det skaper en flott og litt drømmende effekt på skjermen. Fargene går igjen i både logoen, bakgrunnen og symbolene. Logoen er strategisk plassert på toppen av skjermen. Det er noen flotte fargerike bokstaver som utgjør tittelen i logoen. Bakgrunnen kan skimtes på øverste del av skjermen, i tillegg til på hver side av hjulene. Det er blant annet satt inn to store søyler, som ser ut til å være del av et egyptisk palass. Bakgrunnen på hjulene er veldig fargerike, og den går i de nevnte fargenyansene. Symbolene som dukker opp er utrolig flotte, og får frem mye av kulturen i Egypt. De enkle kortsymbolene som er tatt i bruk er også flotte, og de er dekorert med små symboler.
Oppsettet og innsatser
Pharaoh's Dream har et noe uvanlig oppsett, men det er likevel veldig enkel å forstå. Ikke minst er det veldig enkelt å sette i gang en spillerunde. Oppsettet er satt sammen av fem hjul og fire rader, noe som utgjør 20 posisjoner fordelt over hjulene. Spilleren har også hele 50 innsatslinjer å spille på. For de spillerne som syntes at det blir litt mye, så er det mulig å justere ned på dem. Når det er gjort, skal spilleren justere på innsatsen, som fordeles per innsatslinje. Så fort det er gjort, er det bare å trykke på spinnknappen, slik at hjulene begynner å spinne.
For de spillerne som ønsker litt mer informasjon om hvordan spilleautomaten fungerer, så er det lagt inn en informasjonsknapp. Den finner man nederst på spilleskjermen. Det er også lagt inn en lydknapp, for de spillerne som ønsker å regulere det selv også. Ønsker man å spille automatisk gjennom mange runder, kan det gjøres ved et tastetrykk på auto-knappen. Spilleren kan selv velge hvor mange automatiske runder som skal bli spilt.
Bonuser
Det er to bonuser som er verdt å nevne i Pharaoh's Dream. Den ene er gratisspinn og den andre er en funksjon som har blitt kalt Mystery Stacks. Gratisspinn får man tildelt ved å få minst tre scattere på hjulene. Scattersymbolene må dukke opp på hjul en, tre og fem. Høyeste antall med gratisspinn er på 15 stykker, og det vil også følge med en multiplikator som firedobler gevinstene. Mystery Stacks er en bonus som er aktiv underveis i gratisspinn. Bonusen gjør at wildsymboler kan dukke opp på hjulene, og de vil være stablet. I tillegg til det så vil wildsymbolene også bli låst fast til hjulene, frem til gratisspinn er spilt ferdig. Bonusen vil helt klart øke vinnersjansene for spilleren.