Om spillet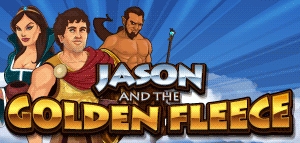 I spilleautomaten Jason and the Golden Fleece blir man tatt med tilbake til den greske mytologien og en historie som stammer fra den tiden. Den omhandler Theophane og Poseidon og det som trolig var deres avkom. Avkommet deres var ikke et vanlig barn, men heller en hellig skapning. Dette var nemlig en vakker kvinne, som hadde gylne vinger. Historien videre i spillet forteller om Jason som var på jakt etter å få tak i disse vingene. De var nemlig det eneste han kunne bruke for å få blitt konge i riket som het Kolchis. Microgaming, som er spillutviklerselskapet som står bak spilleautomaten har virkelig klart å presentere spillet på en god måte og har valgt et annerledes tema.
Grafikk og lyd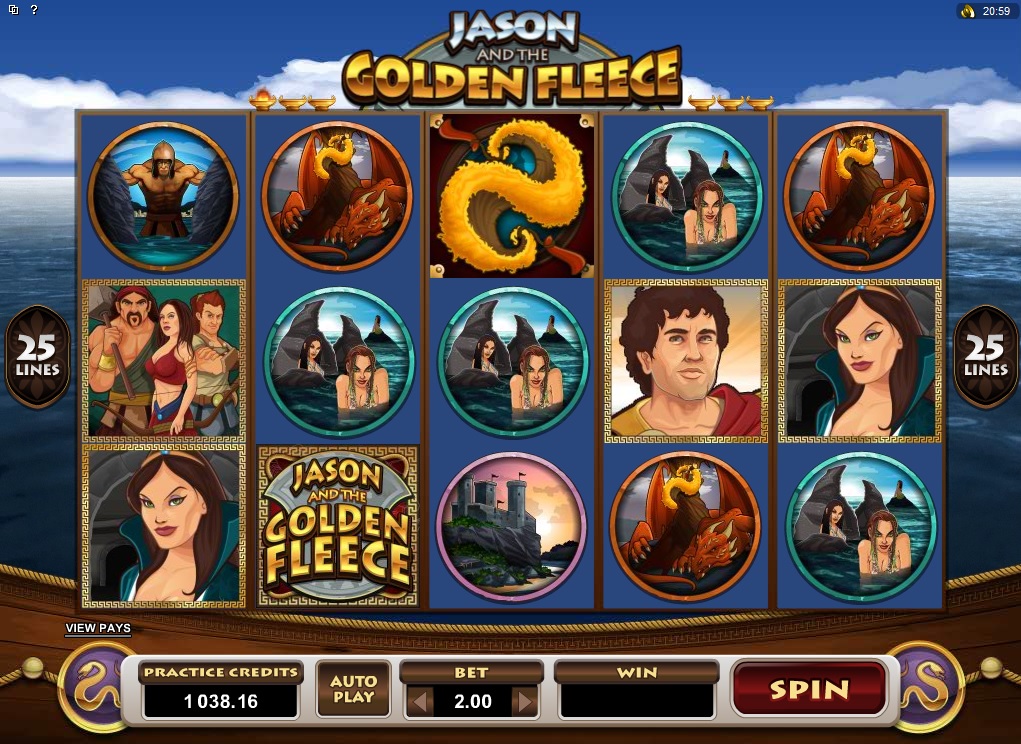 Så fort man ser på utformingen i Jason and the Golden Fleece så forstår man at Microgaming har jobbet mye med spillet. Grafikken er utrolig bra hele veien og gir et godt inntrykk av hva spillets tema er. Bakgrunnen i spillet er formet som et stort åpent hav. Det er en enkel bakgrunn men den er utformet veldig bra. Rammen rundt hjulene er laget veldig enkel, og hjulene vises godt frem mot bakgrunnen. Nederst på spilleskjermen så finner man knappene i spillet, og de er satt opp over noe som ligner på en bit av et skip. På toppen av spilleskjermen finner man spillets logo, som er utformet i blå- og gullbokstaver. Symbolene som spinner rundt på hjulene er alle i form av ulike bilder, og de passer så klart godt inn med tema. Det er ulike bilder av handlingen som skjer i historien som man finner i spillet, og de forteller hver sin lille del av historien. De er alle i klare bilder og i flotte farger. Lydbilde som er lagt på spillet skaper en helhet og en god stemning. Det er som om bakgrunnsmusikken er hentet fra en film som har gresk mytologi som tema, og i tillegg har man en mengde lydeffekter som passer bra til temaet.
Hvordan spille
Innen man setter i gang spillet så må man jo få tilpasset innsatsen sin. Dette gjør man veldig kjapt og enkelt ved at man bruker knappene som man finner nederst på spilleskjermen. I Jason and the Golden Fleece så har man 25 innsatslinjer, men de er faste og kan ikke endres i antall. Når man skal justere innsatsen så er det myntverdien og antall mynter man skal justere. Hver mynt man spiller med kan ha en verdi på mellom 0,10 kr og opp til 5 kr. På det meste så kan man satse 10 mynter per innsatslinje. Det vil si at totalt i en runde så kan man satse så lite som 2,50 kr og så mye som 1.250 kr. Med andre ord har man et stort spenn i innsatsnivå.
Spesialfunksjoner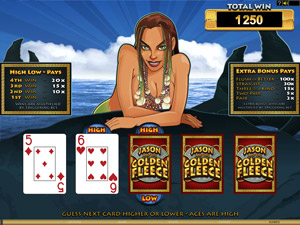 I Jason and the Golden Fleece er det flere spesialsymboler som man skal holde et øye med. Man har totalt tre spesialsymboler, som er et wildsymbol og to ulike scattersymboler. Wildsymbolet er spillets joker, og fungerer slik at den kan erstatte alle andre symboler på hjulene, bortsett fra scattersymbolet. Det ene scattersymbolet man finner i spillet fungerer slik det pleier, ved at det kan aktivere gratisspinnene. Man trenger minst tre slike symboler spredt utover hjulene for å aktivere gratisspinnene, og man kan på det meste få 10 gratisspinn. Underveis i rundene vil man ha en multiplikatorfunksjon som vil gange alle gevinstene man får med tre. Det andre scattersymbolet i spillet er det som kan aktivere mest forskjellig i spillet. Når man får riktig kombinasjon på det symbolet vil man åpne bonusdelen av spillet. Da vil man plutselig ha seks ulike bonusspill å velge mellom. Blant annet finner man et klikk og vinn-spill hvor man kan få ulike gevinster, og man har også et bonusspill hvor man skal få fire like symboler for å få en gevinst.