Amaya Gaming har gjort en krokodille til spillets hovedperson i automaten Crocodopolis. Bortsett fra dette litt uvanlige innslaget, er det mange kjente elementer i dette spillet, som er inspirert av det gamle Egypt og faraoenes tidsalder. Det gamle Egypt er selvsagt ikke et unikt tema for denne automaten, men likevel har Amaya Gaming klart å lage en morsom vri på temaet.
Spillets oppbygging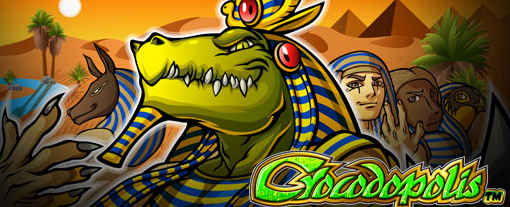 I Crocodopolis er det fem hjul med tre symbolrader. Spillerne kan velge å aktivere inntil 25 gevinstlinjer. Jo flere linjer som er aktivert, desto mer koster det per spinn, men mange aktive linjer betyr også mange vinnersjanser, derfor velger de fleste å aktivere alle linjene. Bak hjulene er et ørkenbilde med palmer, kameler og kravlende skorpioner. Under hjulene justerer man linjeantall og myntverdi. Myntverdien blir deretter ganget med linjeantallet, og man ser hele tiden hva totalinnsatsen per spinn er. Dermed er det lett å gjøre tilpasninger til eget budsjett.
Spillet har automatiske spinn, for den som ønsker det, og da kan man la spillet spille inntil 500 spinn, uten at man trenger å trykke på spinnknappen. Hvis man ombestemmer seg underveis, kan man stanse de automatiske spinnene ved å trykke på stoppknappen. Hver gang man vinner, kan man velge om man vil beholde gevinsten, eller spille om den i gamblingspillet. Gamblingspillet kan være fristende, for der kan man både doble og firedoble gevinsten, og man kan til og med gamble inntil fem ganger med samme gevinst. Men man må også være klar over at man kan tape gevinsten i gamblingspillet, derfor gjelder det å tenke seg litt om før man gambler.
Symbolene

Crocodopolis har både kortsymboler og unike symboler. Kortsymbolene brukes til å fylle ut og dele ut smågevinster, men det er de unike symbolene som er mest verdifulle. De to mest verdifulle symbolene gir også gevinst for bare to like. Det meste man kan vinne, er 5000 mynter for fem like gudesymboler. Skarabeen gir 500 mynter for fem like, og de to andre unike symbolene deler ut 500 mynter for fem like. Kortsymbolene gir fra 100 til 200 mynter for fem like, og man finner en fullstendig oversikt over symbolene og gevinstene i gevinsttabellen.
Jokersymbolet erstatter de vanlige symbolene, men i dette spillet kan spillerne selv velge på hvilket hjul de ønsker jokersymboler. Avhengig av hvilket hjul man velger, kan jokerne gi ekstra stor multiplikator, eller de kan utvide seg til å dekke hele hjulet. Det er på hjul 3 og hjul 4 man kan få utvidende jokere, mens jokere på hjul 1 og 2 gir 2x og 3x multiplikator. Hvis man ønsker jokere på hjul 5, blir hele hjulet dekket av jokersymboler. Jokerne multipliserer bare gevinstene når jokerne selv inngår i vinnerrekken.
Gratisspinn
Pyramidene må selvsagt være med i et spill som handler om Egypt, og i dette spillet er de scattere, som både kan gi bonuser og dele ut gratisspinn. Med tre pyramidesymboler på hjul 2, 3 og 4, vinner spillerne 12 gratisspinn med 2x multiplikator. Alle gratisspinngevinster blir altså doblet. Det er ikke mulig å gjøre noen endringer i innstillingene før gratisspinnene starter. Det betyr at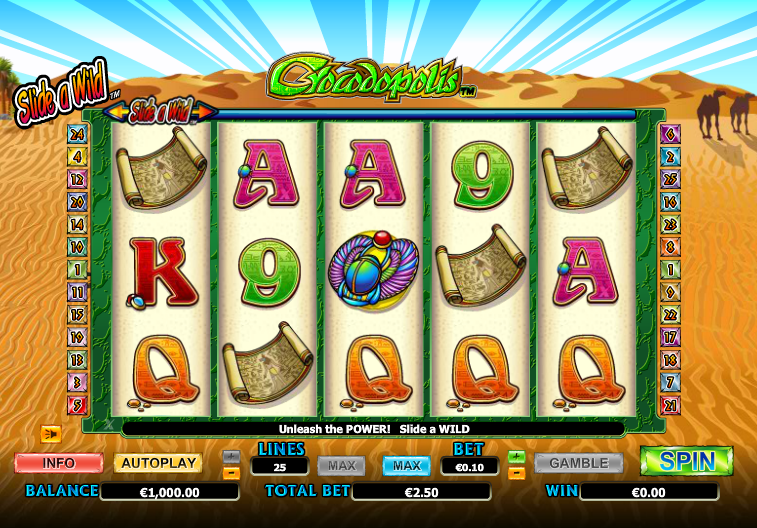 både linjeantallet og myntverdien blir den samme som da man vant gratisspinnene, og jokerne dukker også opp på det hjulet som var innstilt da man vant spinnene. Gratisspinnene kan gjenutløses under gratisspinnrunden. Da trenger man å få tre nye pyramidesymboler på de tre midterste hjulene, og det er heller ikke mulig å gjøre endringer i innstillingene før de nye gratisspinnene blir spilt.
Oppsummering
Crocodopolis passer til alle som liker spill med historiske temaer. Selv om det er en krokodille som er farao i dette spillet, er stemningen absolutt egyptisk, og symbolene er velkjente. Spillerne velger selv hvor mange linjer som skal aktiveres, og de velger også hvor jokersymbolene skal komme. Man får jokere på bare ett hjul, og jokerne oppfører seg litt ulikt på hvert hjul. Spillet byr også på gratisspinn og et gamblingspill i kjent stil.