Om spillet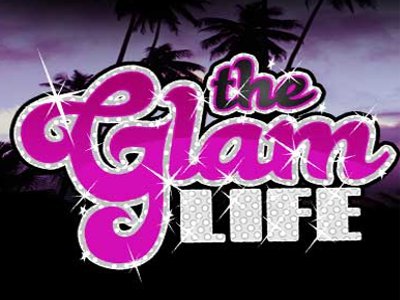 The Glam Life er en 5-hjuls spilleautomat med 30 innsatslinjer fra Betsoft. Rikdom og luksus er temaet, med andre ord det glamorøse livet. Spillet har tre bonusfunksjoner, som gratisspinn, bonusspill med reising rundt verden, samt match bonus. Symbolene som forekommer er en luksusbil, diamantring, platinaklokke, mobiltelefon, isbøtte med Champagne og flere kredittkort. Spesielle symboler er en yacht (jackpotsymbolet), en villa (reis-jorden-rundt-bonus) samt et privatfly (gratisspinn-bonus), et smykkeskrin (velg meg-bonus) og en parfymeflaske (tre like-bonus).
Spillets detaljer
Myntverdien på The Glam Life er justerbar, mellom €0.02 til €1.00 per linje. Maksimal innsats er150 mynter per spinn. Dette er en god mulighet for high-rollers. Spillet har et godt utvalg av bonusfunksjoner. Det høyest utbetalende symbolet i spillet er yachten. Dersom man får fem av disse på en gang, vinner man en jackpot på 5 000 mynter. Jackpotten kan bare vinnes om man går for maksimal innsats. Det betyr at det kan lønne seg å velge et lavere beløp som hver mynt tilsvarer, slik at man kan øke sjansen sin for å vinne jackpotten. Det nest mest betalende er fem luksusbiler på rad, og med mange bonusspill høyner dette sjansene for å vinne stort.
Bonusfunksjoner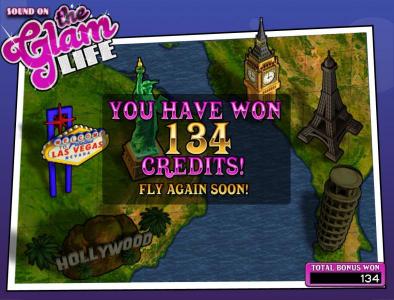 The Glam Life har flere bonusfunksjoner. Dersom man får tre eller flere villaer på en aktiv innsatslinje vinner man en jorden rundt bonus. Du velger tre kjente landemerker og reiser dit på ditt private jetfly. New York glimrer til med privat fest, andre steder vær gjest på en gallamiddag, delta på en filmpremiere med rød løper i Hollywood, med flere. Når du har valgt tre landemerker vil gevinsten legges sammen og du returneres til hovedspillet. Et annet bonusspill starter om du får tre eller flere privatfly på en aktiv innsatslinje, da får du gratisspinn. Desto flere privatfly på en aktiv innsatslinje, jo flere gratisspinn vinner du. Tre privatfly gir fem ekstra gratisspinn, fire gir 10 ekstra og fem gir 25 ekstra. Nok et bonusspill starter om du får tre eller flere parfymeflasker på en aktiv innsatslinje. "Match bonus" vil da aktiveres. Gardiner vil umiddelbart trekkes over hjulene, og du blir presentert med 15 ringesker å velge mellom. Velg hvilken som helst av eskene for å avdekke en av de tre forskjellige diamantene som er inni. Fortsett å velge bokser til du finner tre matchende stener. Du kan vinne opp til 500 ekstra mynter. Velg meg-bonus får man dersom det kommer opp tre eller flere smykkeskrin på en aktiv innsatslinje. Du velger så en av disse og får umiddelbart avdekket belønningen din. Du kan vinne opp til 1 150 mynter. Det man vinner blir multiplisert med innsats per linje og antall linjer der bonuskombinasjonen forekommer.
Spillets gang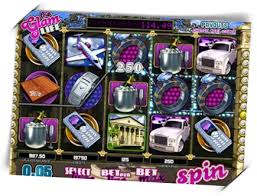 Dersom du får tre eller flere privatfly på en aktiv innsatslinje, vil dette utløse gratisspinn. Med tre eller flere villaer får man en mulighet til å reise jorden rundt. I dette spillet må ikke den vinnende kombinasjonen begynne helt til venstre; så lenge de er sammenhengende kan man vinne med dem. I The Glam Life gjelder det å få kombinasjoner av tre eller flere for å få tilgang til bonusspillene. Med tre eller flere villaer får man reise jorden rundt og samle gevinster fra tre forskjellige landemerker. Med tre eller flere privatfly får man gratisspinn, og rikdom gir mer rikdom i og med at flere privatfly betyr flere gratisspinn. Dersom man treffer tre eller flere smykkeskrin får man velge et smykkeskrin fylt av bonus mynter. Om du får opp tre av de dyre parfymene får du velge ring bokser til du har tre som matcher hverandre, og kan vinne opp til 500 mynter.
Konklusjon
The Glam Life er en spilleautomat med pen grafikk, der rikdommen bortimot hopper ut av skjermen, med diamantringer og mye annen skinnende symboler på overveldende rikdom. Spillet inneholder nok variasjon og bonusspill til å holde deg underholdt over lengre tid. De mange mulighetene til å vinne gjør denne spilleautomaten ekstra spennende. Nok en flott spilleautomat fra BetSoft. Keep them coming!