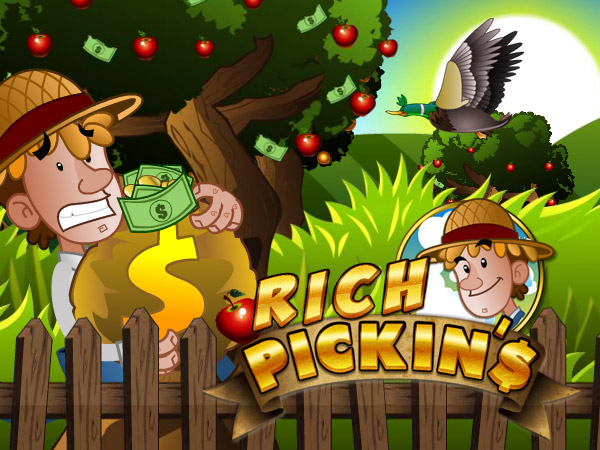 Tittelen i spilleautomaten Rich Pickins er en forkortelse for navnet til han som er spillets hovedkarakter. Tema som er satt i spillet omhandler nemlig Richard Pickins. Richard Pickins er en bonde som virkelig lever ut livets glade dager. Han er storfornøyd med det han driver med og kunne rett og slett ikke hatt det bedre. I det man begynner å spille Rich Pickins så er det tid for innhøstning og det er akkurat det man skal hjelpe Richard Pickins med. Gjennom å hjelpe han så får man plukket med seg gevinster. Open Bet, som er spillutviklerselskapet bak videoslotten, har virkelig skapt et unikt spill. Rich Pickins inneholder nemlig tre ulike bonusspill, tre ulike jackpots og wildsymboler som betaler ut utrolig bra gevinster. Det er bare å glede seg til å begynne å spille Rich Pickins fra Open Bet.
Innsatser i spillet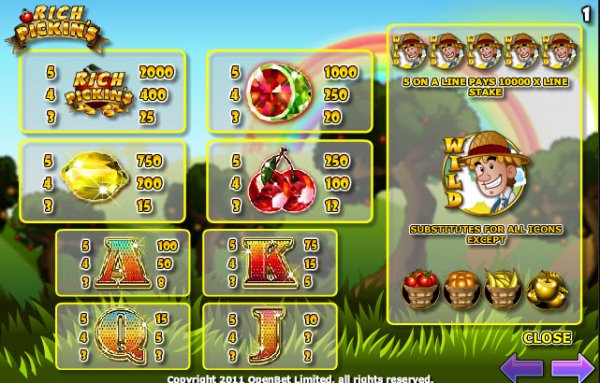 Innsatsene i Rich Pickins er latt være helt opp til spilleren. Det vil si at spilleren kan i forkant av å sette i gang spillet justere både innsatslinjer og hvor mye man ønsker å satse per aktive innsatslinje. På det meste så kan man ha 20 aktive innsatslinjer. Innsatsen legger man da på hver av de aktive innsatslinjene. Per innsatslinje så kan man satse mellom 0,01 euro og opp til 5 euro. Det vil da si at hvis man spiller med alle 20 innsatslinjene aktivert så vil man ha en innsats på mellom 0,20 euro og opp til 100 euro i en spillerunde. Innsatsnivået er med andre ord ikke så høyt, så det er enkelt at spillet kan tilpasses alle slags spillere.
Grafikk i spillet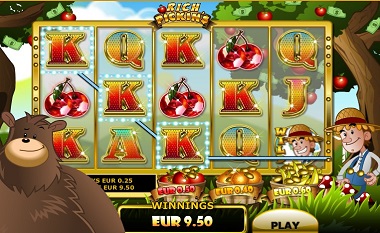 Open Bet har virkelig gått for å imponere når det kommer til Rich Pickins. Det er helt tydelig at de har jobbet mye med grafikken i spillet og resultatet er rett og slett utrolig bra. Grafikken er av utrolig høy kvalitet og tema er presentert på en god måte. Alle delene i grafikken fungerer bra og det er virkelig en god spilleopplevelse man får når man prøver ut Rich Pickins. Bakgrunnsbildet i spillet er satt til å vise en del av gården til Richard Pickins. Man kan skimte et stort tre på hver side av bakgrunnsbilde og ser man nøye etter så er det ikke hvilke som helst trær som vokser på gården til Richard Pickins. Det vokser nemlig epler og pengesedler på disse trærne, så det er jo ikke rart at innhøstingstiden lønner seg. Til høyre på spilleskjermen så finner man Richard Pickins selv, og han står nok og passer på hva som skjer på spillets hjul. Hjulene i spillet er rammet inn med en gullramme og på toppen av rammen så har man spillets logo. Hjulene er laget slik at bakgrunnsbildet skinner gjennom og på hjulene så har man så klart spillets symboler. Symbolene er formet som ulike frukter, i tillegg til at man har symboler fra en vanlig kortstokk. Alle symbolene er laget slik at de ser ut som de er laget av diamanter, noe som igjen viser hvorfor Richard Pickins alltid er så glad og fornøyd.
Spesialfunksjoner
Det er til sammen tre bonusspill å finne i Rich Pickins. Eplesymbolene som kun kan dukke opp på hjul en og to kan aktivere en av de tre bonusspillene. Når det skjer så får man velge et av to ulike bonusspill, eller så kan man helt enkelt velge å ta imot en kontantgevinst. Det ene bonusspillet man kan velge mellom går ut på at man skal hjelpe en bjørn med å hente ned gevinster fra en tråd, mens det andre bonusspillet går ut på at man skal vanne ulike planter og forhåpentligvis få økte gevinstene man kommer til å få. Et annet bonusspill man har er at man har tre kurver på spilleskjermen som etter hvert fylles opp med frukt. De skal da kjøres til markedet for å hjelpe bonden. Den kurven som ikke faller ned inneholder gevinsten man får.