Historiske temaer er velkjent fra spilleautomatenes verden, men i spillet Napoleon Boney Parts, har NextGen laget en liten vri på historien. Her blir Napoleon presentert som et skjelett, og den vakre Josefine har også blitt et beinrangel. Dette spillet satser altså på humor, og musikken er også morsom og underholdende.
Spillets oppbygging

Automaten har 5 hjul med tre rader. Rundt hjulene ligger hodeskaller strødd utover, og to skjeletter står på hver sin side av hjulene. Bak hjulene ser man himmelen. Knappene under hjulene brukes til å justere linjeantallet og myntverdien, og man kan også stille inn autospinn. Det er opp til spillerne hvor mange linjer som skal aktiveres. Spillet har totalt 25 linjer, og dersom man ønsker flest mulig vinnersjanser, bør man aktivere alle linjene. Færre aktive linjer betyr færre vinnersjanser per spinn.
Myntverdien kan justeres fra 0,02 til 4 euro. Totalinnsatsen per spinn blir dermed mellom 0,50 euro og 100 euro, dersom alle linjene aktiveres. Innsatsen er altså tilpasset både hobbyspillere og spillere med et litt større budsjett. Hvis man har lyst til å spille ekstra mange spinn med den samme innsatsen, er det også mulig å velge autospinn. Da velger man antall linjer, myntverdi og antall spinn. Med autospinn blir det ekstra behagelig å spille, og autospinnene kan selvsagt stanses når man selv ønsker det.
Symbolene som er valgt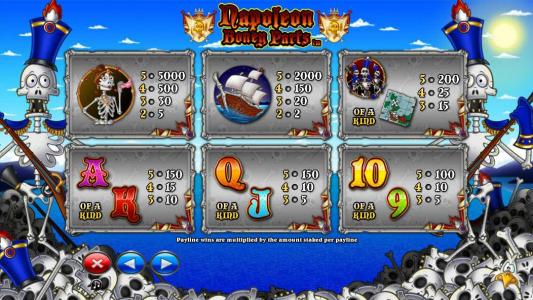 Josefine er det mest verdifulle grunnsymbolet. Hun deler i tillegg ut gevinst for bare to like, og hun belønner spillerne med hele 5000 mynter for fem like. Skipet deler også ut gevinst for to like, og man vinner 2000 mynter for fem skip. De to andre unike symbolene viser marsjerende skjelettsoldater og et kart. Begge disse symbolene gir 200 mynter for fem identiske symboler på rad. Kortsymbolene i spillet er fra 9 til ess, og opptrer i form av tall og bokstaver. Med fem niere eller fem tiere, vinner man 100 mynter, fem knekter eller fem damer gir 150 mynter i gevinst, og fem konger eller fem ess gir også 150 mynter for fem like, men disse to symbolene gir høyere gevinst for tre like og fire like. Alle gevinstene finnes i gevinsttabellen.
Napoleonskjelettet er jokeren i spillet. Jokerne finnes på de tre midterste hjulene, og teller som ethvert annet symbol. Jokerne kan altså ta plassen til et manglende symbol, og dermed fullføre en vinnerkombinasjon. Jokere kan ikke erstatte scattersymboler, og kan dermed ikke hjelpe spillerne til å vinne scattergevinster eller gratisspinn. Men jokeren kan derimot gi spillerne adgang til bonusspillet.
Gratisspinn og bonusspill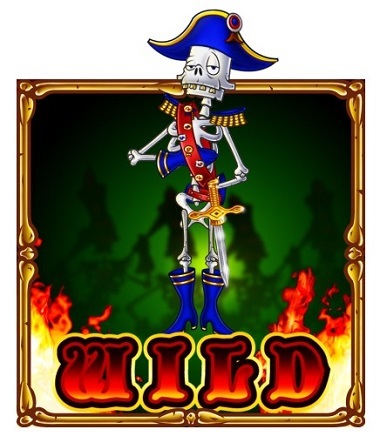 Scattersymbolet viser et våpenskjold. Med minst tre slike symboler på skjermen, får spillerne 10 gratisspinn med doble gevinster. To eller flere scattere på skjermen, betyr også at man vinner en bonus. Med fem scattere, vinner man 100x totalinnsatsen. Gratisspinn blir alltid spilt med det linjeantallet som var innstilt da spinnene ble vunnet. Man kan heller ikke endre myntverdien før gratisspinnene starter.
I bonusspillet får spillerne sjansen til å plukke Napoleon fra hverandre. Spillerne skal velge tre bein i skjelettet, og dersom skjelettet faller sammen når disse beinene er fjernet, får man en ekstra stor belønning. Bonusspillet blir utløst av tre jokere på hjul 2, 3 og 4. I tillegg til bonusspill, kan automaten også et gamblingspill, der spillerne kan doble eller firedoble gevinsten sin gjennom å gjette kortfarge (rød/svart) eller korttype (hjerter, ruter, kløver eller spar). Ved riktig svar, kan man enten beholde gevinsten, eller gjette på nytt inntil 5 ganger totalt. Feil svar betyr selvsagt at man taper gevinsten, derfor er det ikke sikkert man bør gamble om hver eneste gevinst. Det kan være surt å tape, spesielt dersom gevinsten er stor.
Oppsummert
NextGen har klart å skape en humoristisk vri på historien i spillet Napoleon Boney Parts. Her møter spillerne faktisk "de beinete delene" til Napoleon, og automaten byr på både gratisspinn og et morsomt bonusspill. Jokere og scattergevinster bidrar også til spillet, og den morsomme musikken passer fint til temaet. Spillfølelsen er veldig god.